The Vryll Society – Stairway to Everton
Liverpool 'astral voyagers' THE VRYLL SOCIETY mixed gorgeous harmonies with trippy guitars and dance grooves when they stopped off at the Brudenell Social Club in Leeds. Review: LOUISE HOLLINGSWORTH
Nearing the end of a triumphant short UK tour, hotly-tipped outfit The Vryll Society were on belting form at the Brudenell, as well they might be with a brace of Sold Out gigs and rave reviews for debut album Course of the Satellite under their belts.
Joining them tonight in the venue's recently refurbished Community Room were local surf-psych rockers The Astrids, and fellow-Scousers The Peach Fuzz. The latter describe their sound as 'hazy cosmic jive,' and listening to new single Destroy the Evidence, with its soaring vocal harmonies and phased guitars, it's not hard to imagine The Peach Fuzz will be back soon in Leeds, only this time as headliners.
But for tonight The Vryll Society was the main attraction: tour hardened, from first number Shadow of a Wave, they were determined to put the groove into groovy! Given a BBC Introducing seal of approval, the song rumbled and tumbled like the result of an unlikely hook-up between The Magic Numbers and Hawkwind.
The cock-sure chemistry of honeyed vocals, chiming guitars and wigged out psychedelia probably helps to explain the broad mix of fans they attract – here be influences from Funkadelic to Stereolab to Syd Barrett era Pink Floyd.
They seem to like naming songs after art-house movies as well: Andre Rublev is dreamy space rock, Metropolis an unravelling tapestry of Byzantine vocals and chiming arpeggio guitar; the much loved Deep Blue Skies is a masterclass in guitar swoon atmospherics with its prog-like time signature switches, and fan-favourite Self –Realisation is an invitation to dance which has the audience… well, dancing.
With their debut album – Course of the Satellite – being described as a mix of beauty and brawn, The Vryll Society are definitely ones to watch.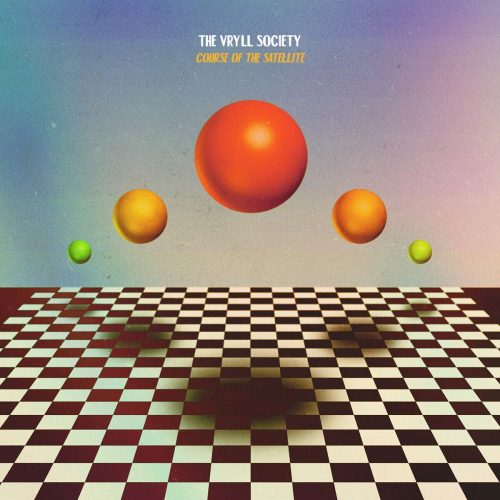 The Vryll Society's Course of the Satellite is out now on Deltasonic. Buy it here.
Louise Hollingsworth is a first year Journalism student at Leeds Beckett University. This is her first review for theCV.