Alan 'The Hawk' Hawkshaw and his Hammond organ – (via The Library Music Film)
Now in his 80s, with a new album, a film documentary and appearances with the KPM All-Stars, The King of Library Music ALAN HAWKSHAW is busier than ever. But he's got a cold, and NEIL MUDD is on the line…
Like the good Yorkshireman he is, composer Alan Hawkshaw (known in the business as The Hawk) is having his tea when I ring him late on a Friday afternoon. He is recovering from a heavy cold and coughs worryingly throughout our half-hour conversation.
The weekend before at the British Library, The Hawk had played a rare KPM All-Stars gig, reuniting him with some of his former associates – Brian Bennett, John Cameron, Keith Mansfield, and Alan Parker: "It went rather well," he tells me with characteristic understatement, "though I'm not the one to ask."
Born in Leeds in 1937, Hawkshaw grew up in Meanwood. He vividly remembers his father's wind-up gramophone player and listening to music by Gershwin, Tchaikovsky and Rossini, as well as the occasional jazz record: "It was educating me," he says. "It was feeding me with the right sounds, the right composers."
Unsurprisingly his inspirations are all jazz pianists. When he was nine, he loved Fats Waller and Benny Payne; later he would discover George Shearing and Oscar Peterson.
"Oh yeah," he says, when I mention how much I adore Peterson's album The Night Train. "I remember that album. I had that years ago."
A printer by trade, but a musician by instinct, Hawkshaw could sight-read music and play piano by the age of eleven. A professional in his twenties, he left vocal group The Crescendos in the early sixties ("They couldn't afford a keyboard player") to become part of Emile Forde's backing group The Checkmates.
Eighteen months later, on tour in Germany with another group, he stopped off in Hamburg at the same time as The Beatles were playing there at The Star Club.
"John Lennon asked me what it was like to be on television, because they hadn't done anything like that and we'd done loads of it with Emile. I don't remember what I did say to him, but what I should have told him was, if he wanted to be on TV then he should get himself a good keyboard player. I missed my chance of being a Beatle."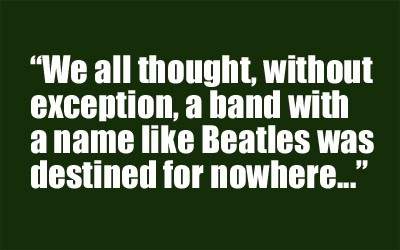 Instead, Hawkshaw became a sought-after session musician and arranger, as well as a prolific composer of library music, the weird and wonderful sounds licensed out to cash-strapped television and film companies as off-the-shelf theme tunes and underlay scores for their productions.
Hawkshaw has written or appeared on hundreds of these stock tracks, many of them for industry pioneer, KPM. "Once I got into session work and drifted into library and television writing, I realised that's where it was heading," he says. "Maybe if Rumplestiltskin or Ugly Custard [bands which featured fellow librarians Clem Cattini, Herbie Flowers and Alan Parker] had taken off, then maybe we could have been another Led Zeppelin, but they didn't, so…"
Hawkshaw appears in The Library Music Film, a new documentary exploring the origins and abiding legacy of library, and which is being screened for only the second time in the UK at Leeds International Film Festival.
When I ask him how he feels about the music he produced for KPM et al, his recollections are undeniably mixed. "Don't forget library work was done passively in a sense because we were all doing billions of other things," he says. "I was doing session work and arrangements for other people like The Tremeloes and Olivia Newton John; there was the odd TV series coming my way, so library music was the least of (my) priorities."
"There was no such thing as a library writer who did it for a career. In those days (it) was considered a poor cousin to the commissioned score. In the sixties, seventies, eighties, library was – not inferior, that would be the wrong word – not as classy as bespoke scores. Of course, all of that's changed. Library has become a cultural part of our musical history."
While his name may sound unfamiliar, if you can whistle the theme tune to Grange Hill or Countdown, you have heard  Hawkshaw's handiwork. Fans will recognise The Champ (or at least a fragment of it), his 1968 single with The Mohawks (geddit?), which has furnished hip-hop with one of its most iconic breaks.
"I was surprised," he says about the record's influence. "I didn't hear anything mind-blowingly attractive in it. At the bottom of all that, if I'm honest, is there's orchestral stuff I've written which I'm more proud of, and I wish people would get a bit more enthusiastic about that."
Hawkshaw's hit rate as a library composer remains impressive, however. The relentless inventiveness and drive of the music he created, which he could never be sure would even be listened to, still sounds box-fresh half a century later. It is all the more remarkable when you consider the production line methodology employed at KPM and the like.
"You started off with a very high quality of musicianship when you went into the studio," he says about that. "You only needed a couple of takes. Very often one take was all it needed when the red light was off and everybody was just running and people were doing things in a less guarded way."
"Over the years it's created peaks," he says. "The Mohawks is one; Serge Gainsbourg and all that lot is another one; playing with The Shadows [Hawkshaw toured and recorded with them between 1969 and 1971] is another one: being called The Undisputed King of Library Music is just part of the many."
The list of names with whom Hawkshaw has worked is indeed astonishing. A cursory glance at the list on his official website reveals Shirley Bassey, Cilla Black, David Bowie, Donovan, Ella Fitzgerald, Engelbert Humperdinck and Dusty Springfield.
Although there are probably a few others, Hawkshaw says he is most proud of the song he wrote for Barbara Streisand (Why Let It Go?): "The melody on that is a great melody I think, and I'm in good company with the other writers on it [Alan and Marilyn Bergman] who (Streisand) called in because she didn't like the original lyrics."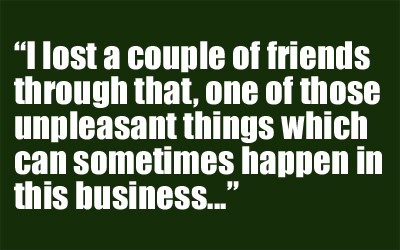 Hawkshaw's new album Full Circle was made with legendary KPM stablemate Brian Bennett. "He's the only guy I've collaborated with where we have a slightly different approach to writing," he says, "as in we write them together."
"If you write them as an individual – especially if it's library music – you start off with a blank sheet of paper, you get the brief – wildlife, corporate, farmer, whatever – you look at images and you begin to write.
"But with Brian, he'll have a kit set up and I'll have a keyboard set up and we just piddle around. We'll play a few rhythms, just a few bars to get a flavour of what way we might go, and once we've got that flavour right, he or I, or both us together, will develop it."
The album is a curiously timeless affair, a playful riffing on its creators' trademark tropes. It is never less than interesting, as polished and economical as one might expect from two of the consummate giants of British instrumental music, and when it comes together, it really soars.
I am very lucky to have caught him, it seems. The Hawk is preparing to take his annual leave of the UK, and the British weather in particular. A few more days and he will be on the West Coast of America where he has an apartment. He will spend the coming months writing music. It is what he does after all.
I picture him taking a break, driving a red, open-topped two-seater along those familiar sun-kissed boulevards, people waving as he passes. Girl in a Sportscar comes on the car radio; strings wreathe about him as the trumpets circle and plummet. The moment is perfect and it lasts forever.
The Library Music Film (including a live DJ set by Shawn Lee), our partnership screening with Leeds International Film Festival, is at The Belgrave on Saturday 3rd November 2018. Details and tickets here. 
The Sound Gallery, our pop up exhibition of library music album sleeves with Colours May Vary, runs from 2nd – 11th November 2018. Open daily. Preview Event Friday 2nd November from 6.00 – 8.00 pm.