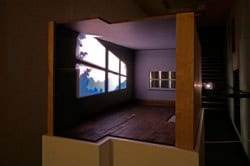 Already dividing opinion and drawing hugely divergent responses (just read the comments book in the entrance), Mariele Neudecker's Kindertotenlieder makes dramatic use of the beautifully restored Howard Assembly Room. This deeply immersive and thought provoking audio visual and sculptural installation comprises five individual rooms and a cacophenous surrounding area in which you are invited to stand and view and listen and contemplate.
But what is it about?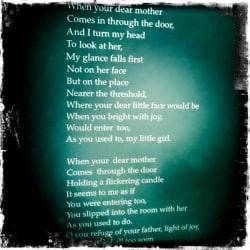 Kindertotenlieder, or 'songs on the death of children' was originally inspired by a collection of poems written by Friedrich Rückert in 1833-4 following the death of two of his five children from scarlet fever. At the turn of the century (1901-04) the composer Gustav Mahler took five of the poems and turned them into songs, composing the operatic score that is sung so beautifully and hauntingly by Kathleen Ferrier in the version used in this exhibition. Mariele Neudecker has taken these songs and given them a framework, a physical space, in which they can be appreciated and experienced, adding in personal video footage of her own daughter playing, which appears in the most poignant of places within the space.
In a sad twist of fate, after composing Kindertotenlieder, one of Gustav's own children also died from scarlet fever. Reflecting upon the irony, Gustav remarked that he could not have put together the songs had he already experienced this loss. I spoke briefly with Mariele about her installation and she remarked also that had she herself lost a child, she doubts she would have been able to either, telling me that some visitors have been brought to tears by the installation, such is its dramatic impact.

So why should you go and see it?
There are precious few opportunities in our increasingly busy lives to just stop for a while away from the hustle and bustle and contemplate our thoughts or listen to a piece of music. This piece of public art, funded by Opera North, is an opportunity to do just this. Open every day from 2pm to 8pm, Kindertotenlieder allows you to take that time after a hard day at the office.

Free public art is something to be treasured and appreciated, so make use of it while we still have it!
Don't be put off by the apparent melancholy of Kindertotenlieder; it's not actually a depressing piece of work. The five songs that Gustav chose all make reference to light, and the cycle of songs (which mirrors the cycle of grief) ends with a cathartic nod to the future and a peaceful acceptance.

The new year always brings thoughts of our future and our past, thus this is the perfect time to stop and contemplate, before looking forward with renewed optimism and hope.
Please cast aside any concerns that opera, or indeed 'art' is inaccessible or difficult. The experience of Neudecker's installation is deeply personal and the subject matter one to which we can all relate in one way or another.
Please do see for yourself what it is all about and how it makes you feel… then return to this page and leave a comment about your experiences or send me a tweet.  I'd really like to hear your views.  http://www.twitter.com/BobbinsLeeds
While I always recommend experiencing art first hand, with your mind uncluttered by the views of others, if you prefer to read up on meaning and history to inform your visit, then this review and interpretation by Frieze magazine will give you a useful starting point:
http://www.frieze.com/issue/review/mariele_neudecker/
And if you enjoy the exhibition, please check out the associated events, talks and workshops hosted by Opera North throughout the month-long exhibition (full details available on their website).
Kindertotenlieder
Mariele Neudecker
2pm – 8pm, Monday – Saturday
28th January to 23rd February 2011
Howard Assembly Room

The Howard Assembly Room is accessed via the main entrance to the Victorian architectural gem that is Leeds Grand Theatre, 46 New Briggate, Leeds, LS1 6NU
Links: