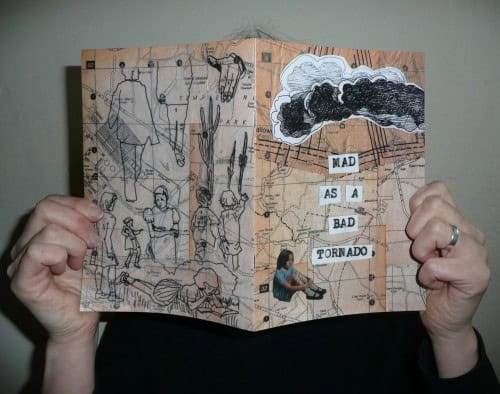 Jean McEwan is a Yorkshire filmmaker and independent curator who became a 'zine zealot' following a road to Damascus/Bradford moment in 2010.  A firm advocate of the DIY approach to art, Jean was instrumental in organising artist-led events which brought together film and performance, working with her husband Nigel Russell on the 'popup' collaborative project. Although her previous work has mainly comprised of camera-work, the Zine Fayre in Bradford last year cemented Jean's interest in the zine format when, in her own words, the 'inky paper did something funny to me and I've not been the same since'! With one successful (and ongoing) project in the form of 'I Stood Up and I Said Yeah' already in the metaphorical hat, Jean has recently curated a loving homage to outsider artist Henry Darger, the man who spent a lifetime creating a 15,145-page manuscript entitled The Story of the Vivian Girls, in What is known as the Realms of the Unreal, of the Glandeco-Angelinian War Storm, Caused by the Child Slave Rebellion [!?!].
I must confess to being woefully ignorant of Darger before getting my hands on a copy of Jean's zine, 'Mad as a Bad Tornado'. The title itself is explained on the inside cover as originating from a diary entry by Darger from 1968, in which he states: ' Had trouble again with twine. Mad enough to wish I was a bad tornado. Swore at God'. I found the limited edition, hand-made, colour publication in question extremely intriguing if slightly perplexing at first sight! Nineteen international contributors have added to the variety of the pieces inside – there is a satisfying mix of prose, photography, painting and sketches – and the layout and style make it aesthetically very pleasing. As a Darger know-nothing however, a number of the visual and textual references to his work went completely over my head (such as the very peculiar anatomical allusions!)  though this did have the effect of forcing me to do my own research into the man and his work; I recommend that you do similar as he makes for a fascinating subject.
To add to the incidental knowledge of Darger garnered from googling, I wanted to find out why Jean had chosen such an unusual character to devote a zine to. I asked her a few pertinent questions via email and a transcription of the conversation is as follows:
How did you first hear of Darger and what fascinates you most about his story and art?
I saw 'In the Realms of The Unreal' a film documentary about him at The Leeds International Film Festival in 2004 and was immediately fascinated by both his work and life story. Here was a man who, appallingly neglected and abused as a child, lived as a recluse all of his adult life, had only one friend and shunned the company of others. He spent his time, when not working as a janitor, in his room, creating an immense 15,145-page, illustrated novel – The Realms of The Unreal – an incredibly detailed, epic, rich fictional world detailing the adventures of a group of young girls called the Vivian Girls. This work was not discovered until after his death. Despite abuse, poverty and lack of education, he created an incredibly rich imaginative world, which he spent his life living in. There is very little information about him and only 2 existing photographs of him. We want to know more about him.  Who was he? Was he lonely? Or was he happy to withdraw into a world of his own making?
The thing that 'gets' me about Darger is his commitment to creating this world. The decades he invested, the sheer volume and scale of the work (the book is 12 feet by 2 feet in size) the attention to detail – is staggering. The work simultaneously enchants and disturbs. There is innocence and beauty alongside darkness and disturbing violence. I find this duality really compelling.
There are no easy readings of Darger's life and work. Darger's story seems to highlight for me the unknowability of other people; their essential mystery. As artist Nathan Lerner who was Darger's landlord, says, "Just because there are questions, doesn't mean there are answers".
I'm interested in how creativity can benefit those suffering from mental illness and how it engenders wellbeing – this fits in with the traditional view of 'outsider art' in the sense that individuals have usually been institutionalised or suffer some cognitive difficulties. How do we begin to understand 'art' that has been produced in these circumstances, specifically in relation to Darger?
In general terms I think that one of the ways we as human beings try to transcend our pain, be it emotional, mental, physical, existential or whatever, is through creative acts. Talking specifically about Darger, there is no evidence to suggest that he was mentally ill. There are claims that Darger suffered from schizophrenia but these are interpretations only, based on readings of his work. His way of living was unusual and strange seeming, and his work is often disturbing, but there are no facts to suggest he was mentally ill.
It is also debatable whether Darger's work does fit within the category of "Outsider Art". Outsider Art, deriving from 'Art Brut' (a label created by artist Jean Dubuffet in the 1950s) generally refers to artists who live on the margins of society who creating work outside the boundaries of official culture. Darger was highly aware and literate of American popular culture – he was an avid and consumer of newspapers books and comics and incorporated these, often very directly as source materials in his work. So it is problematic to locate him within this category.
Considering Outsider Art raises a number of questions: What is 'culture'? Who lives 'outside' culture? Who are the arbiters of these decisions? Who benefits? Depressingly, often not the artists, but art institutions and dealers. Historically, institutionalised artists had their work removed and were excluded decisions from their work was presented. So for me questions about creativity and mental wellbeing in terms of Outsider Art as a category are bound up with power, control and ideology. Individually the creative act may be a therapeutic but what happens after?
Would you say that Darger's style is well suited to the zine ethos? i.e. DIY, no rules, self-expression unhindered, anyone can have a go etc.
Very much so. Darger didn't let lack of skill impede him in creating his work. He was entirely self-taught and spent years working, developing his techniques to enable him to communicate what he wanted. He used tracings, photo enlargements and found materials from newspapers and magazines until he became more confident with drawing and painting. The fact that he was so resourceful and used these elements in such a unique way makes his work like nothing else. I find this very inspirational. You don't need skills. All you need is commitment and something to communicate.
The zine is a mix of visuals and texts – how did you go about collaborating on it? Was there a brief other than homage to Darger etc?
I sent out an open call via various national and international artist networks for image and text responses to Darger's work. It was important to have text in the zine because Darger wrote prolifically as well as creating visual work. Words were important to him; The Realms of The Unreal is a novel and Darger also wrote his own autobiography.
I wanted to communicate the complexity and also the mystery of Darger. So I picked work which reflected a range of responses to his work and life: obsessiveness, violence, religion, war, innocence, confused sexuality, magical worlds, humour, darkness. I also selected work which offered a certain openness and ambiguity, in order room for the reader to bring their own interpretations. My hope is that people read the zine and become intrigued to seek out Darger's work.
The zine is available to buy from http://jeanieszines.bigcartel.com/product/mad-as-a-bad-tornado