If there's one relationship that works brilliantly in this production it's the marriage between Leeds-based Opera North and Leeds Playhouse – a creative partnership that brings Stephen Sondheim's A Little Night Music alive. As for the characters, their lives are a little messed up from the start, as RICHARD HORSMAN discovered …
It's a tale of delayed gratification. Lawyer Fredrik Egerman has been waiting to consummate his marriage to virgin bride Anne for 11 months. It's 14 years since his affair with 'the one and only' Desiree Armfeldt. So husband and wife going to see the ex's show at the theatre is probably not a good idea.
Fredrik's son Henrik is gazing at Anne fondly whilst denouncing sin as a trainee priest. Count Carl-Magnus Malcolm is having an affair with Desiree as her latest lover. His wife the Countess Charlotte knows all about that and divides her husband's army leave into hours to be sure she gets her share. Anne and Charlotte know each other. Anne's maid Petra fancies young Henrik and just about any other man, master or servant in the vicinity. The stage is set for not so much a love triangle as a geometric tangle, all in the permanent twilight of a Scandinavian midsummer.
Observing the shenanegans are actress Desiree's aristocratic mother Madame Armfeldt – too old to be in the game now (apart from Solitaire) but knowing all the moves and owing her wealth, her wisdom and her exquisite wine cellar to a string of society lovers – and most poignantly by Desiree's daughter Fredrika, an innocent observer of it all on the very cusp of womanhood, playing with her dolls house and getting daily doses of advice from grandma.
The production was originally slated for May last until Covid put the kibosh on that. After several false starts in the on-off lockdown saga Director James Brining has had to trim budgets to deliver the production to half full houses under social distancing rules. The great thing is, you'd never know. It feels big, and once the lights go down A Little Night Music feels like a full scale show. I mean, there's the orchestra of Opera North on stage for starters – their tuning up as the audience take their seats is the first indication of what's to come.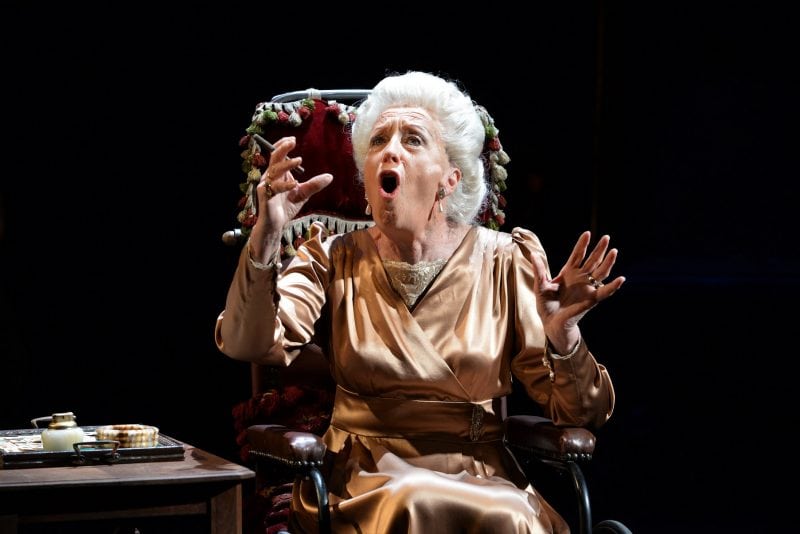 A full chorus has been replaced with 'The Quintet' – five singers who move the story on and the scenery around the stage as required. It takes the first half of the show to set up the web of relationships outlined above and to develop Sondheim's other theme – the passage of time with its inevitable regrets, portrayed most acutely by the aged Madame Armfeldt, played and sung with grace and delicacy by Dame Josephine Barstow, but also by middle aged lawyer Fredrik (Quirijn de Lang) and self-aware fading star Desiree (Stephanie Corley). This well cast duo are convincing as they explore the subtle nuances of resuming a relationship after fourteen years, and bring some much needed context to the show's best known tune.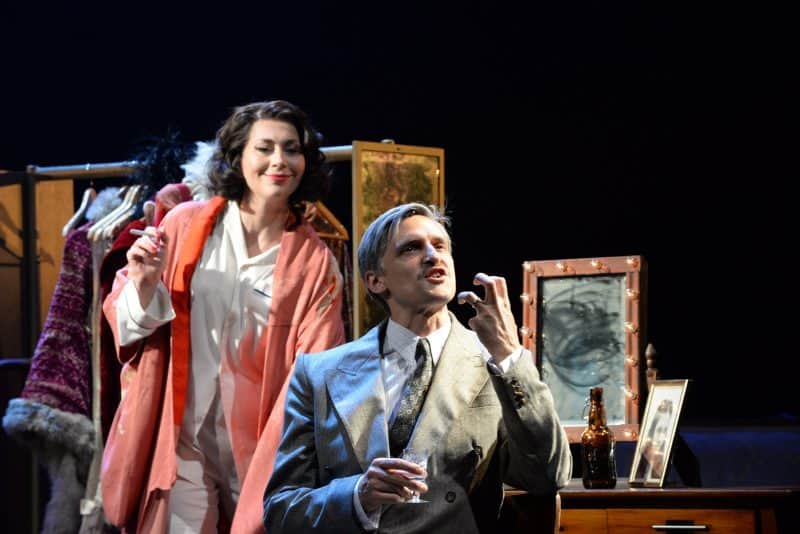 Stephanie Corley makes "Send in the Clowns" her own – not some Glynis Johns or Judy Collins tribute – and although the lyrics remain somewhat enigmatic the storyline leading up to the show's big number (and its reprise when the plot has moved on) makes it more comprehensible than any standalone performance of the song can be.
Corinne Cowling makes young wife Anne believably conflicted – she has affection for and respects the man she once knew as Uncle Fredrik, but can't accept him as a lover. The veneer of sophistication is thin over her underlying naivety. Laurence Kilsby brings angst and authenticity to repressed son Henrik, Amy J Payne brings a crown-pleasing lustiness to the role of maid Petra – and Agatha Meehan (alternating with Lucy Sherman) is the audience's sweetheart, Frederika the unsullied observer who watches whilst events unfold over a pacey and gripping second act in which we all hope this midsummer night's dream won't turn into a nightmare.
All in all a brilliant show to bring more or less full scale theatre back to Leeds. Great entertainment , with familiar music, compelling characters and just a touch of raunchiness for a summer's evening. It's the latest but hopefully not the last in a series of Leeds Playhouse/Opera North co-productions which include Into the Woods (2016) and Connecting Voices, which opened briefly in October last year.
A LITTLE NIGHT MUSIC runs at the Quarry Theatre, Leeds Playhouse until 17 July
Performances are Covid-secure – be aware audiences must wear a mask throughout the show as well as when moving around the theatre building.
Certain performances are signed or audio described – see website for details
Photography: Sharron Wallace