GINA DALE talks about choosing the cover for her new book, Viking Wolf.
Gina Dale, a historical fiction novelist from Mytholmroyd, has just published her fourth novel, Viking Wolf, which is the first of her new Viking series. Her previous novels – the Brushstrokes Trilogy – are about the life and family of celebrated 19th century artist Carolus Duran and for those book covers she was able to use his paintings.
Viking Wolf, which Gina wrote after being inspired by her own DNA ancestry and by TV shows like Vikings and The Last Kingdom, presented more of a cover challenge. Gina tells us how she created a Viking cover shoot – working with a local team, including a model picked for his Norse looks – during a pandemic lockdown.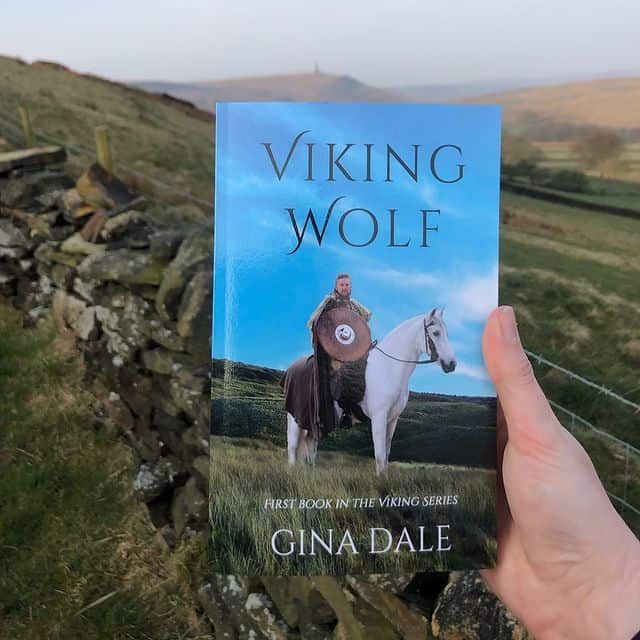 In October 2020 when approaching the end of writing Viking Wolf, I started to consider options for the cover. I have worked with Jenny Quinlan in Virginia USA who is Executive Editor of a company called Historical Editorial and has a reputation for producing excellent book covers for my genre of writing. We worked together on the three covers for my Brushstrokes Trilogy. For the first two novels we used portraits painted by Carolus Duran, whose life I was portraying. For the third, Darkness Falls, which is set during the Franco Prussian war, we used 'Napoleon III at the Battle of Sedan' – a painting by Wilhelm Camphausen.
Viking Wolf had no such fall back. There were plenty of pictures relating to films such as Vikings and The Last Kingdom but none of these could be used as they would breach copyright. I could have commissioned a designer/artist to produce one, but I am a realist (as was Duran) and I hadn't the desire or the pocket to use an illustrated cover when the purpose of writing the book was to record historical Vikings in Yorkshire.
Katie Amos of equineshoot.com had done a photo shoot of my dog, a Leonberger, and my daughter's two Springer Spaniels as a Christmas present for both of us back in July. After several calls and emails between myself, Jenny, and Katie I swung into action. I had no experience of filming but I had plenty of horse experience and this was the only way I could get exactly what I wanted. My greatest asset has always been 'organising'.
Within a week I had sourced a Viking costume from History in the Making from Portsmouth. Katie knew a tall, rugged, blonde Viking type called Ben who had limited riding experience but fitted the brief to perfection, and he readily agreed to be the model. My daughter Alanna runs a livery yard above Hebden Bridge and had at the time 5 grey horses on the yard. However, we were now into autumn and on weather and safety grounds we would have to work indoors. Shaw Farm Equestrian has a big indoor school only 5 miles from me and I originally intended to shoot during the half term week in the third week of October. Katie suggested using her friend's Helen's older dressage horse Sorrento who was stabled there. Helen would not be available on the day, so Alanna was recruited to turn out the horse and supervise him during the photo shoot. Kaye Volante, who worked at my local hairdressing salon Zeitgeist in Hebden Bridge and was used to dressing hair for special occasions, took on the challenge of recreating the Viking warrior hairstyle on Ben after we had a meeting and a practice beforehand. Katie suggested I had a bridle specially made for the shoot and commissioned Tim at Ryburn Leather a local saddlery to produce one.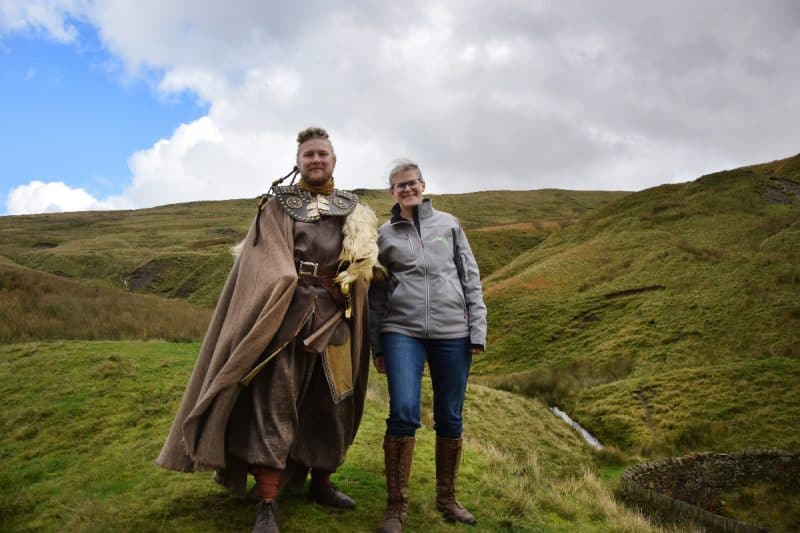 I then had to find a date to suit everybody and settled on Mon 2 November. Covid lockdown 2 was imminent and we all knew time was running out. The costume hire was for a week, so I arranged for it to be with us by Friday as it had to fit Ben before the shoot. It needed some nappy pins to keep his voluminous pantaloons up, but it was well worth the effort. We only had a 2-hour window booked from 11.00 am at the equestrian venue and preparing Ben's hair would take at least two hours with no time for adjusting his costume.
The weather had taken a turn for the worse and heavy rain fell that weekend. Katie and I had already planned to take Ben up on to the moors after the shoot to take photos of him alone. There was no way we could risk him on horseback outdoors as the ground was saturated and muddy. The river Calder overflowed within a mile of the venue and the road was closed, which meant Kaye was late getting to Ben and me on the morning of the shoot. This delayed the start of the shoot by an hour and caused palpitations for all of us. However, my nightmare had been how Sorrento would react with all the faffing about with costume changes and standing still for so long. To his eternal credit he was an absolute star. He took everything in his stride like a true professional and we managed to get all the indoor shots done in an hour. We then drove up to the moors where it had stopped pouring down but there were still intermittent showers and a dull grey sky.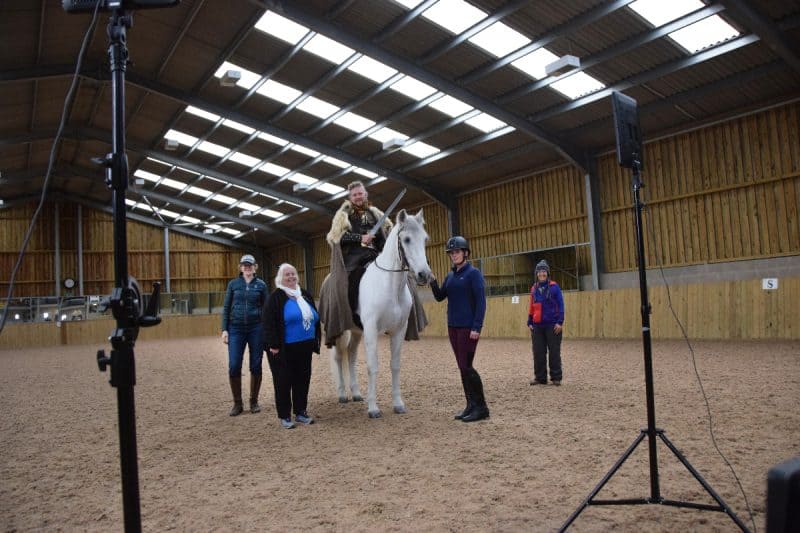 Katie took over 400 photos and I was bog eyed trying to edit the best of each position but eventually whittled it down to 30. My aim was to have the horse and rider on this cover, but the pictures of Ben taken on the moors with the atmospheric wind and rain gave me plenty of scope for Book 2's cover as well. There was just one picture that had a sliver of sunlight and a puddle of blue sky, and when I mentioned to Katie that it was a shame it had not been sunnier she waited for a sunny day and returned to shoot the background again.
Jenny looked at the pictures and selected 6 of the horse and rider she thought suitable for the cover. She produced some mock ups and after canvassing friends finally opted for this one with a sunny background for the cover.
I was delighted we were able to put together a team of local people to do this shoot at relatively short notice with a pandemic worsening day by day. The cost of organising my own cover shoot was a fraction of what some authors pay and it was a memorable experience, everyone working together to produce an image which, I think we all agreed, was worthy of the story I had to tell set in my birthplace of Yorkshire.
On the way back from the shoot Ben had to collect some keys from the pub where he works, so I dropped him off in the centre of Hebden Bridge in full costume with the sword at his side. I was fascinated to see that only two people looked startled to see a Viking striding through the village square at 2.00 pm on a Monday afternoon. Hebden Bridge has a long history of TV and film shootings taking place all over the area. Even walkers on the moors when we were doing the outdoor shots did not bat an eyelid at seeing a Viking waving a sword and shield on a hilltop. Happy Valley, Last Tango in Halifax, Gentleman Jack have all been shot in this area, but this was the first Viking shoot I am aware of. It also says a lot about the eclectic mix of Yorkshire people who take everything in their stride and just get on with life.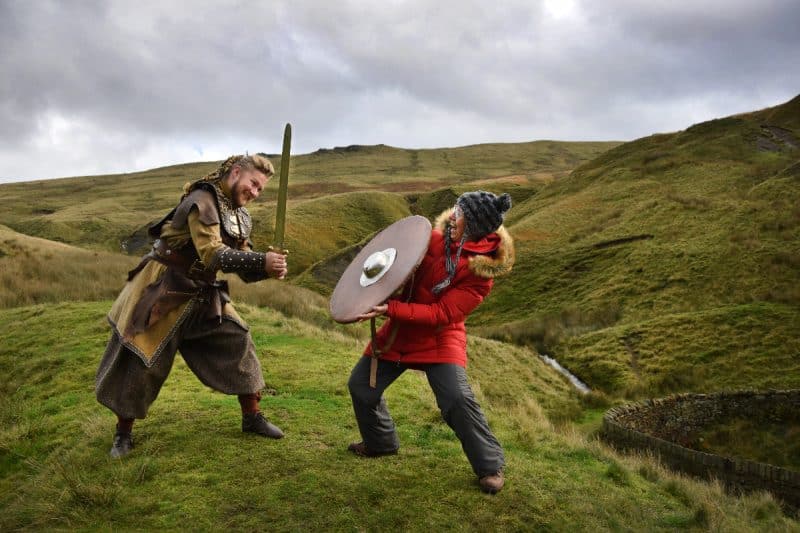 Viking Wolf is out now and available to buy on Amazon or via Gina Dale's website – www.ginadalepublishing.com/viking-wolf
Katie Amos commented: "This was a great photo shoot to work on and, although my main area of work is in equestrian photography there were a number of other challenges for Gina's shoot that I really enjoyed – not least finding a horse who I knew would be suitable for a novice rider. I really enjoy working with Gina – I love her creativity and ideas and her flexibility to adapt to changes really helps to get the best out of everyone involved."
Kaye Volante added: "I loved working with Gina, Katie and Ben on this shoot – from the practice run to the final photo shoot day. When I got the brief from Gina I did research to closely replicate the style specified and check it would be possible – a few extra pieces of hair were added to Ben's to make it look even more authentic. I specialise in precision cutting, occasion style and designing new looks so I was really pleased to get a commission that combines my specialities and played to my strengths as a stylist. And it was great to work with a local team – Gina was really clear on what she wanted but was happy to take advice too and that's what makes a great client for me."
Ben Glynn concluded: "I was surprised and very pleased to be approached by Katie Amos for the Viking Wolf shoot – I've never done anything like this before but I'm really open minded about trying new experiences and it sounded like an exciting thing to do. Gina, Katie and Kaye were a great team to work with – very supportive but also really clear on what they needed me to do to get the right images. I loved being part of this team and my friends and family have found it quite amusing that I'm now immortalised as a Viking on a book cover – with potentially more features to come."