Putting the fun back into hustings and the "oo" back into Goole – be ready for blue suits, glue guns, politicians and pathos at LEEDS PLAYHOUSE with SAY YES TO TESS – and as our RICHARD HORSMAN discovered, it'll have you thinking about what Yorkshire means to you.
This is the first show I've seen in the [don't just call it the Void – Ed] Bramhall Rock Void at Leeds Playhouse, the new studio space they've almost literally carved out underneath the steeply raked seats of the Quarry Theatre above.
For years it was -er- devoid of any function, but the architects behind the renovation of the Playhouse saw the potential to create a new type of performance space, so here we are and I'm getting a real sense of deja vu.
Then I realise what it is.
They've built a poshed-up replica of what was a Leeds institution – Slung Low's original performance space in the railway arches in Hunslet, minus the blankets and the Edwardian bric a brac in the foyer. Just don't try helping yourself to a coffee. But in terms of intimacy, connection with performers, audience numbers and exposed brickwork .. it's all there.
Which makes it the perfect venue for the show we're experiencing. Say Yes to Tess has been four years in the making, a labour of love for writer, performer, co-director and subject Tess Seddon and TheatreState that achieves the seemingly impossible; it's a musical about provincial politics which takes the piss out of Yorkshire whilst receiving a rapturous reception from a Leeds audience.
To be fair it's the Yorkshire Party, not the county, which is the butt of the humour .. but with a big but; you might actually find yourself rooting for them next time around. A show with a heart as big as the county, with recognisable characters and some pretty good songs. But I'm jumping ahead.
The fourth wall takes such a battering here it's amazing the seats above don't tumble into the [Bramhall Rock] void. Tess Seddon, a real-life playwright, plays .. herself, in 2016. Living in London, career at a crossroads, unsure of what to do next she sees a Yorkshire Party speaker at a random politics event who was a bit of a character.
This sparks the idea of writing a play about the party, a return to her home city of Leeds, a flatshare with a flakey housemate, and a chain reaction which culminates with Tess standing as a general election candidate in 2017 for the party she'd travelled north incognito to observe. That really happened .. there's even a YouTube video of Tess' reaction to the result on election night.
What happens along the way is fictionalised, as we meet other party members and learn their motivations – Ben, the insecure strategist in the blue suit (Kofi Dennis), Sue, the "female membership" (Purvi Parmar) and Kev, the chip-on-shoulder Tyke type (Andrew Whitehead).
The cast double up other parts – notably Purvi Parmar as Dani, the flatmate with a glue gun who isn't a Victoria Wood creation but should (and could) have been.
Tess is also trying to keep alive a long distance relationship with Sasha (Jamie Noar), the yuppie/hipster/meeja boyfriend back in London, and to re-establish a relationship with her estranged dad.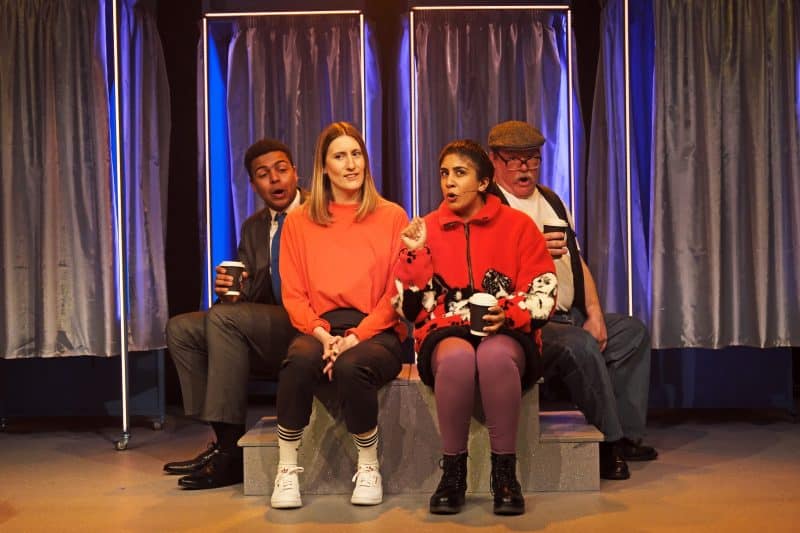 Key moments in the action are illustrated with songs by Harry Blake … as political anthems go they're more Mikron than Les Mis, with, notably, a jolly singalong in which voters are urged to "put the rad back in Bradford" and the nearest thing this show has to an all-cast big-budget showstopper in "Twitterstorm". Like the rest of the plot, they work well in context and bring a huge smile to the face.
Underneath the humour and the semi-mocking tone are some serious messages .. what if politics could engage those who feel excluded from some distant Westminster game? When does a "no hope" candidate fight for what they believe, even if that could end the career of a respected and popular local figure? Is there anyone whose voice should never be heard .. even if they can't sing a pretty tune?
Say Yes to Tess runs in the Bramhall Rock Void at Leeds Playhouse until Saturday 2 April
Photography by Zoe Martin