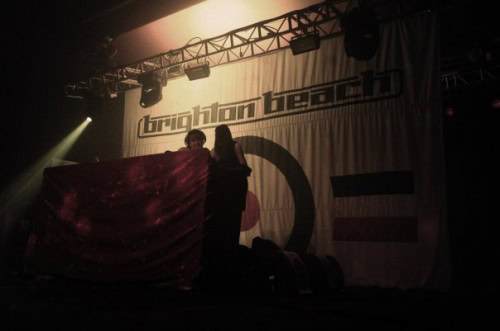 Helen Baron has been DJing for Brighton Beach since its inception in 1994 at The Cockpit, Leeds and we caught her to ask a couple of questions before she DJs at Brighton Beach this weekend. Helen has gone onto DJ at Brighton Beach nights across the country from Newcastle down to London as well as many other popular alternative nights in Leeds. These days, she owns 'Ribbon Circus' in Hebden Bridge as well as still making the occasional guest DJ appearance (in particular, the main stage at V Festival every year).
Can you give us an idea of how the club night started, what your involvement is and how it has changed over the years?
The night started in 1994 just on the cusp of the Britpop explosion. The ideas around Brighton Beach were for it to be a celebration of cool 1960s culture and the British beat explosion that happened in that era. With Britpop echoing all that too Brighton Beach was the perfect combination of 60s cool and modernism combined. I dj-ed in Leeds from the very start with satellite nights in Sheffield and Leicester following on. Brighton Beach has changed over the years as the current scenes have changed. In 1994 Blur and Oasis were the indie darlings and the dancefloors' favourite. Over the years The Strokes, White Stripes, Kaiser Chiefs, Amy Winehouse, The Arctic Monkeys and the Cribs have, amongst others, all taken their turn as the darlings of the dancefloor.
Given that it has been running since 1994, what do you put its continued popularity down to?
The vintage music that is played from the late 1950s to the early 1970s is picked from an enormous back catalogue, I never tire of picking from the great music of that era and try to always have something 'new' to play. (New as in new to you not new to the world!)
Various bands have been known to hang out at Brighton Beach, do you have any stories to tell?
Yes various bands and rock 'celebs' have been spied within the Brighton Beach doors, Kaiser Chiefs, Arctic Monkeys, Kasabian, Paul Weller (the modfather himself), Paul Cook (ex-Pistol), Steve Lamacq and did someone once see Liam G in there? Not forgetting all the great bands we've had playing live over the years, and in the early years we had a weekly live act! Hey, but a girl never tells tales…..
Have you planned what the opening track will be for this week's club night?
Opening track…Ray Charles, What I'd Say. A classic cool track. More importantly the closing track…..I haven't decided yet, I guess you'll have to be there to find out.
Brighton Beach
The Wardrobe
6 Saint Peter's Square, Leeds, LS9 8AH
Saturday 28th April 11pm – 3am
£5 adv – Tickets avail: www.lunatickets.co.uk, The Wardrobe, Ben Sherman store (Thorntons Arcade, recieve an exclusive 10% off in store when you buy your ticket), Crash & Jumbo Records
www.brightonbeachclub.co.uk
www.thewardrobe.co.uk