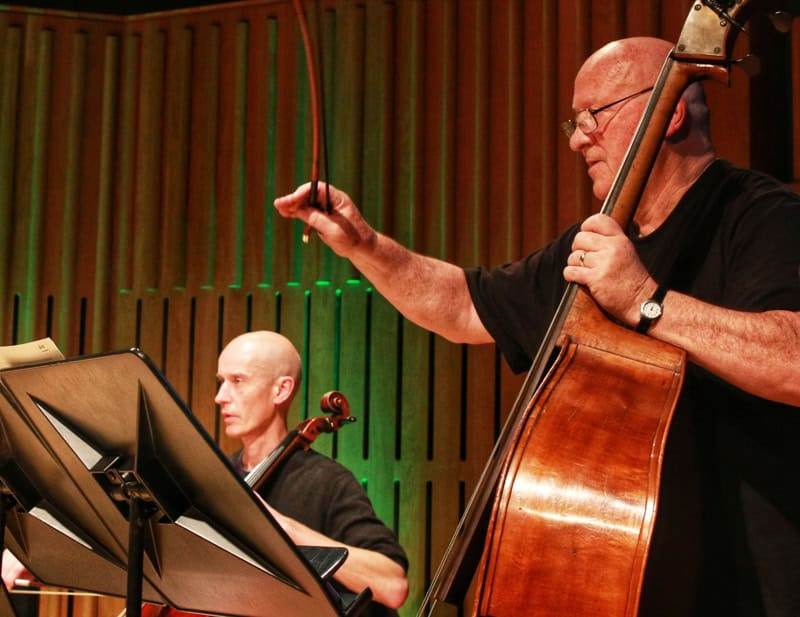 Review: Neil Mudd
I've always thought of Shakespeare's sonnets as sensual, not menacing though Nothing Like The Sun with the two Gavins – Bryars and Friday – has got me wondering.
Commissioned by Opera North, this setting of eight of Shakespeare's 'more abstract, more philosophical' poems by Gavin Bryars dates from 2006. This is the first time the piece has been performed in its spiritual home as it were.
Reviews of earlier performances were testy to say the least. (Google The Guardian's particularly sniffy account and guffaw at the reviewer's near apoplectic indignation.) The first half of tonight's programme has been substantially rejigged since then, with only Gavin Friday's darkly ethereal Sonnet 40 still making the cut.
Fronting Friday's contribution was a gorgeous reading of The North Shore, Bryars' plaintive piece for ensemble musicians built around an evocatively nuanced solo viola (Morgan Goff on scintilating form). Alternating an almost skittish English whimsy with keening European existentialist angst, The North Shore latches onto an appropriate brooding sense of supernatural unease. Partly a response to the seascapes of artist James Hugonin, the work is tinged with Bryars' recollections of childhood holidays spent in the shadow of St Hilda's at Whitby and the delicious dread he felt at the ruined abbey's infamous literary associations.
As befits an artist whose troupe of post-punk provocateurs The Virgin Prunes were equal parts art-statement to jazz improv clatter merchants, Friday bent the words of Sonnet 40 to his own needs, mining them for bleaker meanings than even Shakespeare probably intended.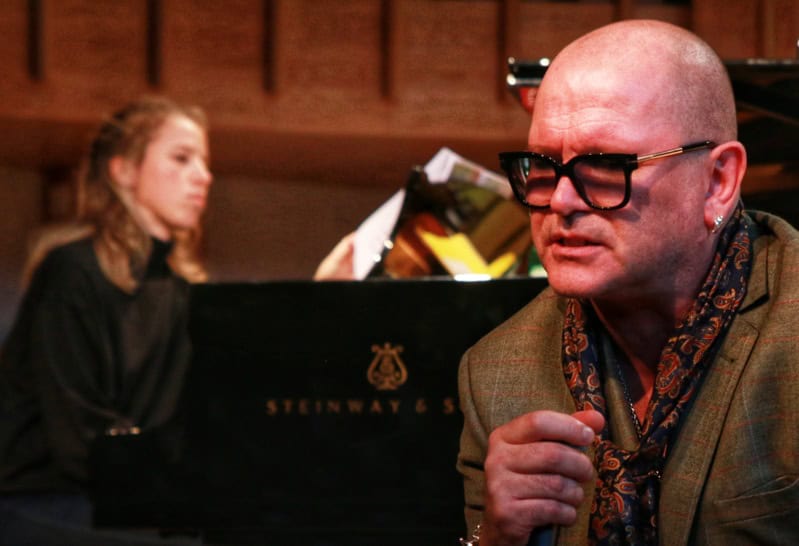 Sombrely dressed, his eyes concealed behind sunglasses, the ex-Prune crouched front of stage and read from a black leatherbound notebook. Erring towards the overwrought in places perhaps, but stark theatricality never hurt anybody.
The Flower of Friendship which followed offered a beguiling counterpoint to the moodier, deliberately stylised Bono-isms that preceded it; salt and sweet. The understated crystalline piano and washes of the strings were enchanting.
For the second half of Nothing Like The Sun, Bryars' settings followed a consistent pattern: a reading of the sonnet by Friday – hands cupped around the microphone, voice hushed and pinched – and an exploration of the theme which made a virtue of the exquisite singing talents of soprano Sarah Dacey and ex-Hilliard Ensemble tenor, John Potter.
This was no reverential reading a la BBC Radio 4, however. This was hard-edged, obsidian and impermeable. Friday imbued each reading with a barely concealed rage, railing against the ink black lies and hypocrisies of fate. Bryars' musical setting shifted similarly in tone between light and dark, each part a masterclass in endless fragile possibility.
It may be over a decade old, yet Nothing Like The Sun retains its capacity to warm and delight. The composer's choice and sequencing of the sonnets this time may have suggest a greater than usual wistfulness at work, but he can be forgiven that. Now in his seventies, Bryars is rightly regarded as one of the country's finest composers. Last night's performance was a homecoming to match.
Gavin Bryars, Gavin Friday and ensemble return to Yorkshire for performances of Nothing Like the Sun and The North Shore at Middleton Hall, University of Hull, on 4 April 2019. For more information, including tickets, click here.
Gavin Bryars interviewed for The Culture Vultures here.