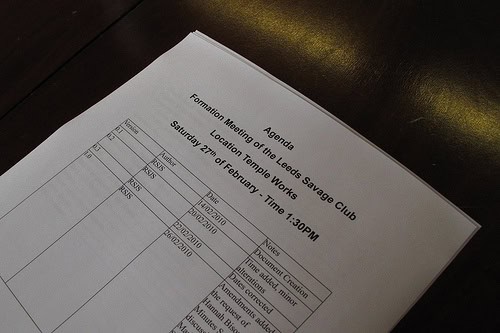 A portion of Leeds' Victorian history was brought to life this weekend at privately owned Temple Works in Holbeck, when the newly reformed Leeds Savage Club signed their constitution in the building. The enormous former flax mill built, by John Marshall in 1836, is in the early stages of repair for re-use as a major cultural venue, acting as a much-needed destination for the regeneration area that is Holbeck. During this period it is opening its doors to a wide variety of arts organisations who want to help build up the project. Though repaired, its raw state will be maintained as such – a perfect context for the "noble savage".
The Leeds Savage Club originated as a Victorian organisation, set up in 1898 to provide a forum for local artists and writers. The name 'Savage' likely relates to the popular Victorian literary concept of the 'noble savage', which suggested creative people were resistant to the negative effects of structured society.
The club last met, and disbanded, in 1912, but was revived on Saturday by two existing groups of writers and sketchers, established in Leeds for some time.
Robert St-John Smith, the newly elected Chairman of the Savages, said:
'I had been involved with both the Leeds Writers' Group and the Leeds Sketchers for about a year when a fellow writer pointed me to an exhibit mentioning the Savage Club in City Museum. I informed both groups, as the writers had discussed creating an independent society and I had recently become organiser of the sketchers. After a little research at the Thorsby Society, we decided the philosophy of the Savage Club suited us well, and elected to merge under that name."
Phil Kirby, who is a member of the writers' faction of the Savage Club, added:
"I think it's fantastically fitting that the Club has been re-launched at Temple Works! This Victorian building is modelled on the Egyptian Temple of Edfu and Grade 1 listed due to its unique architectural and engineering importance. During the current repair period at Temple Works artists are taking the lead. I am a writer-in-residence at Temple Works and I'm very pleased to see the venue being used so positively. It's proof that there is a need for a space like this in order to foster local talent."
You can find out more about the Leeds Savage Club and their fortnightly, discipline-specific meetings for writers and sketchers of all abilities at: www.leedssavages.com.
For information on Temple Works, please visit www.templeworksleeds.com and Temple Works Leeds on Facebook.