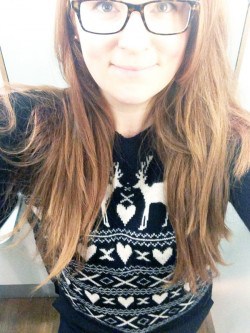 Guest blog by my neighbour at Munro House Leeds and a terrible distraction over morning coffee  @ellieHschiadas. Ellie runs Cafe 164 and Leeds Gallery. Despite being under thirty Ellie has a penchant for Nana knits which inspired me to ask her to compile her guide to gifting…Somehow she pulls off wool and wow!
In the winter, there is nothing that can beat an M&S knit. Mums and nanas do know best on this one. We should never forget this British institution's humble beginnings in a Leeds penny bazaar first opened by Michael Marks. Bringing the best quality knits (which wash and wash) since 1894, I will continue to shop here until I myself am a nana. See pictures for suggestions on how to wear. Combine with big hair and glasses for a cosy but stylish look. Model: Victoria Pyle. M&S may be international, but the best ones for knits are in Leeds City Centre and in the Owlcotes Centre, Pudsey.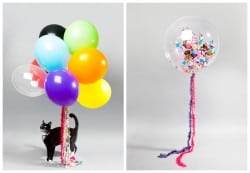 Bon Bon Balloons make the most wonderful balloons that you ever did see. This is a true fact. Bon Bon offers something very unique – a perfectly round, helium balloon in a colour of your choice, with a decorative handcrafted string, selected by you, packaged perfectly in a standard square box. Your Bon Bon will arrive at its destination, and once the box is open, out floats your perfectly round and pretty balloon, held down by the delicate string, bearing your attached message. You can also attach small gifts and vouchers to the string. Guaranteed to keep afloat for at least 7 days, these helium delights are guaranteed to raise a smile.
@bonbonballoons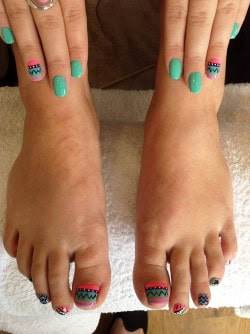 Be Beautiful beauticians
I am championing this place because its owner Lucy, is a fellow independent business owner who strives for quality in what she does. She has been open for just over a year. Excellent customer service and warm welcome aside, Lucy's manicures do exactly what they are supposed to do – LAST. The quality and attention to detail is spot on, and she does fantastic nail art. She uses O.P.I top quality nail polish and her prices are extremely good (£20 for a Shellac manicure with nail art) Located a little out of the way (Farsely) it is a good excuse to combine your manicure with a little visit to neighbouring Bradford, with its plethora of cultural delights, you can decorate your mind as well as your nails.
Be Beautiful, 4 Town Street, Farsley, Leeds LS28 5DB, 07508111731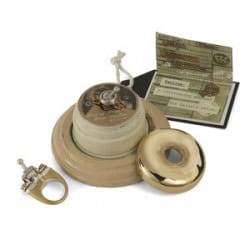 Jessica de Lotz jewellery was recommended to me by someone with excellent taste; Jessica's range of rings, bracelets and necklaces are totally and beautifully bonkers, ranging from a ring with a Doll's Eye that's actually blinks to polished wax seal bracelets and necklaces. All jewellery is made from Hallmarked Sterling Silver with the option to plate in yellow or rose gold. There is definitely something for everyone here, luckily not too pricey with some rings starting at £75.  Most of her stockists are in London and Bristol but you can also purchase directly from her online shop (with currently a 10% discount until 16th Dec)
@JdLjewellery
Ellie Halls Schiadas is co-owner of Leeds Gallery and Café 164, in Munro House Leeds and owner of Leeds Life Drawing.