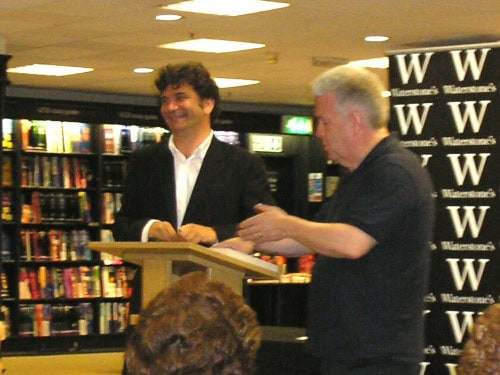 Mick McCann, author of "How Leeds Changed the World," writes the first of a series of posts on Leeds writers and writers about Leeds; this one's on the Leeds Scene . . .
The Clavane, Mc Millan, Leeds Waterstones Trilogy.
Part One: The Leeds Scene.
A pair of buses has disappeared off the timetable, lost in the Bramley triangle. I'm later than planned for the launch of Promised Land in paperback, wrapped in a discussion on Yorkshire writers between Anthony Clavane and Ian McMillan. Had I been meditating in a cave or touring Shandong for the last year I'd have missed this jewel of a book with its expansive views of Leeds through its writers, football club, assimilation of the Jewish community, social mobility/division and the rise of the 'Northern Man'. Fortunately, being a dull home-bird, I read it.
City Square, standing to get off the bus I clock a council banner adorning a lamp-post boldly claiming Leeds Loves Creativity. Happily succumbing to my tourettes I swear out loud and decide to shin up the lamp-post and scribble Controlled, Corporate, Safe above Creativity.
With reddened knees I skip and side-step through the buzz of people. My handicap is carrying another box of books for the private sector, profit-driven Waterstones, a company who has been nothing but supportive. How many copies has this branch shifted? 400? It's not just books sold, I mused, Anthony won't cover his train fare in sales this evening, it's a process.
Waterstones has been a vital conduit and hub for a chapter of Leeds writers. Tonight is really an extension of their Secret Leeds events which have encouraged many but, more importantly, helped bring us together. It's around these nights that we've started to discuss and evolve the notion of the modern 'Leeds Movement'.
Entering the room – good turnout – I nod, smile and shout greetings to people, drop the books at the counter as one of the lads orders another 30 electronically. After a quick hug with Rob Endeacott (Dirty Leeds) and Wes Brown (Shark) I slide a sly smile over at Richard who runs the Headingley Lit Fest. Mr McMillan is slightly concerned that Clavane isn't in the building. 'They always start a little late,' I reassure him and nip out for a fag of reward.
Standing in the doorway, here he is; a quick hug and Anthony is in the building. It's about to start and my priorities are clear, I stay and smoke. Ooh look, here's Leeds writing royalty….David Peace (The Damned United, Red Riding Quartet etc.). He's just about to say hello when the cool chick by his side excitedly breaks from the group and throws her arms around me – I feel loved. Past the smiling doorwoman I'm back upstairs as the Waterstones staff hurriedly put out more chairs, the chatter of expectation crowding the room.
Clavane and Macmillan grab the throng, assured and confident….they've done this before. The rapport builds, as they delve into interesting areas of writing, identity and creativity, delivering perfectly timed funny one-liners, bouncing off each other like the mutant cloning of Morecambe and Wise genetically fused with Chomsky and Foucault. I won't give the plot away here, it's a serial. The conversation turns to Yorkshire writing, quickly homing in on Leeds and 'it's surrounds', lists of the old guard are made, Alan Bennett, Willis Hall, Keith Waterhouse, Tony Harrison, Stan Barstow, John Braine, David Storey, Barbara Taylor Bradford, Jack Higgins. I make a mental note *related legendary film director Tony Richardson*, add Barry Tebb and list older, unrelated writers in my head, OCD fully engaged.
Moving to more contemporary writers, Anthony frames it in an ongoing electronic discussion he's been having with an un-named writer regarding his recent Guardian piece about the Leeds/West Riding iconoclasts. Kester Aspden (The Hounding of David Oluwale) feels uncomfortable throwing disparate, not always 'Leeds' writers together, stamping an identity on a schizophrenic city, shouting about a city characterised by a charming modesty. Another list; Wes Brown, the legendary Mick McCann, Caryl Phillips, David Peace, Kester Aspden, Dave Simpson, Alice Nutter, Bernard Hare, Boff Whalley, Ian Duhig, Tom Palmer, Robert Endeacott and John Anthony Lake. My OCD silently adds Helen Fielding, Kay Mellor, Peter Robinson, Steve Mosby, Martin Wainwright and Michael Bunting. The audience chip in with Cal Clothier, Robert Dinsdale, Kate Atkinson and G.H. Morris whilst I consider that the city's academics, journalists and comedians are writers.
The room is immersed in those old conundrums, the Leeds identity and what or who is a Leeds writer? I'll give no spoilers here but will say there are people I'd remove from the list and people who may remove themselves and I'd put back. For me it's inclusive, I don't give a flying duck whether writers are from Leeds. The fine poet Ian Duhig isn't but his knowledge of the city and his kids skitting him for not being 'proper Leeds' is enough for me.
Subverting the post encore rock'n'roll cliché the lights go out and the audience, having chucked in their two-penneth worth (more like a tanner), beat their applause into the warmth of the room; they're glad they came and after an open invitation we decamp to Whitelock's.
Some of us writers have been plotting how we nurture and flog a Leeds movement. One of the many questions that arose was can we include David Peace, one of England's most successful contemporary novelists? The general opinion was that he doesn't consider himself 'a Leeds writer'. Although four or five of his books centre on Leeds and when you publish you lose the right to exclusively define yourself, I wasn't that fussed. He probably doesn't want or need the movement like we do and, with or without his name, we need to get on.
After one of those conversations – with Rod from Red Ladder about contemporary theatre – where you get a bit giddy in the rush of unexpected agreement, I turn to David to ask him about his 'Leedsness'. Our conversation is cut short by more exciting options, someone's going to the bar, but I do glean that he wasn't born in Leeds but – like all the writers from Leeds and its surrounds – so close that the exciting, brooding gravity of the city sucked him in. It was his big city, his city of awe.
What is a scene or a movement? I think in 2011 it'd be unlikely to cluster around a clear writing style or a fascination with sci-fi. With all Leeds writers the characteristics of the city and its people inform the writing – it's not what we are but a part. Also, if it's a collection of writers who encourage and support, meet and talk bollocks, recommend, pass on useful contacts and leads; if they share a joint aim to promote their collective work then, for me, it's a movement, it's a scene…..it's the Leeds scene.