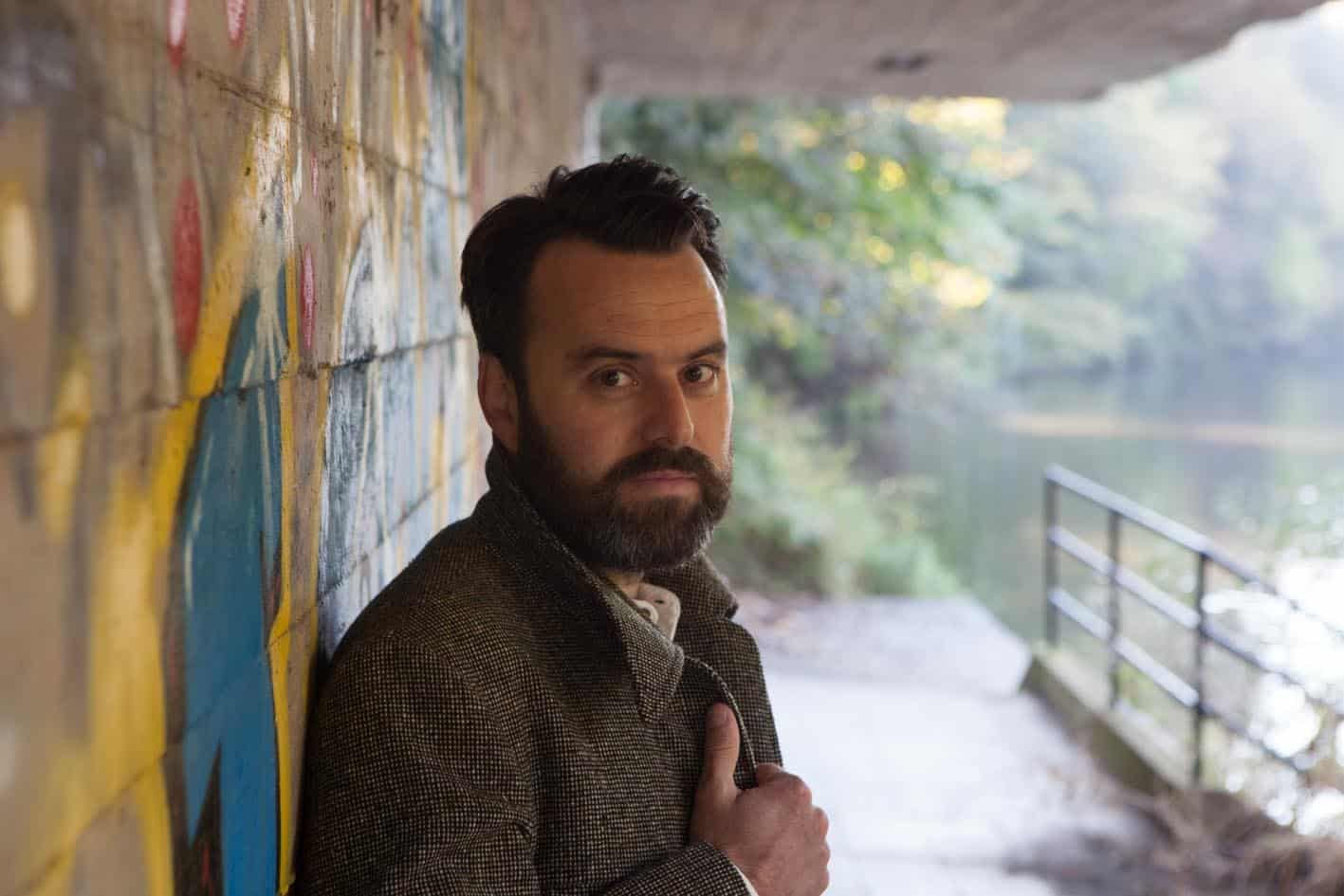 BEN MYERS talks to NEIL MUDD about The Gallows Pole, his brilliant retelling of the brutal rise and fall of 'King' David Hartley and the Crag Vale Coiners. Just don't call it a historical novel. 
When the editor at his London publishers told him he should stop writing about Northerners, Ben Myers realised his days with the firm were numbered. "You're part of a much bigger machine," says the Durham-born author when we meet at the Old Gate in Hebden Bridge to talk about new novel The Gallows Pole. "Your book has a shelf-life of about six weeks and if it's not selling, they're onto the next thing."
The author found himself in limbo with a new novel all ready for publication (Pig Iron, a gritty coming of age story set in the North-East), but no publishing deal. "I wanted to get it out there because it was about travellers and gypsies. [At the time] there were a lot of travellers in the news and on the telly in documentaries."
That was five years ago. Luckily Kevin Duffy's esoteric imprint Bluemoose Books stepped in: "Kevin's a bit like P. T. Barnum: he's good at talking the talk," says Myers. "He re-mortgaged his home to fund it, so when someone's done that, you know there's a level of commitment." Pig Iron went on to win the inaugural Gordon Burn Prize in 2013. Reviewing it in The Guardian, Cathi Unsworth praised Myers for his 'poetic vernacular' and 'humanity'.
Myers has remained with Bluemoose for his latest book. The Gallows Pole is a brilliantly realised fiction – rooted in visceral truth – about the rise and fall of the Crag Vale Coiners and their charismatic leader, 'King' David Hartley. Well-documented locally in non-fiction books and on websites, the gang captained the Calder Valley for a brief period during the 18th Century. Myers became aware of their activities some years ago. "The story of the Coiners is just so interesting and so dramatic. It feels like such an English story, but it hasn't really been done justice. Why isn't it more widely known?"
One reason, he suggests, is class. The Coiners were mostly farmers or labourers and their pursuit and harassment by local government tax excise officer, William Deighton, amounted to a declaration of class war. "These people had absolutely nothing and they decided to have a slice of the pie for themselves. They had to break the law to do it. Things haven't changed that much. Lifestyles may have changed, but the class system is still with us."
Myers studied centuries of land ownership, acts of enclosure and agricultural change, all of which gave him a keener understanding of the pre-industrial era in which the book is set. His research threw up some unlikely resonances: David Chase's peerless long-game about New Jersey mob-life, for one. "The story reminded me of The Sopranos," says Myers. "I'm interested in power and the acquisition of power." In these shows, men have to fight to maintain their position, often at a cost to their own humanity. "None of them are happy. They just become isolated and paranoid. I think that's possibly what happens to David Hartley."
Achieving the tone of The Gallows Pole was very important says Myers. Peter Carey's lyrical reworking of the violent short life of outlaw Ned Kelly, True History of the Kelly Gang, proved especially helpful. A morally dubious and conflicted character, Kelly enjoys legendary status in his native Australia (much the same way that Billy the Kid is woven into the folklore tapestry of the American West). "How do you tell that story?" Myers asks, particularly as his own desire to mythologise Hartley continually bumped up against the historical facts: "When the Coiners were rounded up and gave statements, each accused the others of treason to save themselves. So there's not much honour among thieves."
For the book's earthy symbolism, Myers drew on his love of folk-horror, a willowy adjunct to the sixties counter-cultural headspace exemplified by films such as Witchfinder General and Blood On Satan's Claw. The book's narrative throbs with subcutaneous menace punctured with sudden eruptions of grim brutality, as when Hartley beasts an underling, setting in train the events that will lead to his own downfall.
There is also something quintessentially English and pastoral about Myers' version of the past. He credits the film Winstanley and its sympathetic portrayal of the Diggers, a resistance movement who challenged the enclosure of common land in 17th century England, with providing the co-ordinates by which to steer when imagining the Coiners as characters of flesh and blood.
There are shades too of Barry Hines in the book's ink dark depictions of the interplay between character and nature – few novelists can better Myers at capturing the shifting moral tonality of landscape: "I go walking most days and it's taken eight years of living here to get a true feel for the place," he says.
The day we meet is the hottest of the year so far. It seems as if all of Hebden Bridge has turned out to bask in the brilliant sunshine. "There's a dark side to it all as well," cautions Myers, "and that's reflected in the Coiners' behaviour. They could really only exist here."
Bell House, Hartley's former holdout, remains today, its strategic view of the valley a simple matter of self-preservation. "You can still see someone coming from a mile away," Myers tells me. For a charge of treason to be brought, a coiner had to be actually caught in the act of clipping. "It couldn't just be intention or a suspected activity." The scene where Deighton surprises a cottage, only to find it recently vacated, is based on an actual event. "But that only happened because of the landscape. The Coiners would have had a better understanding of it. They knew it would take someone of stamina and determination to get anywhere close to them. There was no railway or canal, and the main road was only just being laid."
The Coiners may have owned the landscape, but their world was about to be swept away. "There were a few mills around then, but they were small," Myers says. "Within ten years they were building mills the size of cathedrals and productivity increased a thousand fold." Gifted a kind of delusional second sight, Hartley understands the Coiners will lose everything – in their brash lawlessness lies the engine of their own demise. "There was no one to stop them for quite a while," Myers explains. "It was only when they were implicated in the murder of Deighton that word reached Westminster these mad hillbillies up in Yorkshire were running things."
Myers learned from a local jeweller the level of artistry needed to forge a coin. Even today, using specialised tools and methods, it represents the very highest order skill. That the Coiners managed it with just hammers and tongs and fire is all the more remarkable. "It suited the authorities to portray them as peasants, but they were actually extremely skilled. To have that self-belief – that all came from David Hartley."
With the local economy in disarray and the Coiners seemingly beyond legal reproach or sanction, it had the makings of a coup. Myers points out the parallels between then and now: "Today you've got bankers, brokers and politicians who are as corrupt – if not more so – as the Coiners. It's just a more subtle white collar crime." Despite such historical reverberations, Myers hates that The Gallows Pole might be characterised by some as simply a historical crime novel. "It's not really a history book. It's more about mythology and landscape and poetry."
The discussion turns to Penda's Fen, a cult one-off in the BBC Play for Today strand (knowing he was big on folk horror, I had brought a copy with me as a gift): "It's interesting you brought Penda's Fen because that's about the archaeology of the English mind-set, and so is the story of the Coiners in a way. It's about the psyche of the past and how it informs the present. I like the idea of digging into the landscape, but also digging into the minds of the people who occupy that landscape as well." It is a poetic metaphor, though Myers writes poetry primarily as an exercise. "Poetry is a way of getting better at writing and language, and often I'll take something I've written as a poem and turn it into prose. I did that with The Gallows Pole."
He feels history is missing a trick: its traditional emphasis on names and dates and places lacks any emotional connection to those living through the events themselves. "I don't think people have changed that much. I think people were compassionate and empathetic and also cruel and really greedy," he argues. "With The Gallows Pole, I wanted to pull people in – get them excited or intrigued or disgusted by some of the characters. It's not just cold facts. That would put people off."
One particularly harrowing scene in The Gallows Pole involves the gruesome real-life murder of labourer Abraham Ingram in a crowded pub. "That's the difference between history books and a novel," says Myers. "I read about that incident and it's basically just three sentences, whereas to me, it's an exciting, fascinating story."
Where does this fascination with the violent history of Northern England come from? "It's hard to say really because where I grew up was the suburbs, a thoroughly modern invention. I've lived in the heart of London and now I live in the countryside." He has vivid memories of growing up in the eighties in Durham and the Miners' Strike. The year-long conflict represented a seismic shift in Britain's industrial relations: pitched battles between strikers and police played out nightly on television and traditional mining communities splintered and divided as the struggle dragged on. "I'm interested in the way Britain has developed, in the way the land has been divided up," says Myers. "We think of it as changed. We don't think of it as being owned by wealthy landowners, but it hasn't changed that much."
The only character in The Gallows Pole to see this bigger picture and grasp its meaning is the Alchemist, a sinister mercurial half-presence who bestows wealth and augurs doom. It is disappointing to learn he is entirely fictionalised, an archetypal bridge between the setting's folk-lore past and its industrial future: "He's a bit like Papa Lazarou from The League of Gentleman – exotic, unknowable, menacing – who, as everything collapses, is gone like smoke."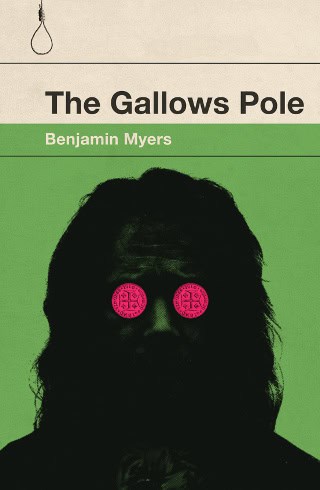 A sense of this ambiguity permeates the book's striking jacket by Delaney Jae, a designer friend of Myers with a penchant for garish colour choices. Averse to anything Gothic (which seems perverse considering the subject matter) or too monochrome, Myers says he is delighted with it, though bemused by suggestions the cover is a nod to Romek Marber's distinctive work for Penguin. "Quite a lot of people have mentioned Penguin Crime, but that wasn't one of the reference points. I sent Del some of the Faber books from the fifties and sixties and told him I just wanted typography. I didn't want a head or a face on there, but of course him being a designer he came back with something quite different."
"I knew Del would come up with something good. We paid extra just for the pink," Myers laughs. "Designers don't care about budgets or the brief. I don't even know if he had even read the book at that point, but the cover has been responsible for lots of Waterstones shops taking photos of it and Tweeting about it."
The Gallows Pole has sold in healthy numbers since its release in May, picking up good reviews and word of mouth. There has been talk of a television adaptation, but Myers has been here before and is reluctant to discuss it. "I've had so many near misses. Brad Pitt's film company rang up once to say they were interested, and I sent them some manuscripts and never heard anything back." Pushed to name an actor he would cast to play David Hartley, Myers mentions Leeds actor Ralph Ineson (Dagmer Cleftjaw in Game of Thrones). "He'd be perfect for David Hartley. If you listen to his accent, it's very earthy sounding." Scottish actress Kate Dickie is a fan of Myers and has already offered to make the necessary introductions.
Myers has finished a new novel, a semi-sequel to previous novel Turning Blue. "It's inspired by a strange case of mass-hysteria that happened in Halifax in 1939 just as Britain was about to go to war. I've transplanted the idea of that story to a series of crimes committed in Hebden Bridge today."
He is currently working on a non-fiction book called Under The Rock about local landmark Scout Rock, the wooded escarpment behind his home. Inspired by Ted Hughes, the book will explore the 'fenced off, hidden world' Hughes described in his essay The Rock. "It's also about the floods, foxes and badgers, old stories about the town, heroin problems in Calderdale, Neolithic stones and wild swimming."
"There are a lot of nature books out there," Myers says half-jokingly, "where a middle-aged white guy with a beard goes for a wander. I'm trying to avoid that." One of the chapters will attempt to describe what he and wife Adelle Stripe call the Cleckhuddersfax Triangle of the Occult. "We've taken a map of the area and marked on it where Peter Sutcliffe operated, where Harold Shipman had a practice, where Jimmy Saville kept a holiday caravan," explains Myers. "When you join up all these horrible crimes, it forms a pentagram and in the centre of it there is Scout Rock and our house." It is probably safe to assume Under The Rock is not your typical nature book. "It'll be a bit darker I think," agrees Myers. "I'm enjoying writing it. There's a lot of walking which is good."
Both books are rooted firmly in the North of England – literally a stone's throw from the author's home in the Calder Valley. With all this inspiration on his doorstep, it's unlikely Ben Myers will be writing about Southerners any time soon.
The Gallows Pole by Benjamin Myers (Bluemoose Books) is out now.
For a chance to win a signed book, visit our Facebook page.