Leeds author CHRIS NICKSON is about to publish his 22nd crime novel. Characters and time periods may vary, but they're all set in the familiar city we walk every day. The CV's RICHARD HORSMAN met Chris in the local history section of the Central Library (where else) to discover how this infatuation began ….
Chris Nickson is in his natural environment gliding among the polished wood shelves and cabinets on the second floor of Leeds' magnificent Central Library. It's a treasury of local history housed in a part of the building casual visitors may never have seen, although his period crime novels are enjoyed by hundreds of readers every year – Leeds folk who never venture past the ground floor lending section.
It's up here that the stories begin, with hours of original research. At the moment Sheepscar is the focus of his attention; Chris has just realised no-one appears to have written anything significant about it. He's a familiar figure to the ever helpful librarians, and Karen has already located and opened an 1850 map for his attention, whilst reeling off suggestions of other resources that might be helpful.
It would be easy to imagine Chris as a career academic, detached and unworldly; but the faded and well worn blue jeans give a hint of a very different early life as a music journalist, moving from Leeds to Seattle, specialising in world and roots music. He mixed with and wrote about celebrities from John Martyn to Mariah Carey, from Emma Thompson to Ozzy Osbourne. It's only in 2005, in his fifties, that Chris came home to Leeds and began writing novels.
It took five years to become established as a crime writer, with Crème de la Crime publishing The Broken Token in 2010. Set in Leeds in 1731, it marked the first appearance of Richard Nottingham, Constable of Leeds. Nottingham, who really was the Constable of Leeds in the 1730s, has since made a further six appearances.
Together with Detective Superintendent Tom Harper, who ran Millgarth police station at the turn of the 20th century, and Dan Markham, a noir-style enquiry agent very much at home in the Leeds jazz scene of the 50s, these are the people who populate the historic streets in Nickson's imagination. There are others, including WPC Lottie Armstrong, a woman in a man's world dealing with the Modern Crimes of the early 20th century.
"When I look at these books lined up of the shelf, it seems crazy," he admits. "So many of them; I'm not even completely sure how it happened. I was 55 when someone took a chance on me, I was so eager to explore all these ideas and characters who'd been flowing through my mind."
I caught up with Chris during a break in his research .. and I had to ask where the love for Leeds evident in all his writing comes from, especially as he spent nearly three decades away from the city in places many of us would consider to be much more glamorous …
10 years is quite an anniversary, and it can seem like a long time to focus on a single place. Yet Nickson feels he's just beginning.
"I've covered Leeds in every decade from the 1890s to the 1950s, as well as a couple of others. With Tom and Annabelle Harper, I've chronicled their lives from 1890 to 1908, and I want to take them up to 1918. Yes, I write crime novels, but for me, it's always the people who make any book."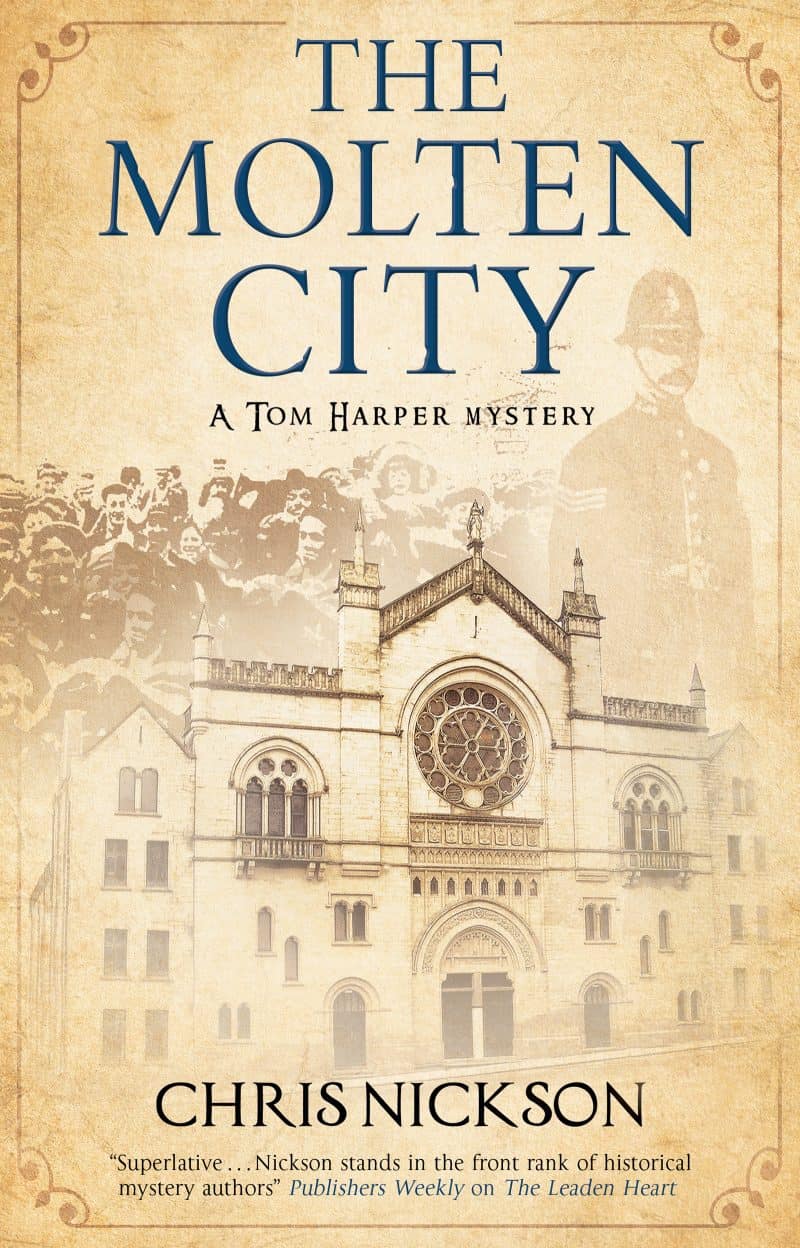 Nickson's newest book, The Molten City, is out at the end of March. It's the eighth to feature Det. Supt. Tom Harper, and it builds on real Leeds history, using the 1908 Suffragette Riot as its backdrop.
"Being able to use events in a book helps to ground the story. It's the same with actual locations. Tom's wife Annabelle is the landlady of the Victoria public house at the bottom of Roundhay Road. The place existed; my great-grandfather was the landlord for 20 years. So the novels connect not just to Leeds history, but my own family. My only regret is that my parents died before any of these books were published."
Last year was remarkable for Nickson. Both the Leeds novels he published received starred reviews from multiple American trade publications. And 2020 promises more. Another pair of Leeds books and a number of local and regional appearances to celebrate the anniversary – as well as the reappearance in print of The Broken Token – long available only as an ebook or audiobook.
"All I can do is try to make each book better than the one that went before. Someone once said that if you cut me open, Leeds would run through me like a stick of rock. It's true. I'm proud of this place. If I can keep writing stories set here that people want to read, I'll feel I've accomplished something worthwhile."
The Molten City by Chris Nickson is published in hardback on March 31.
The Broken Token is now available again in paperback from all good booksellers