Ernesto Gómez presents Pot Luck at this year's Scalarama
ERNESTO GOMEZ of the Leeds Instituto Cervantes has two events at Scalarama this year: Pot Luck (L'Auberge Espagnole) at The Brunswick and Adam's Apples at Wharf Chambers. He takes our Scalarama Interrogation Challenge…
Describe your first film memory
Ernesto | Probably Home Alone 2 on a cold Christmas holiday morning. Or watching Disney classics like Dumbo, Tod & Toby, The Lion King, or [Don Bluth's] The Land Before Time with my two little sisters. I remember being mesmerised with the (officer) who made sounds with (his) mouth in Police Academy.
There is a cinema called Heaven. They play your favourite film. What is it and what's so good about it?
Maybe in a while I would be saying something different, but today I'll say they are screening a recent Spanish film called The August Virgin. I watched it at the cinema this summer in Spain and instantly fell in love with it. For me it's marvellous because it's life itself condensed onto a screen – or what a 30 year old guy with no idea about which vital path he should follow would call 'life'.
Describe your events at this year's Scalarama
Pot Luck (L'auberge Espagnole) is a feel-good comedy about someone who lives the messy experience of an Erasmus [EU student exchange programme] for six months in Barcelona. Everyone who has lived that sort of experience will easily connect with the story – and those who haven't too.
We thought it could be a good title to show on European Day of Languages because the film celebrates the possibilities of easy interaction between countries the EU allows, and the linguistic and cultural diversity there is in our continent.
I hope not, but if everything goes as expected with Brexit and the far-right anti-EU movements all over western Europe, this film could be watched as a piece of archaeology about Erasmus in a few decades time.
There could be a little surprise after the screening, too.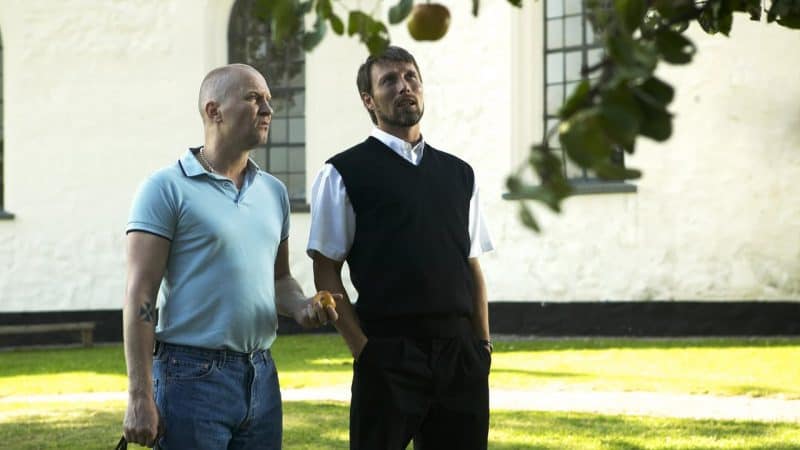 Adam's Apples (above) is a bizarre Danish existential comedy that connects a lot with something I have been experiencing recently: I have always believed in nothing religiously speaking, but the world is hopelessly going to waste and I've been feeling like I need some sort of spirituality in my life. Not saying I'm going to embrace Christianity, but…
This is your first time as an event organiser. What made you get involved?
My job at the Instituto Cervantes allowed me to get to know Laura [Ager, Film Event Organiser] almost since the moment I arrived in Leeds nearly two years ago. She introduced me to Scalarama and that's something I appreciate a lot.
I am very interested in connecting Instituto Cervantes with local people and institutions, and being part of the lively cultural community in this cool city.
Other than your own (obvs), which event/s at this year's Scalarama are you most looking forward to?
So many! I've already booked a ticket for Kusama (this Wednesday at Sheaf Street) which I missed last year at Hyde Park Picture House. I definitively want to see Mid90s (at Heart Centre), though not sure if I will be able to make it. Babylon, presented by my friends at Leeds Cineforum, looks super cool, as does Lenny (at HPPH). I love music, so The Glenn Miller Story and Teenage Superstars get my attention a lot.
Tell us your film plans for after the tinsel has settled?
You mean after Scalarama? I have been after Mia Hansen-Love's last film Maya, for a while. And I haven't seen Roma by Cuarón yet. Also Tarantino's last film made me realise I've missed many classics like The Great Escape which I will watch soon. After Peter Fonda passed away, I learnt about The Wild Angels. It looks great!
Adam's Apples is at Wharf Chambers, 15th September at 6.30 pm. Details here.
Pot Luck (L'Auberge Espagnole) is at The Brunswick, 26th September, 7.00 pm. Details here.
Our picks at this year's Scalarama Festioval.