Jonah Hill's Mid90s – Kids in America, etc.
Nintendo, Wu Tang, Ren and Stimpy. From the very start JONAH HILL's movie debut Mid90s takes you back to one of the most iconic decades in history. LOUIS HELLEN finds himself getting all nostalgic about the nineties. It's a thing. Apparently.
Leeds Everyman Cinema hosted an immersive event to accompany its screening of Jonah Hill's debut film, Mid90s. It featured classic hip-hop beats from DJ Weston with the likes of KRS-One and Snoop Dogg (before he became a lion).
There was live graffiti art from Liverpool-born artist Lei- Mai LeMaow, who created some impressive nineties motifs on real Mid-90's skateboards. It was the perfect prelude.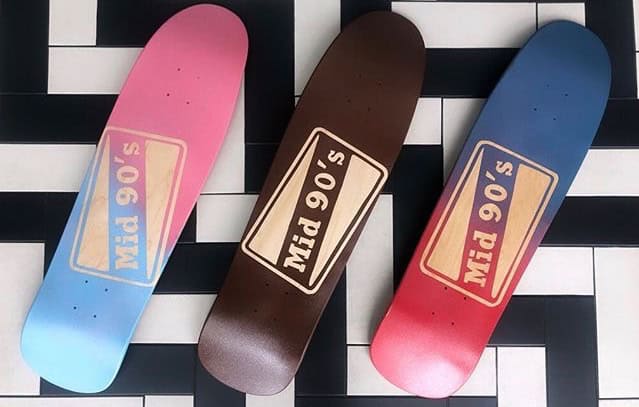 Mid90s tells the story of young Stevie (Sunny Suljic), as he tries to find his place in the world via a group of skateboarders he meets at a Motor Avenue skate shop.
While skating is a big part of Jonah Hill's directorial debut, it is far from what the movie is about.
I was born in 1996 [Zoinks! – Ed], so I barely remember the 90s, but the culture of that era continued into the early 2000s. In terms of nostalgia, Mid90s kills it. [Erm… I think this is a good thing – Ed.] The film isn't just nostalgic for the sake of it though. The story and the setting are instrumental to one another and to the success of the film.
Despite Hill's star pulling power, what makes Mid90s great is it's casting. Our gang of skateboarding misfits played by Na-Kel Smith, Olan Prenatt, Ryder McLaughlin and Gio Galiciacan all skate brilliantly in real life. (Smith used to skate for [New York skate shop] Supreme, so he has some serious street cred.) The performances are some of the best you'll see from young actors; the rapport of the group feels believable, as do the frictions.
This film is more of a rollercoaster than a skateboard ride though. Hill switches from rib-tickling comedy to dark scenes some audiences will struggle to watch. It never feels forced and like a skate run, each scene flows seamlessly into the next.
Suljic is the movie's lynchpin. Only thirteen years old, he gives a performance way beyond his years,. Struggling to cope with the death of his father, a bully of an older brother, and a mother he resents, his character battles with mental health problems, but it never feels forced. Mid90s gives a real weight to Stevie's ride.
Mid90s offers a snapshot of what life was like to grow up in 90s America – the world at your feet, trying to fit in, and dreaming of pulling off more kick flips than Tony Hawk's Underground.
Lei-Mai LeMaow – Everyman in the Mid90s on Culture Vulture