On its first weekend Transform Festival presented bYOB & Daimón, two specially commissioned works from 70/30 SPLIT and LUIS GARAY. Both seemed to be asking the same question… Review: NEIL MUDD
What does dance mean in 2019, given the omnishambles of Brexit, the degrading sight of 'Maggie' May brown-nosing Le Idiot Trump while cold shouldering Greta Thunberg, and the sickening rise of the sort of divisive nationalism we were supposed to have taken care of in 1945?
The city's biennial Transform Festival begs this question not just of dance, but of performance across the board, gathering UK and international artists in its search for a definitive answer.
The festival's opening weekend included shows bYOB and Daimón, each of which in their own way actively blurred the lines between dance and theatre; choreography and martial art; the personal and the political.
bYOB is the first full-length work by 70/30 Split's Lydia Cottrell and Sophie Unwin. Presented at Northern School of Contemporary Dance's Riley Theatre, four males clad head to toe in riot gear, performed a Dadaist cabaret teeming with ideas and invention.
By their own confession, 70/30 Split do not make dance in the traditional sense. However, there is a transformative beauty about the movement in bYOB, even if it does threaten to topple over into chaos any moment.
Those protective black costumes come freighted with fetishistic meaning, albeit one undercut by Cottrell and Unwin's dazzling Milk Tray selection of pop-cultural references: Andy Warhol, Jeff Koons, Tom of Finland, WWF, the erm, Chippendales.
70/30 Split approach everything as if was a staged film: one such brilliantly conceived moment involves a grotesque tableau of writhing and twisted body-shapes straight out of Tod Browning's Freaks which gently undulates into a slow-motion orgy climaxing in a shower of red petals worthy of Ozu.
bYOB is a piece about acceptance perhaps; about divisiveness around gender politics. With its playful appropriation of Morris dancing, police training films and Studio 54, it pits bravado against the need to belong, fear against the need to connect.
Funny, frightening and absurdly touching, bYOB is a heartfelt plea to the yob within us all. With teddy bears.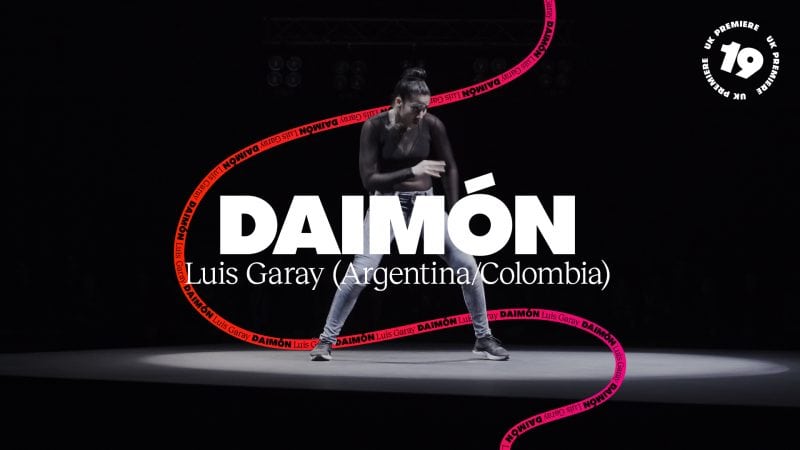 Daimón was a stark and uncompromising work. Created by Argentina-based artist Luis Garay, it placed huge demands on performer and audience alike.
Embracing the gym-like intimacy of Yorkshire Dance's studio space, Daimón presented dancer and Taekwondo artist Maia Chigioni on a raised platform in the centre of the room.
It was strangely mesmerising, like watching a human video game. Tekken, for example. For an hour straight, Chigioni sparred against an invisible opponent while members of the audience circled around, trying on different angles for size.
It was an impressive feat of skill and endurance that moved subtly between sheer physicality and calm introspection, states reflected in the soundtrack's merger of found sound and electronica. It was a spare, but unsparing piece, and one which asked more of its audience than it seemed to offer.
However, if you were prepared to go where it wanted to take you, Daimón contemplated the immutability of the human spirit. It was an unflinching meditation on the infinity of the soul weighed against life's impermanence and the fragility of the world around us.
The genius of Garay's piece is that it came wrapped in a sixty minute aerobics workout. What is the meaning of dance in 2019? It is the meaning of life.
Transform Festival 19 continues. Details here.
Interview with 70/30 Split's Lydia Cottrell and Sophie Unwin.