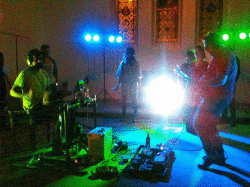 The Delius Arts Centre, with its vaulted ceiling and modest whitewashed walls, is also a Grade II listed church serving the German speaking Evangelical community in Bradford. Inside, at the rear of the nave, along the slot of a polished wooden pew, there is a neat arrangement of bibles, and the air is thick with a hushed reverence. Incongruously, at the very centre of the room, a bank of effects pedals glows with a mesmerising intensity; alongside is an electric guitar, tricked out with translucent knobs, together with a compact electronic drum-kit; a few feet away, a sound engineer in a Joy Division t-shirt, sits hunched over his laptop. Tonight, we are gathered to offer a kind of thanks. Tonight, this will be our church.
That Fucking Tank – the provocative nom de guerre of guitarist Andy Abbott and drummer James Islip – are a notoriously noisy proposition. (Their amplifiers go up to 12!) So – for their name to be attached to a 'silent gig' – one which also features citizen choreography by artist Yvonne Carmichael – is a paradox of monumental conceit. And yet it's kind of cool as well – memories of a darkened bedroom, a buzz-saw guitar channelled through a pair of skull-crushing headphones, come bubbling to the surface like so much sonic flotsam. The notion is an intriguing one if nothing else.
It is a select crowd of onlookers that is gathered to witness the event, part of this year's RECON Festival. The nature of the technology – everybody is given a pair of headphones through which the band's performance will be relayed – has made sure of that. Studded amongst the audience are dancers who grow increasingly more animated as the band mutates through a series of AC/DC riffs into the kind of rumbling menace John McLaughlin brought to Miles Davis's band in the 1970s. The gig is a social experiment, one set up to explore the perceived differences between audiences from Bradford and Leeds. (The hypothesis is that gig-goers in Leeds tend more towards chin-stroking than their near neighbours. By way of testing out the theory, the evening will be reproduced a few days later at the Holbeck Underground Ballroom in Leeds. It would be interesting to compare notes.)
Not being able to name a solitary song played tonight proves liberating. The interplay between guitar and drums is beguiling, conjuring up the residues of rock's history lessons. The groove has a motorik urgency, the looping howls surrounding it swagger with hypnotic insistence. Dancers jerk and twitch on the periphery, their angular robotics picked up and mirrored by others in the crowd. (Carmichael has been honing these moves, drilling and skilling the assembled shakers in a series of workshops.) The music drives on, spiralling and cavorting within the head-space, breaking and reforming like an audible fractal.
Close your eyes for a moment and this could be the Exploding Plastic Inevitable fast forwarded into the future. Take off your headphones and a strange percussive ambience surrounds you. Suddenly you feel Other! It is 1977. No Elvis, Beatles or The Rolling Stones. The punk cognoscenti are met at London's The Roxy, and music producer Mike Thorne has his finger poised over the record button…
With headphones safely back in place, music and dance and time are reinstated. When the ending does eventually come, it is beautiful, borne out on a fitful, stop-start thrash which calls to mind the playful antagonism between Can's Jaki Leibezeit and Michael Karoli. Those gathered roar their approval. There is a minute or two of post-gig analysis, and then the room empties. The rest – as has so often been said – is silence.
That Fucking Tank and Yvonne Carmichael – The Silent Gig, Delius Arts Centre, Bradford
Part of RECON Festival 2014