Heartfelt and hilarious, the award-winning Canadian documentary Jingle Bell Rocks! showcases an astonishing collection of original, offbeat Holiday songs, alongside a deeply moving and personal journey in which its director MITCHELL KEZIN goes in search of the soul of Christmas music. Words: NEIL MUDD.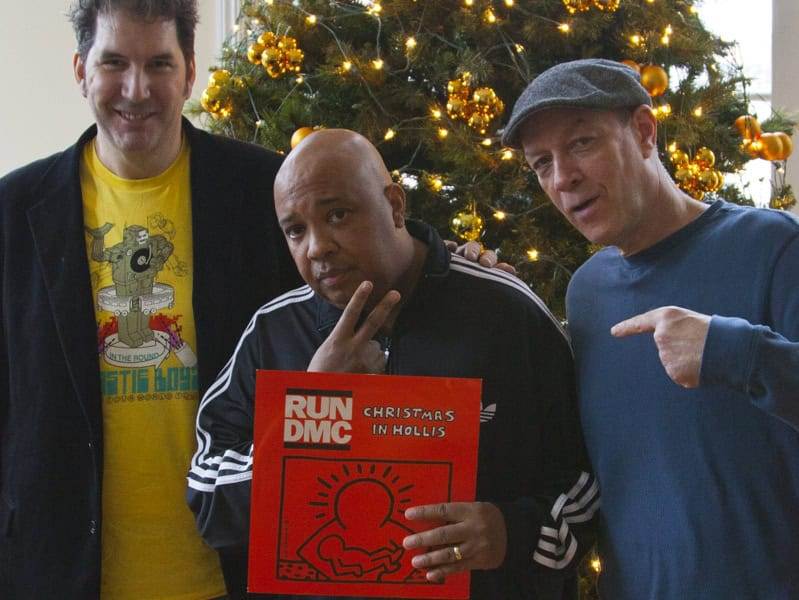 "Ho-ho-howdy, Neil…" Mitchell Kezin beams at me, four and a half thousand miles away in Vancouver.
He is wearing a red stovepipe hat designed to look like a snowcapped chimney. An upended pair of Santa boots protrude out top which struggle in time to the weedy 8-bit rendition of Jingle Bells that plays when Mitchell flicks a switch in the brim.
Understandably, his wife really hates the hat.  
The writer and director of the charming documentary Jingle Bell Rocks! – the heart of our seasonal Joint with Scalarama Leeds – loves Christmas.
More specifically, he loves Christmas music. Not the dreck played ad infinitum in supermarkets every year, but the good stuff by artists like Bob Dorough, The Free Design and Akim & The Teddy Vann Production Company.
Who Took The Merry Out Of Christmas?
It was not always the case. Growing up, Mitchell's father was regularly absent at Christmastime: "It seemed so weird and so wrong," he says. "That was the time the family was supposed to be together, that was the one time he should have been around."
As a small boy, not grasping that Nat King Cole tear-jerker The Little Boy That Santa Claus Forgot was a recording, Mitchell would ask his mother to play the song over and over again, each time hoping the ending would be different.
Do You Hear What I Hear?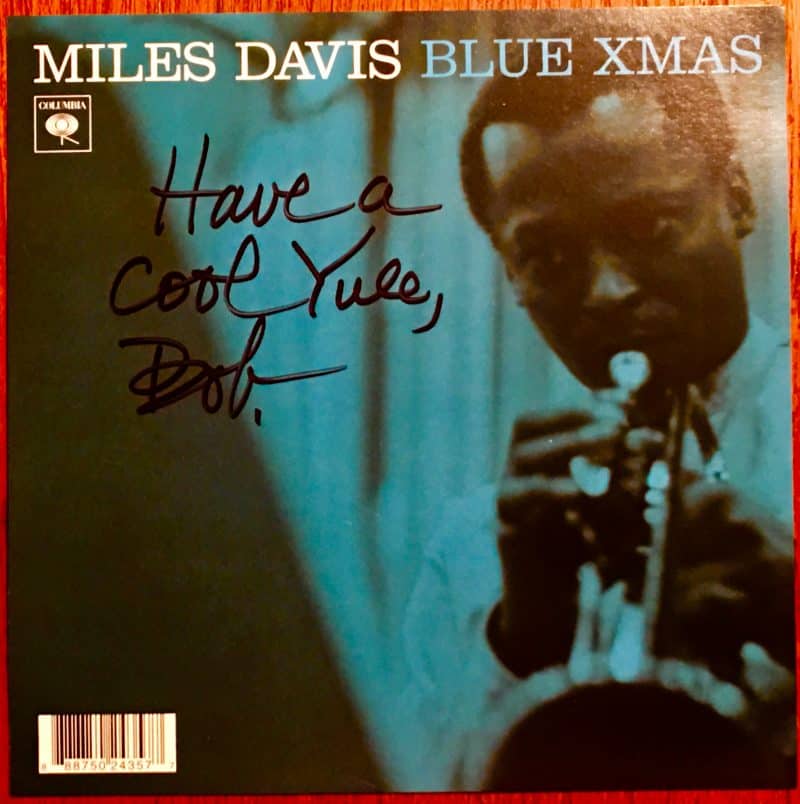 Then in 1990, Mitchell came across a copy of Jingle Bell Jazz, a compilation of swinging Christmas covers which featured one original, Blue X-mas (To Whom It May Concern) sung by Bob Dorough.
An acid take on the Season of Goodwill, the song was recorded in 1962 with Miles Davis, much against the curmudgeonly jazz legend's inclination it has to be noted. Thank God for contractual obligation, it was Davis who insisted Dorough write him an original song; the combination of smart-arse lyrics and angular be-bop lifts the entire venture.
To Mitchell it was an epiphany, sparking an obsession that has seen him trawling record stores, thrift shops and yard sales in North America and beyond.
During the making of Jingle Bell Rocks! the chance arose to film Dorough in Columbia studios as he listened to a playback of the original tracking session for Blue X-mas. It is pure cinematic gold.
"It's a very important scene. (Bob's) not a really emotional guy. He doesn't reveal himself outside of the music when he's performing, but you can tell he was affected by it."
"It's a masterclass in jazz recording," says Mitchell, who got to handle the actual master reel box, one of the first to do so since 1962. "It begins with them noodling and running through a couple of takes; you hear Bob changing the lyrics on the fly, and then they slowly capture the groove. It just goes from idea to finished master take in less than 45 minutes. It's fucking remarkable."
Close Your Mouth (It's Christmas)
Given the low esteem in which Christmas music is held, for a long time Mitchell's was a love that dare not speak its name: "I was in the Christmas closet," he says. "The only people who knew about the strange music I'd been collecting were the people who received my Merrymix – family members and a handful of close friends and colleagues."
Then he read an article written by Dennis Flannigan about Christmas music collectors, published in the November 1999 issue of Cool & Strange Music Magazine.  "Two things happened," he says. "The first was, 'Oh my God. You mean there's other people doing this crazy thing I've been hiding for years?"
"The second was that I'd found a template for the documentary. It was four pages and I saw the movie right in front of my eyes.  I'm thinking, I know the world. I have all the music. That's the movie I should make."
December Will Be Magic Again
Jingle Bell Rocks! is about Christmas music and what it means to those who love it. The film is as heart-warming as glühwein with the strapline: 'These are the songs even Santa forgot!'
The Nat King Cole song that sparked it all is front and centre. "Certainly, it was cathartic," says Mitchell, who is keen to emphasise that the movie is about more besides just music.
"Yes, these songs are cool, they're interesting, but at the core it's about family, about loss, about how music can speak to those themes and those feelings, and how that was missing in my life for so long."
"I was constantly searching for a way of recapturing, not just the more innocent aspects that are so wondrous about the holiday season, but the connection to the music, and to the people who were responsible for creating it."
Hot Club of Christ
Initially, Jingle Bell Rocks! was a much smaller film, focusing on four or five avid collectors. "I wasn't going to interview musicians or anything like that. It was going to be quirkier, more eccentric. That version of the movie would have been terrible…"
Such legendary hardcore Christmas music collectors as Andy Cirzan and David Wisdom appear alongside Pope of Trash, John Waters, and musicians like Joseph 'Reverend Run DMC' Simmons, The Flaming Lips' Wayne Coyne and Erin Moran (who as A Guy Called Eddy recorded a version of The Little Boy That Santa Claus Forgot that will break your heart).
One of the many pleasures in Mitchell's film is his various encounters with fellow collectors, disc jockies, music library curators, songwriters and musicians.
He shares an onscreen bromance with Def Jam publisher, Bill Adler, a Jewish man whose annual mix of Christmas music, Xmas Jollies, takes a full twelve months to curate.
"I didn't know of his history with Def Jam and hip hop, or how incredibly important he is in that world," Mitchell says."He's just a smart, sharp, really cool guy, very down to earth and no pretence about him."
Christmas Calypso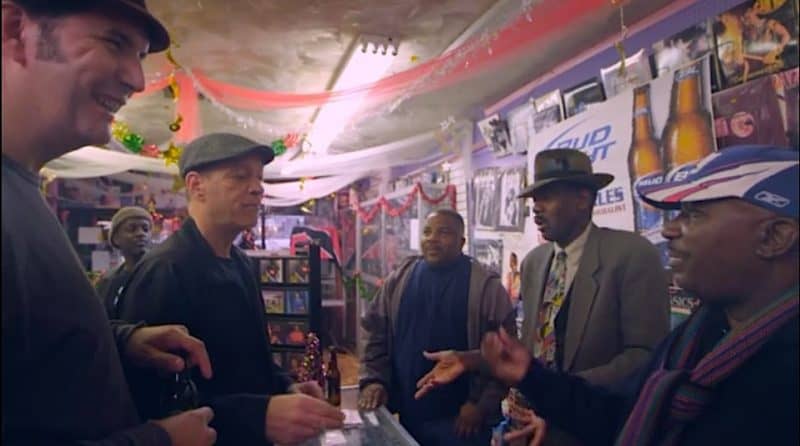 It was Adler who introduced Mitchell to Rawlston Charles, hepcat proprietor of Charlie's Calypso City in Brooklyn, scene of one of the defining episodes in the documentary.
"We walked in there and there's Charlie – togged out so superfine in his threads and he had this crew helping customers, talking about music and drinking rum. It was like, 'Holy shit! I could make a whole movie just about this place…' which I may still do."
Rightly or wrongly, record collecting is perceived as a largely male pursuit. "I can't tell you how hard I searched to try and find a female collector," says Mitchell. "I've since met several, but it is a very male orientated world."
"That's why I was so happy when I managed to connect with Moira Dedrick [wife of Chris Dedrick of The Free Design who died of cancer in 2010]. It was tragic that I didn't reach her and Chris before he passed. Moira said to me, 'God he would have loved to have met you and to talk about his Christmas music because it meant so much to him…"
Christmas In Vietnam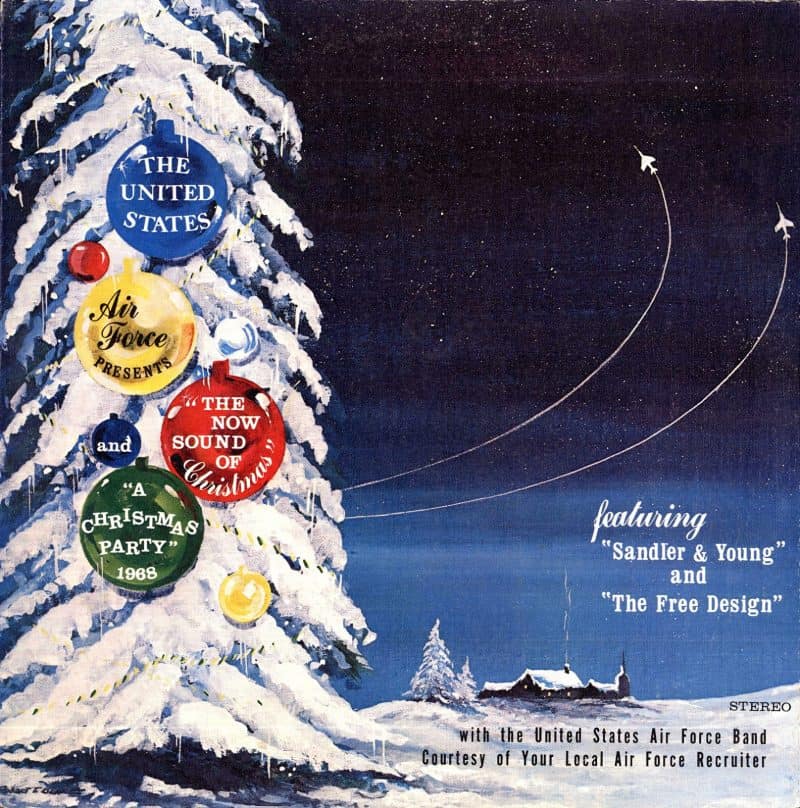 Dedrick wrote perhaps the definitive Alt-Christmas song, Close Your Mouth (It's Christmas). One of the more bizarre moments in Jingle Bell Rocks! reveals the unlikely union, at the height of the Vietnam conflict, between the US Air Force and the decidedly Peacenik Free Design.
The Now Sound of Christmas, is the Holy Grail of Christmas music collectors: one side composed entirely of Free Design originals, the other features covers of Holiday chestnuts covered by the entertainment-lite partnership of Sandler & Young with the US Air Force Army Band.
In the film, Mitchell locates Dedrick's personal copy of the record amongst the musician's archive. "That sequence is just so poignant. It still brings me to tears when I watch it," he says, acknowledging that had he got to interview Dedrick as intended, things would have been very different.
"That whole story of talking to (Moira) and being shown the storage locker with all Chris's music wouldn't have been there. It's a good example of why you have to be open to the surprises, so all the magic can happen."
For the record (sic), Mitchell owns a copy of The Now Sound of Christmas, plus an impossibly rare promo 7" single copy which features an alternative interview with Chris Dedrick to the one that appears on the LP.
"(Collector) Andy Cirzan nearly had a heart attack," he says. "He's a huge Free Design fan and collector. In his forty-plus years, he'd never seen it, nor even knew it existed. The Vinyl Gods were smiling down on me that day!"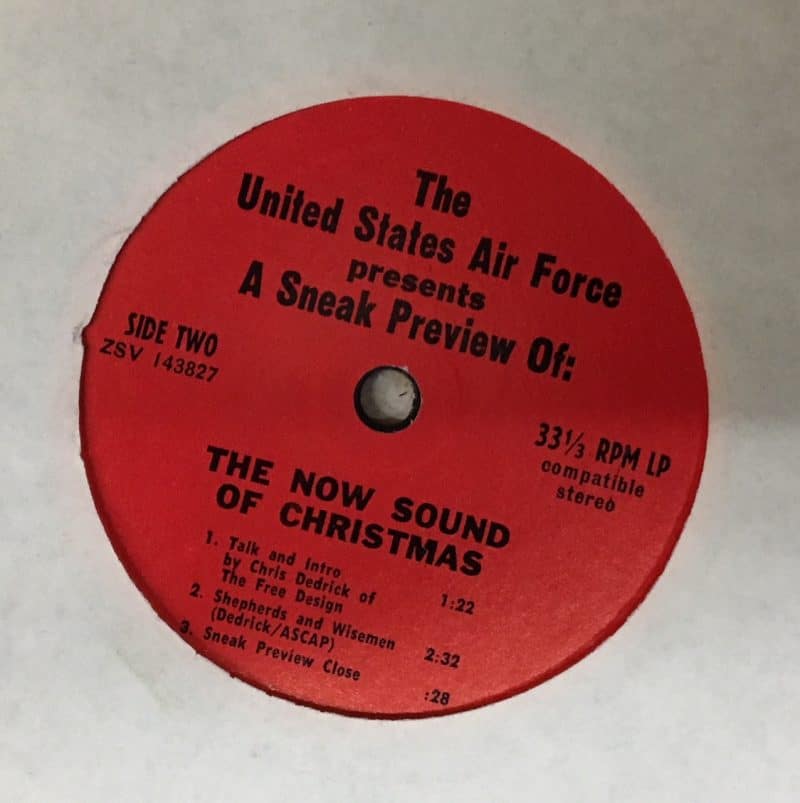 What Christmas Means To Me
Given his vast Christmas music collection, does he have a favourite? "So many are my favourite, but if I had to narrow it down it would be the Nat King Cole record," Mitchell says without hesitation. "It began my whole connection to Christmas music. I don't tear up anymore when I hear it, but it still resonates as powerfully for me now as it did then."
"My parents didn't listen to many records. We maybe had eight Christmas records in the family collection, and that album was one of them. From age three or four, every year when I came home from school for the holidays, I'd ask my Mom to put that record on. I love Nat King Cole and he was one of my mother's favourites too. That whole record, that's Christmas to me."
Jingle Bell Rocks! | A Culture Vultures & Scalarama Leeds Joint is at Hyde Park Picture House from 5.00 pm on Friday 15th December 2017 (tickets £5 here), followed by an afterparty from 8.30 pm at Hyde Park Book Club (Free entry, but donation requested).
More Jingle Bell Rocks! on Culture Vultures
Mitchell Kezin's Songs Santa Forgot | An exclusive selection box of Alt-Christmas classics, personally selected by Mitchell for your Festive listening pleasure. Cool Yule indeed!