When In Rome… Shawn Lee in The Music Library Film (Courtesy of Hut Twenty 9)
The weird and wonderful world of library music is the subject of composer SHAWN LEE's The Library Music Film. It's the music you know, the stories you don't, he tells NEIL MUDD…
Multi-instrumentalist composer Shawn Lee has appeared on a couple of my Holiday mixes. Like me, he is a December child, born a few days after Christmas exactly one year and one day before I was.
Lee commiserates. "You'll know all about the pain then," he says in his sing-song mid-western accent. We briefly talk about The Little Drummer Boy, a standout track on his festive goody bag A Very Ping Pong Christmas.
"That was my way in," he says. "It's a slightly daunting thing doing a whole Christmas album, but I knew what I wanted to do with that one."
He remains a little bemused that fans know him primarily either through his "Christmas stuff" or his soundtrack to the video game Bully (aka Canis Canem Edit), but "whatever it takes man, whatever it takes."
The truth is Lee is difficult to pigeonhole: a prolific song-writer, arranger, musician and producer, he grew up in rural Kansas listening to  classic rock, Motown and soul on the radio, as well as the crafted lounge of Bacharach and David which his parents adored. His local Baptist church cemented a love for black music and the belief that songs should be about feeling something.
"Everything that came along – country, blues, jazz, classical – it was all bubbling around," he says. "The radio was like a magic box. You might hear a song once that you really liked and never hear it again. That happened a lot. I tended to go for that kind of stuff. I still go for that outsider mentality, towards the obscure naturally."
"When second-hand record stores started happening in the eighties, I was going through all the bins, looking for stuff that looked cool. I'd read about something in a magazine, find it, read the back of that and see some other names, then buy everything with their names on. That was good fun, very old school I suppose…"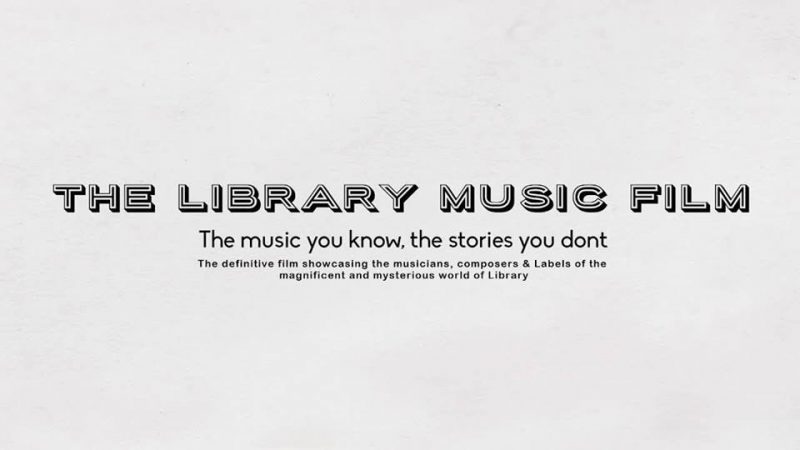 It proved good preparation for Lee's latest project, The Library Music Film, a documentary journey through the music – sometimes called production or stock music – and the crack composers and musicians who created it.
Lee helms and produces the movie, which has its world premiere at London's British Library as part of its Season of Sound series of events. In one sense or another, it has been over twenty years in the making.
Moving to London from Los Angeles in 1995, Lee met singer Kirsty Hawkshaw (daughter of legendary Leeds-born library music composer, Alan Hawkshaw) and her then boyfriend Mark Pritchard (of Global Communication). Through them he was introduced to library music.
"They mentioned Kirsty's dad, library labels KPM, de Wolfe, Chappel and Studio G," Lee remembers. "(Pritchard) starts reeling all this stuff off. 'It's like soundtrack music just made for media purposes. It's perfect for sampling: it's moody, it's funky, it's weird, it's dramatic,' and I was like sold in one second. I thought, I've got to investigate this."
With his collector's Spidey-Sense, Lee hoovered up the records beginning to appear in the racks of London second hand vinyl stores Reckless and Notting Hill Record & Tape Exchange as a result of music production libraries divesting themselves of their vinyl, often just by throwing it in a skip.
"It was a whole other world of music in a parallel universe from commercial mainstream music," he says of the genre's appeal. "It was music that when it was great, it was the best. It sounded like stuff that you knew, but a little bit different, a little bit weirder, a little bit more imaginative and inventive sometimes."
Compilations began to appear. "There were a lot of them," says Lee. "Easy Tempo, Studio 2 Stereo, Giallo and Polizia film comps. I started picking up on Piero Umiliani and Janko Nilovic. It was just a continuing process."
One notable early collection was The Sound Gallery which featured music by British composers Alan Hawkshaw, Alan Parker, Brian Bennet and Keith Mansfield (each of who together comprise the KPM All-Stars who will also be appearing at the British Library alongside Lee's film).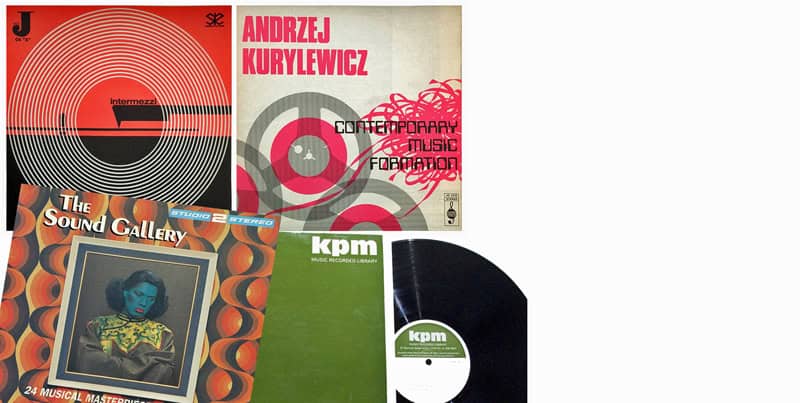 The idea of making a film "was one of these things that would bubble up every now and again over the years," says Lee. "It needed doing while all these great composers were still alive."
However, Lee soon realised if there was ever to be a film he "was probably going to have to do it."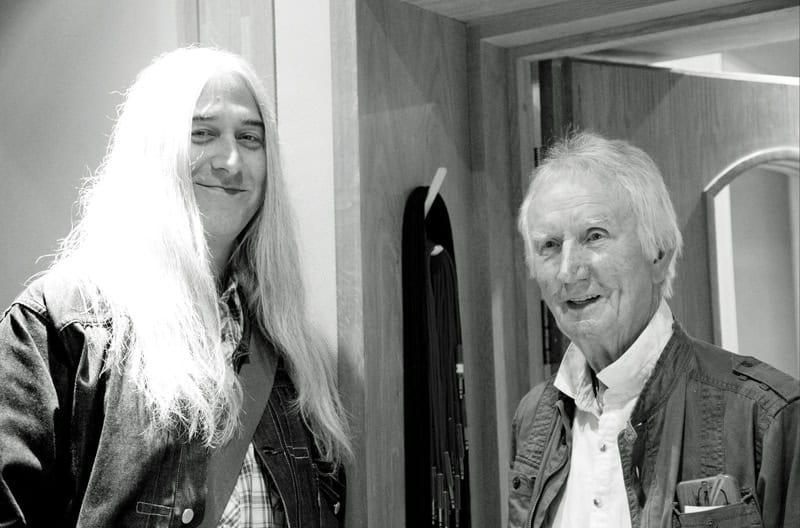 Having Alan Hawkshaw's home phone number seemed like an ideal place to start, but the process of making the documentary has still been a tough one. Working closely with the film's directors Paul Elliott & Sean Lamberth, Lee has discovered "so many aspects to the story, so many things that you want to talk about. We interviewed a lot of people and the more people we interviewed, the more people there were."
"I didn't want (anyone) seeing the film and saying, 'It's quite good, but you didn't mention blah blah blah…,' knowing full well that no matter what we did there'd be some nerd somewhere complaining there wasn't enough of what they wanted in it."
Were the people he interviewed surprised at this belated interest in their music?
"Some of them were and some of them weren't," he says. "Keith Mansfield and Alan Hawkshaw are very aware of their catalogue and the stuff that they've done. They've been sampled a lot and they know that people rate them. They've got a little bit of swagger and confidence."
"Some of the other guys think their music is terrible. You'd play them a track and they'd say, 'That's awful. How can you like that?'  An interesting one like that was Nick Ingman [who recorded the brilliant Big Beat compilation for de Wolfe in 1973]. He was very dismissive of it, but when we showed him a teaser of the film at the BFI, I could see he was really proud of what he'd done. That was wicked to change his opinion."
"Hopefully after this film comes out, a lot more people will have an idea what library music is. It'll be like a trail of breadcrumbs they can follow and hopefully explore further. These guys really deserve to be recognised and that was really a primary desire."
As well as a strong British presence, the Library Music Film taps into an impressive cadre of Italian, French and American library music composers. A cursory glance at the assembled cast reads like a Who's Who from the past fifty years – plus Norman Cook.
"When we posted a picture of (him) we had people complaining about that," says Lee refusing to be apologetic. "He's one snippet of the story, you know."
Lee retains one or two serious regrets. He would loved to have talked to Klaus 'Time Signals' Weiss who died in 2008; the legendary Alessandro Alessandroni passed away before he could be interviewed; and "Alan Tew just didn't want to be found."
"Some didn't want to talk about it. They don't even remember doing it, but then they'd realise you've done your research and you were enthusiastic and they'd warm up. These guys are the stars of the film and rightly so. Most of (them) could die tomorrow, next week or next year, so it's really important to tell their stories while they're still here."
The premiere of the film at the British Library will be followed by a handful of screenings outside London – including one at Leeds during the Film Festival in which theCV is pleased to have played a key part.
About the British Library gig, Lee says. "Basically EMI put together the whole event, culminating with what is probably very likely the last ever KPM All Stars gig. There will be a lot of reissues happening. Jonny Trunk will be there, as well as writer David Hollander who will be talking about his book Unusual Sounds [which charts the history and development of library music]."
Prior commitments mean Lee is unable to attend the screening of The Library Music Film or KPM All-Stars Live, both of which sold out in just a few hours. His wife will be going in his place: "I'm beyond gutted," he tells me, "but I'll be at every other one."
At this I prick up my ears. The British Library's loss is the Leeds International Film Festival's gain. Cue Funky Fanfare by Keith Mansfield…
The Library Music Film is at the British Library (October 6th), Leeds International Film Festival (November 3rd), Hamburg, Germany (November 7th), Leipzeig, Germany (November 8th), London's Soho Cinema (November 11th) and Copenhagen (January 24th). Dates and venues still being added.
More Neil Mudd on the CV here