Love, life, grief and the transience of life. Leeds EDM music part 1: Lence


Anyone who has met MICK McCANN knows he "fucking 'ates poetry." Yet here he is raving about spoken word poet, LENCE.
I'm writing a series of personal articles about love, grief, confused, wild writing, and elements of the modern Leeds music scene which, along with spectacularly supportive friends, was my escape during an awful time.
The excuse for writing this first one is to tell you about Blur the Lines, a spoken word event organised by an exciting young rapper called Lence, at Leeds Playhouse, November 15th. But that's a lie. The real reason is more personal.
I'm an ex-writer me. It's not that I don't write anymore, I just don't finish anything. I used to have a name but that escapes me. I've written 130,000 feral words (your average, proper book being around 70,000) of something called The Philosophy Of Love And Laughter but it became more of a howl than coherent words.
I've lost drive and focus, which, I suspect, started with Vicky's illness. Vicky was my wife, we first met when we were 13 and 14. She died in the summer of 2016 and writing these articles is connected, in some way, to my journey through that trauma, that insanity. It's also something that I might actually finish.
The illness of an overpowering creative impulse has plagued me since I was a kid, it's central to who I am. Since Vicky died — the day after her 51st birthday — I've mainly written the same things repeatedly, as if I'm trying to work things out. Much of it is too raw, too personal, too harrowing. Losing Vicky and my ability to write anything coherent has made me not me but a lost soul, half here and banging my head on other people's lives. Some kind of, strictly urban, Ancient Mariner.
A number of years ago I'd write tight, snappy pieces for The Guardian or The City Talking or here, for Culture Vulture. I've written commercially successful (for me, I'm not J. K. Rowling) books from start to finish. Now, for the first time in my life, I've endless time to write but I'm fucked. Take this piece, it's all wrong, it's not how you write articles. I'm wittering on while you're thinking, 'Who the fuck is Lence?'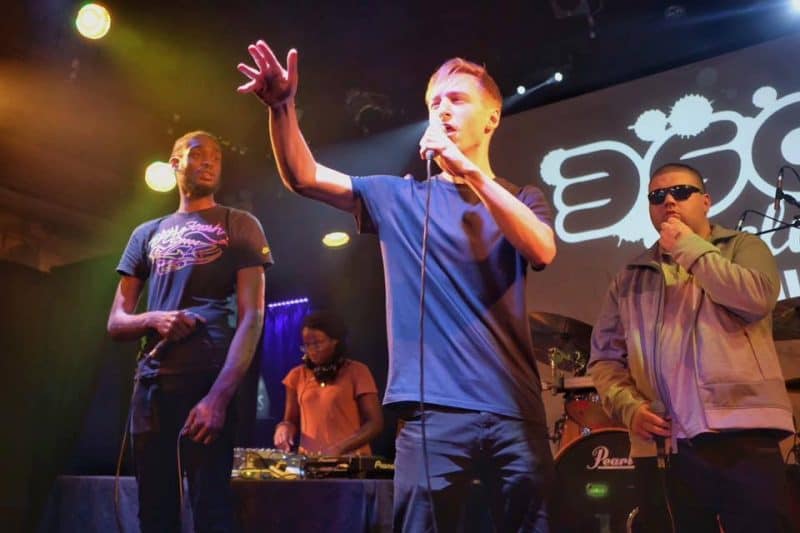 DROP tent, summer of 2017, Hyde Park Unity Day, was when Lence first entered my head. There was a buzz of excitement amongst the other young whipper-rappers, apparently, Lence was 'the real deal', had to be seen, he was 'special'. I watched him and he was spectacular, young, edgy and intense; words hitting home, nerves burning in his chest and pulling out a performance that connected directly with each person watching… that's a talent.
Lence tells me that he played DROP proper, at The Primrose, in 2016 but I go to every DROP and have no memory of it. It may've coincided with Vicky going into St Gemma's Hospice or when, after her death, I was forced (by weird circumstance) away to Greece for 6 weeks.
What's DROP? DROP is a night of eclectic electronic dance music that, along with resident DJs, gives its stage to Leeds's most interesting up and coming urban artists. Mick Lake set it up with his brother John and wife Sue to help save The Primrose pub as a live venue and keep the space available for people setting out on their creative journeys.
At DROP Lence performs his hip-hop sets but he's now spreading his wings. He's organising, and performing at, an evening of spoken word artists called Blur the Lines being staged by Leeds Playhouse.
I love the venue name change. I love that Leeds Playhouse is putting this on, giving space and opportunity to local, spoken-word artists, nurturing our creatives, just as DROP nurtures them. I've watched Leeds Playhouse change and develop, creating more space for and promoting 'Leeds' stuff, placing itself at the heart of our wonderful city. We should be proud of and support that.
The Playhouse is an important place in my life, Vicky worked there from 1992 to 1999, so, for me, it's a building full of ghosts and our memories. Vicky started working there in her twenties so she could come back to Leeds, move in with me and breed — I'm now the lone parent to three beautiful sons.
I'm excited to see the Playhouse refurb, the last time I was there was six months after Vicky's death. I was off my trough with grief and a strange angel flew in from Los Angeles and arranged to meet there. She was a legal type wanting to give me money for the film rights to Coming Out as a Bowie Fan. I didn't take the money but we became friends and she supported me through an intense period of life and grief. Life can be strange.
Fuck, I've gone off on one again, babbling endless shit. Lence. Leeds Playhouse, Blur the Lines.
Lence organised his first Blur the Lines about a year ago and it forced me to admit that I'm a hypocrite. 'I fucking 'ate poetry, me' used to be my response to poetry nights, yet there I was saying, 'I right enjoyed that.' The people he selected were clever with words and had real things, life things, to say; they made connections. He selected poets/MCs with fresh perspectives and the skills to convey them.
I've seen Lence perform his hip-hop sets at least ten times. I've watched him grow and develop, tighten his already compelling performances. He's retained his intensity but now owns any stage he stands on. I think you should witness his belief and honesty, the intensity of his words and those of the people he's selected.
It can be words that open up our worlds or soothe our prickling souls. Go feel the passion. TRUTH.