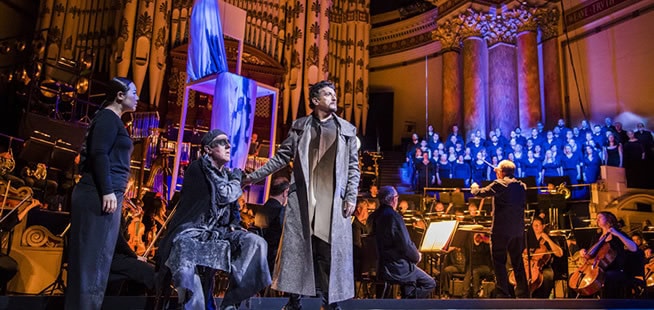 If there is one problem with Turandot, Giacomo Puccini's final, unfinished opera, it is the plot. A bare bones summary sounds brutal and the lead characters unsympathetic. At best, it is a strange work – icy and detached. CATH ANNABEL, Culture Vulture's opera reviewer, finds plenty to admire in a new production of Puccini's divisive work. 
Director Annabel Arden's new production of Turandot for Opera North strips away most of the trappings and scenery and dispenses with context and crowd scenes. The singers perform directly in front of the orchestra with supporting roles covered by a chorus. This allows audiences to experience the full power of the Italian composer's extraordinarily rich score, revealing hitherto subsumed instrumentation – gongs, harps, trumpets, and saxophone.
The production's stylised approach of very simple props and clever lighting, removes any temptation to focus on plausibility or even to attempt to read the protagonists in normal human terms. Turandot is a fairy tale in which characters play out their assigned roles as events take their inexorable course. The audience, meanwhile, is freed to surrender to the rich exotic score.
Opera North's production emphasises incongruity to unsettling effect: the soaring, lyrical music accompanied by chilling bloodthirsty exhortations from the chorus; the sudden emotional shifts as Ping, Pong and Pang move from sick weariness at yet further carnage to nostalgic yearning for a life they could be leading away from Turandot's court to gleeful hand-rubbing as they contemplate the next beheading or offer up the instruments of torture.
Orla Boylan is a splendidly icy Turandot: barely glimpsed in the first act, and only taking centre stage part way through the second, she commands even as her control and power slip away from her, symbolised by the shedding of her head-dress and robes to reveal her humanity and vulnerability. Her anger and anguish as she faces the loss of her autonomy is a telling counterpoint to her ministers' sentimental fantasy of a Turandot tamed and compliant through love.
Rafael Rojas (excellent in the lead role of Andrea Chenier for Opera North last season) gives Calaf the bravado and bull-headedness that the part demands, delivering a fresh and spine-tingling Nessun Dorma.
The outstanding performance, however, belongs to Sunyoung Seo as Liù, who imbues what the programme notes describe as a 'soft and wilting' role with a strength and warmth that provides a genuine foil to Turandot. The moments when the two women face one other down onstage are thrilling, serving to suggest it is Liù's courage and steadfastness, as much as Calaf's declarations of love, that break down Turandot's resistance.
After Liu kills herself, and Timur is led so gently off stage to who knows what fate, it is difficult to wish Calaf and Turandot a conventionally happy ending. What we see, finally, is neither triumph nor romance, but two people sitting together, each in some way broken, but with the possibility that this time dawn will not inevitably mean death.
Whilst notionally set in Beijing, there is no attempt at ethnomusicological authenticity – after all, this is a Persian story about a Russian princess, relocated to China by a French writer and reinterpreted numerous times before Puccini turned it into an opera.
Throughout the music is heady and intense, highly percussive, threaded through with eastern influences. These oriental elements – particularly the percussion – create a more dissonant sound-world than that found in many of Puccini's earlier works, and make the passages of soaring lyricism all the more breath-taking
Whether you already love this opera, or whether you have always found it problematic, this production will simply sweep you off your feet.
Opera North – Turandot tours until 20th May 2017. Find out more here.
Cath Annabel is a blogger, feminist and humanist. She would like to thank Mark Clowes and Ruth Thompson for sharing their thoughts on Turandot. Follow her on Twitter.