Having delighted with their Little Greats last Autumn, Opera North now offers Fatal Passions.  Promised desire, betrayal and revenge, Verdi's Un Ballo in Maschera certainly delivers all three, says CATH ANNABEL.
Un Ballo in Maschera has a fascinating production history.  Based on the true story of the assassination of King Gustavo III of Sweden, it ran into problems with the censors which led to the action being relocated to, bizarrely enough, Boston, Massachusetts.  Opera North's production restores the original Scandinavian setting, though the costumes here suggest the mid-twentieth century rather than either Gustavo's or Verdi's era.
Verdi's music is quintessentially Italian, but Un Ballo… is from his 'late period': elements of the French grand operatic tradition are synthesised with the Italian style he usually employed.  There is greater spectacle (a masked ball, for example), richer orchestration and more light and shade, with comic scenes used to offset the serious drama.
The opening scenes, set in a neutral, grey room which rapidly fills with grey men, some loyal to Gustavo, others plotting to assassinate him.  That the costumes create a degree of anonymity for these characters is certainly deliberate – the voices of supporters praising the King interweave with those of opponents who condemn him.  Gradually the dominant colour on stage changes to red as we move from the realm of governance and politics to that of passion.
The action moves from the court to Ulrica the fortune teller's and then to a place of execution where Amelia, the wife of Renato, the king's closest friend and adviser, has gone as instructed to pick a herb which will make her forget her feelings for Gustavo. We're told this is a terrifying and haunting place, but we don't really see or feel it.  There's just a pile of bloodied shirts, and a few chairs incongruously lined up at the front of the stage.
Compellingly performed by Rafael Rojas, Gustavo is wilful and impulsive. He repeatedly refuses to take seriously the threats against his life. When told by the Chief Justice he should banish Ulrica, he insists instead that his entire court decamps en masse, dressed as fishermen, to see the fortune teller.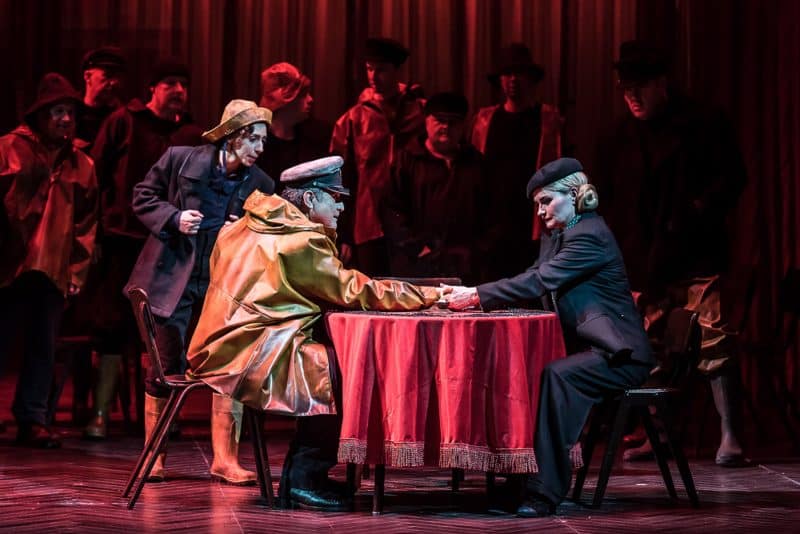 These aspects of Gustavo's character are echoed in the role of Oscar, one of Verdi's very rare trouser roles [in which an actress appears in male clothing – Helpful Ed.] Delightfully played by Tereza Gevorgyan with a sprite-like energy and fantasmic presence, Oscar flits about the stage, leaping from chair to chair, teasing the terribly serious Chief Justice. His emotions mercurially shifting as he first hears the threats against Gustavo and then Gustavo's robust dismissal of them, some productions have suggested that he and Gustavo are lovers – a nod to the real Gustavo's homosexuality. But rather it seems here that Oscar embodies aspects of Gustavo's personality which are least regal and most whimsical.  There's a hint of gender fluidity at one point though when Oscar arrives at the ball dressed as a woman (in a reversal of the Shakespearean convention).
The music is passionate and intense, with considerable use of the chorus, one of Verdi's compositional innovations.  Some of the most emotionally rich passages are given to Amelia and her husband Count Anckarström, as he condemns her to death for her assumed adultery.  A violin line underscores her assertions of innocence, and her pleas for the chance of a last farewell with their son.  The production is Adrienn Miksch's Opera North debut and it's to be hoped that we get the chance to see and hear her in many more. 
When Anckarström, played by Opera North favourite, Phillip Rhodes, sings bitterly of her betrayal, and of the destruction of the love that he has believed in, the oboes imbue his lines with deep poignancy and the very tenderness for which he is grieving.  In contrast the very final scene – as Gustavo dies in the arms of Oscar – felt strangely static.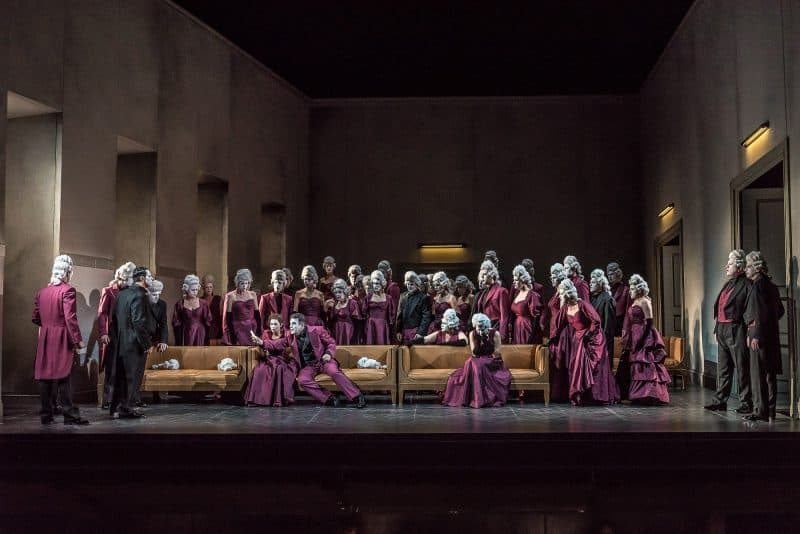 This is Opera North's first production of Un Ballo in Maschera and we caught it on opening night – a few prop malfunctions were slightly distracting, but these should have been easily fixed by the time of subsequent performances.  Such minor quibbles do not take anything away from the drama, and the stellar performances of Rojas, Miksch, Rhodes, Gevorgyan, and Patricia Bardon, who brings depth and darkness to the role of Ulrika.
Verdi's Un ballo in maschera | Opera North at Leeds Grand Theatre (10th, 22nd, 27th February and 2nd March), then on tour to Salford, Nottingham and Newcastle. Details and tickets here.
More from Cath Annabel on CV