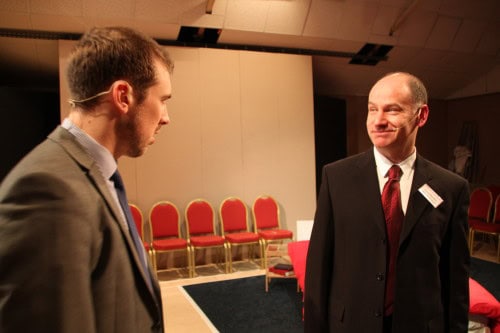 'If I Were You' Adel Players 23.1.14, reviewed by Rachel Noon …
Row I, seat 9. I was centre stage, almost. I was 'in the round'. Adel Players plonked me right in the thick of their sold out show. My feet were placed on the edge of the lounge, on the carpeted ground-level stage, which was complete with kitchen, (impressively including a fully working sink) a lounge area and a bedroom. This was something I hadn't seen before, the audience watching from all angles. With actors coming on stage from behind my left shoulder, it felt more intimate and real.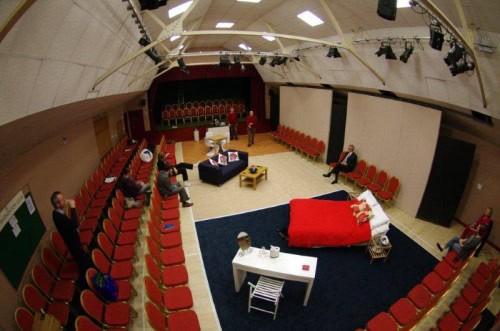 I was in the War Memorial Hall in Adel to see Alan Ayckbourn's comedy 'If I Were You', directed by Mike Andrews. I presume a common dispute between married couples is each dismissing the other with a gender based slur. Her suggesting that if she were to do something she would do it better, as men are 'useless', or him arguing that women 'don't know anything', blah blah blah. Well, when straight talking Mal Rochdale and his wife Jill wake up occupying each other's bodies it (surprisingly!) isn't very rosy.
'If I Were You' covers difficult issues from abusive relationships to confronting a partner having an affair, as well as dealing with a son who will potentially be wearing tights in the school play. This play is laugh out loud funny. When trapped in each other's bodies, the couple see a different perspective on their failing marriage along with their son's dreams of being an actor and daughter's aggressive husband.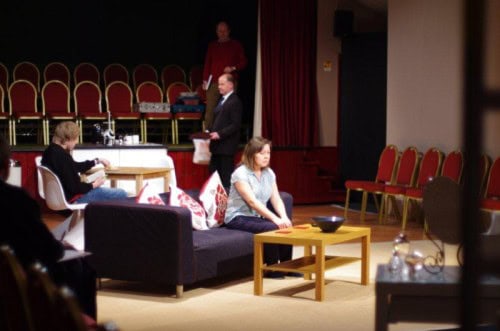 There was fantastic acting from the whole cast, but in particular by David Lancaster who played the demanding, sexist and stubborn husband who woke up the following morning as the feminine, flouncy wife, polar opposite to his previous persona. Lancaster displayed true virtuosity as well as creating a lot of laughter.
One thing that struck me as peculiar was the general demographic of the audience. I felt as though I was the only audience member under 50 years old, I couldn't understand why. As a 20-year-old student, 'If I Were You' made me laugh; there was nothing dated or old-fashioned about the performance or the hall itself. I highly recommend people of my age to get down to Adel to see what they're missing.
The overall performance was complemented by great set design and back stage crew. The innovative idea of the staging, the twists and turns in the plot and the entertaining script, I very much enjoyed my first time witnessing Adel Players.
Adel Players' next production will be Oscar Wilde's 'The Importance of Being Earnest' from 23rd-26th April this spring.
adelplayers, adel, mikeandrews, comedy, play, Leeds