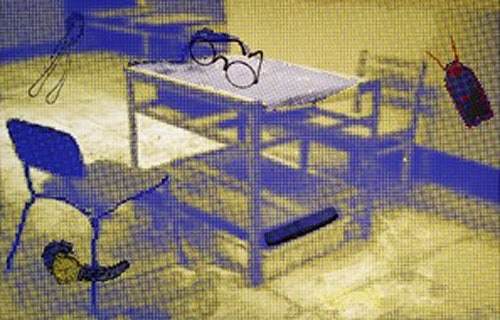 It is astonishing to think that the retrospective of work by Paul Coldwell at Gallery II is only the first time the artist's prints and sculptures have been exhibited alongside one another. Material Things, which runs until 7 May, selects works from the past fifteen years, pieces originally created for the Freud Museum, the Scott Polar Research Institute, and Kettles Yard, Cambridge amongst others.
The London-based educator and artist has a strong connection with Bradford via the print biennials which were once such a feature of the city's cultural landscape. Last year Coldwell curated The Artists Folio at Cartwright Hall, highlighting prints in the borough's collection by the likes of Sonia Boyce, David Hockney, Chris Ofili and William Rothenstein.
Particularly striking about this current exhibition is how much a pleasing whole the pieces form, despite being placed outside of their original context. Selected in consultation with Gallery II's curator Amy Charlesworth, the prints and sculptures impart such a thickset multitude of resonances that the visitor's imagination continues to be engaged long afterwards. It may well be modest in scale, but the show is decidedly big on impact.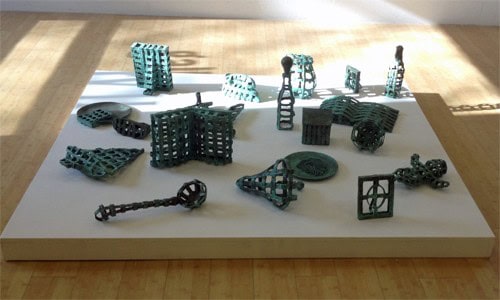 One possible entry point for the exhibition is a large-scale bookwork entitled With the Melting of the Snows (1998) which explores war reporter Martin Bell's poignant remark that his abiding memory of the Bosnian conflict would be the sight of fleeing refugees. Coldwell combines Bell's words with lithographic prints, considering what people might hold dear in such circumstances; "what they would save from the fire," as he puts it. The thought finds its echo a few feet away in the ossified detritus of companion piece Abandoned Landscape (1998), in which framework forms of family photographs and small items nestle like shabti in the harsh glare of some dystopian future.
In Coldwell's art there is a deliberate emphasis away from the figure. It is as if the subject has just stepped out of the artwork for a moment. The attention is on the rituals of everyday life, and on the mundane objects which seem to hum with the static traces of their previous owners. His is an "expanded still life tradition," explains Coldwell, adding cryptically that he is "naturally drawn to the spaces in between." Ghosts and Empties (2014), the neatly arranged contents of a wash bag, recast in white resin and metal, is imbued with just such a singular melancholy.
Means of Escape (2001) continues the trope of everyday objects, its nostalgic hand-tinted colour technique somewhat at odds with the half-tone reportage severity of the source images themselves. Travel may well provide the key, in some cases, but these documentary manipulations bleed into the exhibition's other pieces also. Book, from the Sites of Memory (2006) series, superimposes the skeletal outline of an open paperback atop a grainy, monotone confluence of railway lines. Whilst smacking of such romanticised notions as European train travel, holiday reading, escape in general, it hints too at a darker collective memory of persecution and mass deportations.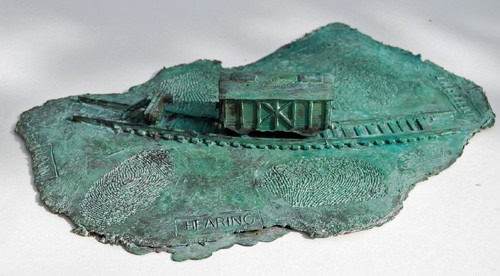 The skill with which pieces are grouped together in the exhibition is keenly felt here. Book is juxtaposed by a small-scale sculpture entitled Upon Hearing Different Trains (2012), a piece which perhaps fully epitomises the complex shadowplay of meanings and interpretations available in Coldwell's art. Devised in response to American composer Steve Reich's Different Trains – itself a response to the Holocaust – it depicts a closed cattle truck in a goods siding. Incorporating other trademark flourishes – Coldwell includes his own fingerprints, for instance – the work is a powerful, refracted meditation on the Final Solution, encompassing what Guy Lecouvette has called "the necessity of forgetting in order to live, and the fear of forgetfulness."
The works selected for Material Things may well have been produced with very different contexts in mind, but they retain a surprising level of consistency in their thematic concerns. "The problem for the artist," Coldwell says, "is trying to say the same thing over and over again – only more clearly and better each time." It is a beautifully curated exhibition, rich in details and deeply satisfying. There is a playfulness that evokes Andy Warhol or the British artist, Patrick Caulfield at their best. But the works also grapple with simple human truths – ideas that linger long in the imagination. It is small and perfectly formed; and very much deserving of your scrutiny.
Material Things is at Gallery II, University of Bradford until 7 May. For details, visit here.
Foundation art students from the University of Bradford give their impressions: