Colin Richmond: The Magic Flute takes you into another realm. It's nuts!
A fresh take on Mozart's Masonic fantasia The Magic Flute ushers in a new season at Opera North. Designer COLIN RICHMOND talks to NEIL MUDD
As we bid goodbye to panto season for another year, Opera North's newest realisation of Mozart's The Magic Flute opens later this month.
Premiered in Vienna only a few months before the composer's death in 1791, The Magic Flute mixes songs and dialogue in the light Germanic style known as singspiel.
Not that there's anything light about The Magic Flute. It is an earthy, ritualistic confection. An ages old contest of good versus evil, played out with the manic ferocity of a fever dream.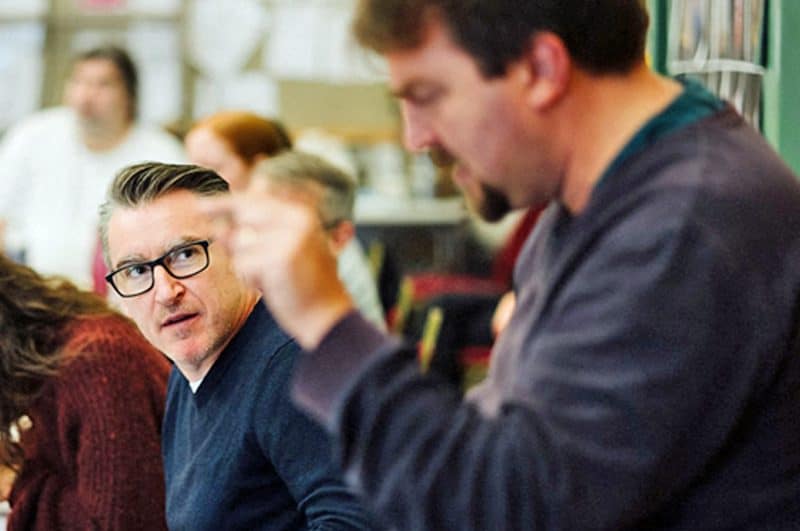 Director James Brining has returned to Mozart's original score manuscript,
stripping away over two centuries of augmentation with the help of principal conductor Robert Haworth.
Ingmar Bergman set the precedent adapting the work for Swedish television in 1975. Noting some 'insurmountable difficulties in localising the play,' the veteran film-maker warned of resorting to 'naked stylisation.'
'We must go back to the origin of the piece to find a solution to the problem,' Bergman advised. He had in mind the impresario Emanuel Schikaneder, who commissioned The Magic Flute for his 'wonderful magic box' theatre in Vienna's suburbs.
For this production at Opera North, Brining has enlisted the visionary talents of Northern Irish theatre designer Colin Richmond. The two previously worked on a singular staging of Steven Sondheim's Into the Woods at West Yorkshire Playhouse in 2016.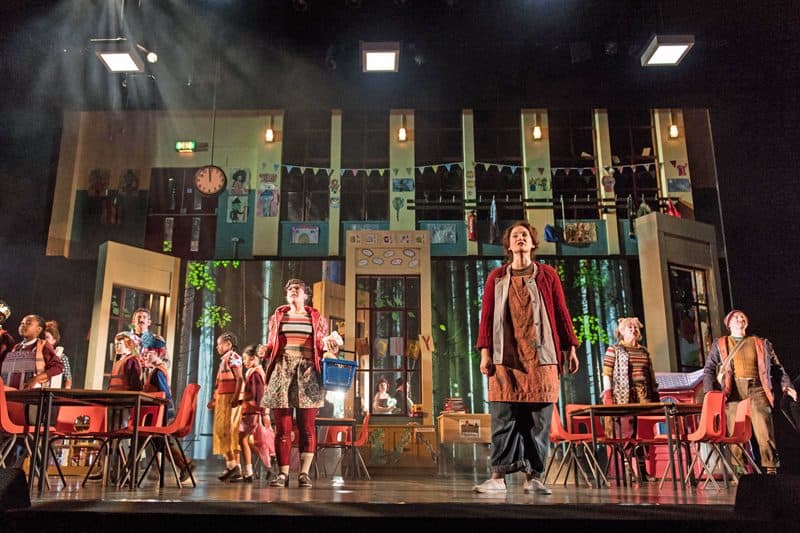 "James sees something in me that he trusts," Richmond says when we talk on the phone. "We come at ideas in a very similar way, so there's an initial chat and some discussion where we let ourselves run wild and pull back when we need to."
The 36 year old is ideally suited to realising Mozart's fantasy world. As a boy growing up in rural Ballymoney, imagination meant escape. "I spent a long time exploring different worlds. I would create these little sets and make models and get lost in those."
He studied theatre design at the Royal Welsh College of Music and Drama in Cardiff. An intensive course, his tutors stressed a hands-on collaborative approach, and offered sculpture and puppetry as part of the curriculum.
After graduating in 2003 Richmond worked as assistant to Bob Crowley, the designer of Mary Poppins and The History Boys. He turned freelance following a traineeship with the RSC.
Richmond's costume and set designs are insatiably imaginative and highly original. He is much sought-after, as his packed CV attests.
"The best thing about theatre is that one person can have a completely different take on something," he says. With Brining came the opportunity to clarify: "The Magic Flute can take you to another realm or fantasy world. We've tried to make sense of it because it is kind of mad. It's just nuts!"
"We've added a sub-story where we follow this kid on a journey very nearly through the whole thing. It's set up within the first few moments of the overture: something we can relate to initially, an anchor point from which we can then spring off into this dreamworld."
That it happens to be a Masonic curio is impossible to ignore, but easy to get wrong, he says. "We've turned it into a kind of cult more than anything."
"I was watching Wild Wild Country on Netflix, about this crazy cult in Oregon in the 1970s [the Rajneeshpuram community led by controversial guru Bhagwan Shree Rajneesh] which poisoned citizens of the nearby town who objected to their presence.
"They all wore these red and purple outfits like some kind of Utopian sect, so we've gone for that. (James) lets you deliver what you do. He never squashes your ideas. He has authority, but he always listens. It's what I got into theatre for – the collaborative process that makes it all tick."
With over a hundred productions worldwide last year, The Magic Flute is a hardy perennial of the operatic calendar. How interested is he in seeing how other designers have tackled Bergman's insurmountable difficulties?
"I think it's important to be aware of what other people have done before. It's hard to ignore other productions in this day and age of Instagram and Twitter. It's whether you choose to take it on."
Contemporary audiences are more attuned to the visual, busy curating their daily lives via social media. Does this risk impoverishing the creative act by unduly stressing spectacle over substance?
"I find it really tricky. That thing where you would be telling people off for taking pictures in the theatre, now you can't stop them doing it. They're taking a picture at the beginning of a show and Tweeting it. You actually get to a point where you actively encourage it because that's what sells tickets."
As a child Richmond drew incessantly. He is never without a sketchbook and pencil still. "I enjoy the process of it. It's that muscle thing you know, the more you use it. I still enjoy making models. For me it's another tool, and it's useful for other people as well. Otherwise I'm going into a production completely in the dark myself.
"I do use Pinterest, but up to a point because the algorithms are the same for everybody. Work becomes really homogenised and generic. We're all looking at the same thing. It's good to go into your own head and use that muscle a bit."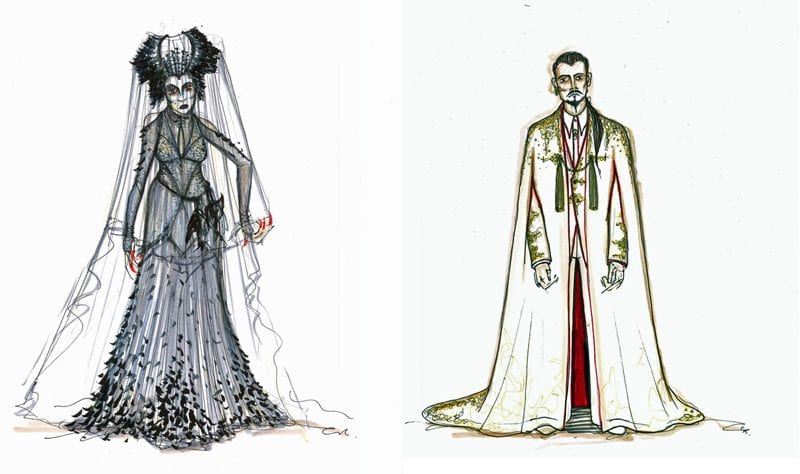 Graphic designer Richard Hollis insisted on working by hand throughout his career. He consciously rejected new digital methods whose very speed and convenience made them fallible work tools.
"It would be lovely to have the time, wouldn't it? People are on at you with deadlines, (though) with Opera North nobody has been badgering me at all. It's been really lovely to sit with something and try out ideas. And again, with a director who is so trusting and just lets you breathe."
Work began on The Magic Flute over a year ago, though productions this size are necessarily start-stop. The costumes are the result of an intensive three months. Come opening night, he will focus on his other projects, touring productions of Grease and Tom Stoppard's Rough Crossing.
"It's just about boxes in your head," he says.
I ask what was his initial sketch for The Magic Flute? (Interviewed a few years ago, Richmond said the image he draws first is often the one which will inform the final design.)
"We'd always been interested in something that exists within a maze-like structure," he says, "so the first drawing I did was of a house which had different rooms and levels."
"What we've ended up with is something not dissimilar, but which skews it in a different way and makes it a bit more malleable."
Serendipity is important, he tells me. A chance remark by Brining led to the distinctive primary school setting of Into the Woods, for instance.
"It was a Eureka moment," Richmond says.
Finishing this piece for publication, I come across a description of the Mozart Effect in New Scientist. Lab rats are able to navigate a maze more efficiently after listening to Mozart it seems.
Whether Ratty and Co. were played highlights from The Magic Flute is not mentioned in the report, but let us imagine they were. It is still panto season after all.
Opera North's production of Mozart's The Magic Flute is at Leeds Grand Theatre from 19th January – 1st March 2019, then on tour. Details and tickets for all venues here.
Grease, directed by Nikolai Foster, featuring costume and set design by Colin Richmond and starring Peter Andre, is at the Grand Theatre Leeds from 19th June – 20th July 2019. Details and tickets here.
Phil Kirby goes undercover at Opera North here.