Candoco Dance Company presents Face In by Yasmeen Godder (Photography by Hugo Glendinning)
Contemporary dance company Candoco specialises in intimate and disturbing choreography by disabled and non-disabled dancers. KIRSTY QUAYLE was at the NSCD's Riley Theatre to see their latest award-winning double bill.
The all-white setting of Yasmeen Godder's Face In fills with multi-coloured spots as a single man with half an arm dances alone. He is joined by another man in a wheelchair and a buzzing monotone reverberates around the space. A third man – vacant, twitching, jerking as though he is on spice – joins them. The mood is raw and carnal as they roll around on the floor, exploring one another's bodies, growling and gnawing at one another's stumps, all splayed fingers and foreshortened limbs.
It is the stuff of absurdist dreams, made more so by the vacant expressions, the stretched faces with tongues out, and the sense of a desperate ending. The atmosphere crackles with warm repetitive tones; church bells morph into high energy music which startles the ensemble into hysterical laughter and wild movement; a sudden imposed silence ousts all from the stage but a girl with one leg and a crutch who makes the calling sound of a monkey.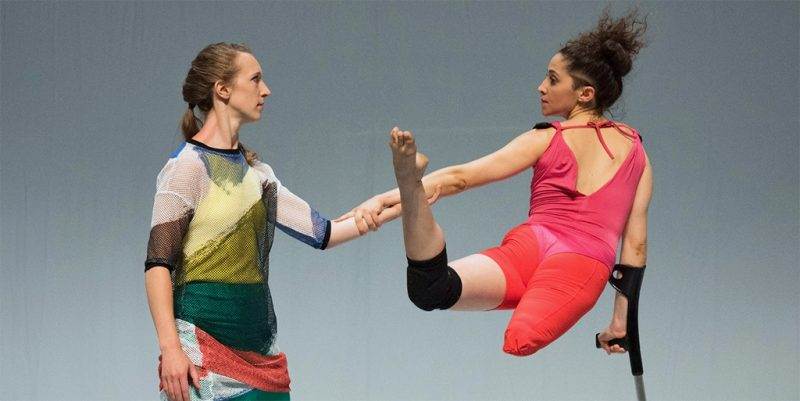 If Face In is a blur of movement and strange interconnections, Hetain Patel's Let's Talk About Dis is a self-conscious sleight of hand, more a gently mocking dramatic performance than pure choreography. The dancers file in, sit on chairs, take off their shoes and socks. They create a large square around the outside of the stage with masking tape into which they impart a percussive vocal hum. One girl speaks in French about disability while another translates, or rather doesn't as he is clearly talking about anything but disability. Another signs, but by now we have learned to mistrust our senses – or sensibilities.
As a piece Let's Talk About Dis is littered with humorous comment where individual movement celebrates and recognises difference. "I'm always on the posters," says one disabled dancer to his non-disabled counterpart who replies, "I'm never on the posters." They all end up singing, screaming and shouting about disability so we don't have to anymore.
Thanks Candoco for an edgy and powerful night out, with performances which fed discussion long after they were over.
Review of Opera North's Symphonic Back to Basics