Transform International Festival, Leeds
As we approach the last weekend of Transform ZOE PARKER looks back on some of her highlights.
In a time when the world feels like one debacle after another and people in charge seem to be getting so many things totally wrong, it's really refreshing to see an arts festival get so many things right.

And what does Transform get right? The programming is great and it's international. It's being shown in mainly pop up spaces rather than traditional theatres. It's interesting and inspiring. It provokes an emotional as well as intellectual response. The artists and the work present big questions and there is an urgency in what is being asked. And the devil is in the detail – the toilets are all gender neutral –a simple but important thing. Oh yes, and each piece on the website has a Spotify playlist. To give you more of a flavour of the festival, here's a little about two things I went to see…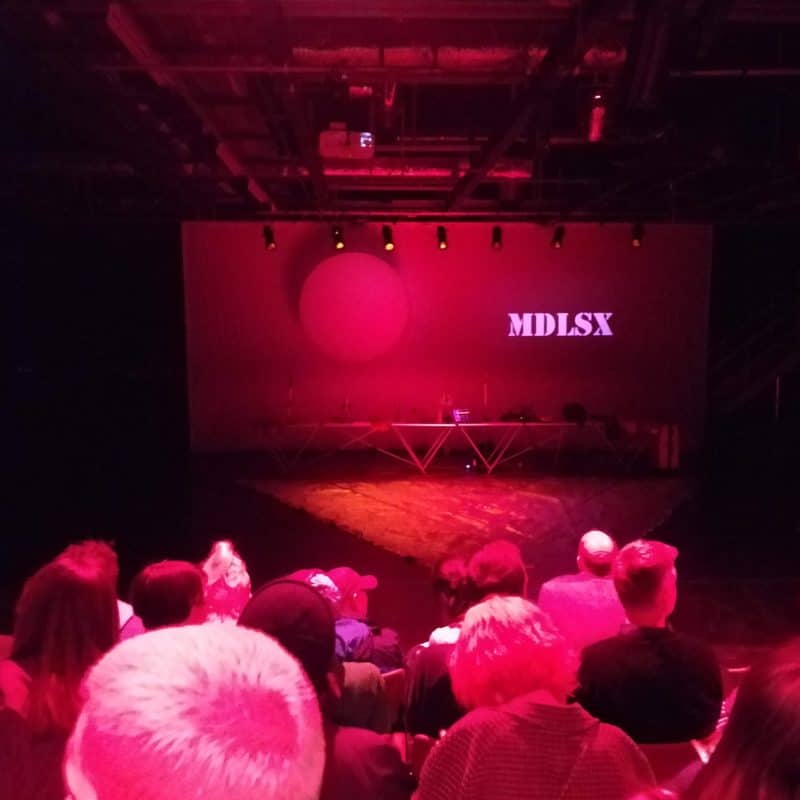 First – MDLSX –the storyline based in part on the novel Middlesex by Jeffrey Eugenides and also on the performer Sylvia Calderoni's own experiences. It was presented as a kind of a rockstar confessional and reminded me of the suicidal glamour of the '27 club'. The theme was identity and the boxes Sylvia was forced to occupy growing up. The journey shows an unravelling and transformation of self beyond the limitations of a gender binary world.

Two things I liked a lot – the opening film sequence of a young child ( I think Sylvia) singing karaoke in Italian… the words "tatatatatatatatatata…."- written out over and over and highlighting in yellow as the child sings them. I'm wondering if I know this song? I don't think I recognise it. I wonder what "ta ta ta…" means? The second thing – hearing Italian language spoken. Words echo through the darkly lit space and this gives the sounds a reflective tone even though the narrative is really quite dramatic. One thing that will stay with me, the performer screaming the word Monstro (Monster). A label and accusation nobody should have thrown at them. It's a too common thing people experience.

Second – Oh Europa – an installation at Prime Studios – love the story of this – Gemma and Steve sold their house, bought a camper van and travelled Europe for 6 months collecting love songs sung by individuals, families, crowds of people who each sat in their camper van. Not only that they drove to specific locations which they felt were significant borders between two spaces or places. These are noted on a map, and in an app, and if you go to the locations you can hear these love songs. They played us a couple of songs and told us a little about their trip. One story that really struck me was there visit to Greenland, which is notorious for being infested with mosquitos. They didn't really take the warnings they got too seriously and then one night they woke up to that familiar buzzing and realised there were over 200 mosquitos in the van with them. Absolutely terrifying. I mean what do you do then? They managed to escape with mild lung poisoning and a few mosquito bites!

It was great sitting in their tiny home too – considering the amount of downsizing they had to go through to live in such a small space: tiny cups, minimal personal items and clothing, a bed in the roof. I asked them how it felt when they finally came back to a house after their 6 months away and they said that even though it was a small house, they felt like they were in a huge space, like the luxury of being able to shout to each other from separate rooms! I didn't get a chance to ask them this, but I wonder how their habits and need for 'stuff' may have shifted after 6 months of minimalism. I'd like to think that these beautiful sounds can do something to heal the fractures that keep people and places divided. Though let's face it, that's a bit of a pipe dream really. Then again…

I also saw Idol by Jamal Gerald which was a brilliant performance, my favourite thing of the festival actually and it is beautifully reviewed here.
Transform19 continues until 4th May. Details here.
More Transform 19 on Culture Vulture.