Likened to synthesiser music pioneer Delia Derbyshire, serenaded over the phone by the Beast of Bolsover and putting brass bands in space, HANNAH PEEL is not your average pop star. Words: NEIL MUDD.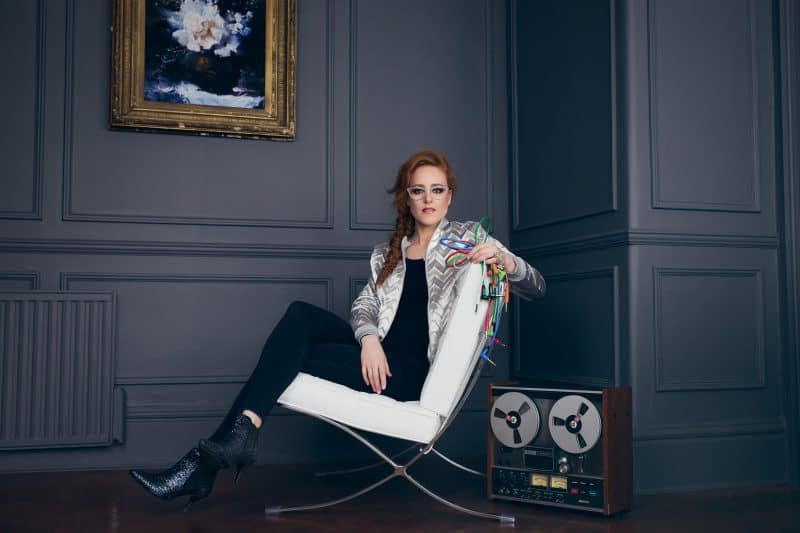 Every Saturday morning, the young Hannah Peel was rudely awoken by the sound of traditional folk songs blasting through the family home in Barnsley.
"My Mum and Dad love Irish fiddle music," she tells me when I call her to talk about this weekend's Substance Live in Hull.
Originally from Lurgan in Northern Ireland, the family moved to Yorkshire when Hannah was eight years old. She plays a variety of instruments including violin, trombone and synthesiser keyboards.
"I don't know if it was because we were Irish, but my cousins all played three instruments each. My brother and I were the same," she says. "It is just one of those things that everyone in the family can pick up a few instruments and play."
Her Grandfather was a conductor and played the organ. Her mother, a school teacher, would bring home cassettes of classical music by Holst and Elgar. Hannah loved film soundtracks.
"My Dad would have been the only one who sang any kind of traditional music," she says. "He still does. He has a little folk group with his friend and gigs in local pubs and clubs."
"I never really embraced it because we lived in Barnsley," Hannah says. "I became involved in brass bands. There wasn't much Irish music going on… Except at the weekends when we were tormented by it!"
In many ways, Hannah's latest album Mary Casio: Journey to Cassiopeia fuses together the elements of her eclectic musical education. Its cosmic themes have been likened to early synthesiser pioneer Delia Derbyshire, though perhaps artist Laurie Anderson is nearer the mark.
"Obviously I like electronic music and I like exploring," Hannah says. "I've scored for theatre and film, so maybe that's the link? I'm very happy with it. I think it's a wonderful accolade."
In May, Hannah performed live at Deliaphonic, a celebration of the life and music of Delia Derbyshire, curated by Pete Kember (aka Sonic Boom) at Coventry Cathedral.
"That was an incredible event," she says. "The legacy of Delia Derbyshire is the fact she wasn't really recognised until after her death."
Hannah credits Derbyshire and Daphne Oram, another neglected figure in the BBC Radiophonic Workshop, with sparking her love of analogue electronic music.
"One of the things I find so interesting about synths is that I can use them to explain what's going on in my mind," she says. "It feels like you can create many more mental states."
She admits she struggles to craft lyrics, frustrated by their inability to express her deeper feelings. "If I use a synthesiser, I can create this different world. That's become my thing. That's what I love doing. It's nice to have found it because it's taken me years."
While early songs invite comparison with the dreamy altered states of The Cocteau Twins ("I find modern pop music quite horrid at times"), her recent work has fixed upon the residual power of memory.
Previous album Awake, But Always Dreaming was written in response to her Grandmother's struggle with dementia. "The whole thing really opened a world," Hannah says. "It did change everything. Had I known that you can use music to connect with someone you thought you'd lost, I would have done it years ago."
When the album was released Hannah was contacted by people inspired to play music to a parent or grandparent in the same situation. "There's a charity called Playlist For Life who help people put playlists together. The differences they've seen in people are absolutely wonderful. It's such a magical thing. How can music do that?"
New album Mary Casio: Journey to Cassiopeia transposes the themes of memory and nostalgia found in its predeccessor to an astral plane. A concept album of sorts, centred around the titular space-age octogenarian, Mary Casio was partly inspired by the experience of viewing a brain cell neuron down a microscope.
"It felt like I was looking at the universe. It just looked like the stars in the sky. It brought home that sense that we are so connected to everything."
When she came across theoretical physicist Carlo Rovelli's statement that all human beings are 'made of the same stardust,' Mary Casio took form.
"To begin with I just wanted to send this old lady into space," she says. "There was nothing more to it. It all started to fit together with the brain and everything else."
She allowed herself a playful indulgence by incorporating a full brass orchestra into the recording: "I felt taking a brass band and putting them in space would be a tongue in cheek way of saying, 'We're all connected.'"
In the North, brass bands are incredibly emotive. For some of us, they still evoke memories of the Miners' Strike in 1984, a time when communities were as divided as they now are over the Referendum.
"No one has written about (the album) in a political sense – or even a national or a traditional sense. I thought people would pick up on it with the trauma we're going through in Britain and with Trump," Hannah says. "But nobody has, and it's really quite interesting."
Hannah recently watched Nature of the Beast, about Labour MP for Bolsover Dennis Skinner. Knowing he sang to his mother who suffered from Alzheimer's, it was Skinner's tabling of an Early Day Motion that prevented the Bill banning stem cell research passing into law she tells me.
Skinner is undoubtedly a man of firm principles. The singing does come as a bit of a surprise though. "You don't hear about that side of him. He's got such strong opinions, but he goes into care homes and sings."
Through a friend, Hannah contacted the MP. He rang her from the Commons, as she made her way to a gig in Oxford, and sang show tunes to her down the phone.
"You expect someone just to sing one line, but he sang the whole song," she says. "I didn't know what to do, so I just sang along. When I got off the phone, I thought, 'That's the most bizarre conversation I've ever had…'"
This weekend, Hannah, armed with a bank of synthesisers and accompanied by a twenty-nine piece colliery band, will present Mary Casio in its entirety at Substance Live in Hull. The all-female nature of the event sends an important message, she says.
"My role models are Delia Derbyshire, Daphne Oram, Kate Bush and Laurie Anderson. If we want more women involved, there needs to be modern role models that are celebrated now, rather than forgotten about until they are older."
She is very excited to be asked back again (she premiered songs from the album there in June) and thinks women attending will feel empowered: "When I was growing up, every band I saw was male. There needs to be a clear equality."
In 1963, Derbyshire recorded Ron Grainer's Dr Who theme utilising primitive synthesiser technology and treated audio. Though she would not be publically credited with it for another fifty years, the work she created that day has the power to instantly transport the listener back when and where he or she heard it first.
Time travel is possible. Ask Hannah Peel.
HANNAH PEEL performs at Substance Live: Future of the North on 9th December, part of Substance, ten days of music, art installations, performance and provocations for Hull 2017 until 12th December 2017. Details here.
More about Substance Live on Culture Vultures 
Chambers' Eleanor Cara Churchill