Awkward Position: Laura Angell – Slit (Courtesy of the artist)
Awkward Position, artist LAURA ANGELL's exhibition at Some Great Reward is a must-see. She talks to NEIL MUDD about why sometimes it's important to fail, in order to succeed… 
'There's no success like failure,' sang Bob Dylan in Love Minus Zero, 'and failure's no success at all.' Artist Laura Angell, whose show Awkward Position runs until the end of the month at Some Great Reward in Leeds, hitched her horse to failure years ago and has never looked back.
"For my Graduation Show I made a hut full of my failures," she tells me when we chat via Skype. "It started with me wrapping a photograph of my father up in threads, covering him up, (and) it spiralled from there. I couldn't stop making things about my own failures. I suppose you could say it was a cathartic, cleansing experience."
The Sheffield ex-pat's failures paradoxically became the secret of her success. Angell left Galway-Mayo Institute of Technology with a first class Honours degree in Fine Art five years ago, and to date has taken part in thirty two group or solo exhibitions with her provocative knitted, ornamental artworks.
"I thought I was going to make these big huge paintings dressed in a boiler suit and whack paint everywhere. I was so dissatisfied with what I was making, but then I was introduced to Ilya Kabakov, a Russian artist who makes rooms, and I was fascinated."
Her exhibition at Some Great Reward, the tiny artist-run gallery situated over the Brunswick, is eclectic stuff, a wonderfully vulgar mix of soft-furnishings and smut. Even the show's title is purposely suggestive.
"I do feel in an awkward position," she agrees. "While I want women to do whatever they want, dress how they want, be who they want, some of it makes me feel so uncomfortable. The positions these women are placed in physically are ones they would never be in in real life."
Two examples in the current show are Macrami, depicting a heavily bound, submissive woman, and Wetsuits, with its pair of peekaboo naturists on the beach, both of which are transformed into something ironic and deeply satisfying by Angell's delicately stitched interventions. These pieces, and those like them, are terrific fun, conjuring the spirit of Linder Sterling's punky photomontages, as appropriated by Buzzcocks for the single sleeve of Orgasm Addict.
"Embroidery was the highest regarded art in medieval times," explains Angell, "but then the Renaissance changed all that. The Royal Academy actually banned embroidery because they thought it was too womanly – the Victorians made it a very feminine past-time."
Angell draws succour from the Suffragettes, who fashioned elaborate ornamented banners, and radical feminist artist Judy Chicago, whose epic installation piece The Dinner Party, makes a virtue of setting a table for thirty nine important mythical and historical women, including Virginia Woolf and Georgia O'Keefe.   
"I like subverting this idea of woman's work in my work about women," she says. "I use a lot of domestic fabrics and bedding which I get from charity shops – somebody has probably died or had sex in those sheets; the domestic goes all the way through. Using cross stitch and straight stitching there's nothing fancy about them at all, but it's my way of trying to control what's happening to me because I'm so angry about it."
"Everything I make is so personal and from the inside," she says. "I do feel like I'm exposing myself all the time, but it's difficult to keep talking about it because people aren't that interested. The argument has been going on over a long time and we're now all so used to this sexual world. By being tongue in cheek and using colour and vibrancy, I notice that guys mostly come to the political seriousness of it and start to ask questions."
Angell remains optimistic, but accepts society may have already come too far. Certainly, she admits to finding the experience of creating her art distressing. "I had to take a break after two years and do something else.I couldn't keep looking at it – and I didn't look at the worst things. I read a book by Gail Dines called Pornland and it completely influenced my work. I had to read it in such small sections though because it was so harrowing."
"That nostalgia part of my work comes about because people think that's where porn still is. They think it's still in the seventies. They don't realise – like I didn't realise – how much it has changed. That's why I chose those 60s / 70s prints as my starting points. I'm not sure if I can go any further beyond that to be honest."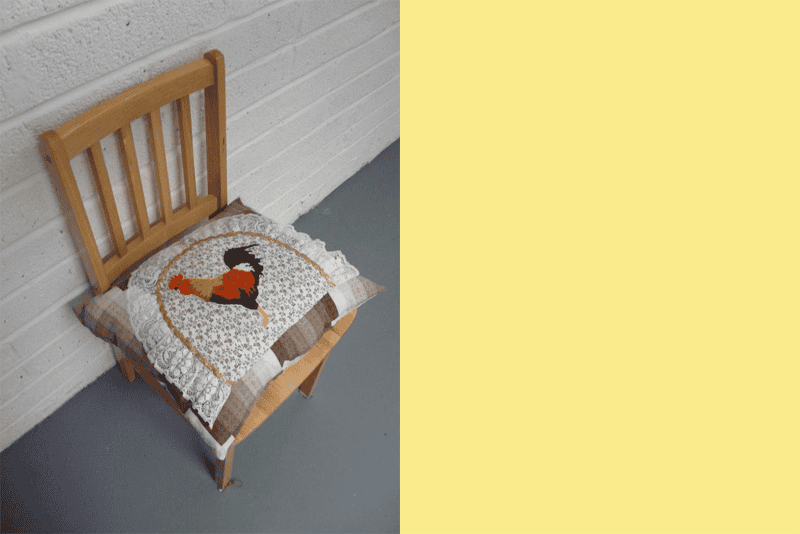 Her art may have come at a cost, but a mischievous sense of humour is evident in Awkward Position. The exhibition includes an image of two porn stars reconfigured as Mexican wrestlers and there is an embroidered cushion called Sit on My Cockerel which features a big cockerel. Obviously.
She laughs a lot. Pointing to  the knitted totem pole behind her, taken from an exhibition on anxiety and social media which opened in Galway just before the show in Leeds, she says: "I've gone from porn to big penis totems…"
"They're made using traditional craft methods and old machines. I remember in my childhood that if working class people began to make it, they'd start buying all these porcelain ornaments and arrange them along the windowsills: We've done good, now look at our tat!
"These are kind of exaggerated ornaments as if to say, Look how great I am, but underneath you're really just falling apart."
Not that all social media interaction is bad, she says. The show at Some Great Reward came about through a conversation via Twitter. "I really like what Chris (Campbell) and Andrew (Summers) are trying to do," says Angell about the gallery's curators. "Make something happen out of nothing."
We both agree that Some Great Reward is a treasure, though for how much longer the two can keep it going on a non-commercial footing is a matter for conjecture. Certainly without funding from Culture Ireland Angell's show would not have been possible, and even then she had to sell postcards online to finance part of her trip.
The artistic life is not without its hardships then. Galway it seems is more expensive than London, though thanks to a generous funding scheme by the Irish government, studio space is reasonably cheap and easy to come by. Then there are the galleries themselves.
"Galleries don't want you to change," Angell says. "If they sell something by you, they just want you to produce more of the same. It's very hard to progress. If you do put in a submission to a gallery, they want to know what you are going to do. If you already know what you're going to do, it doesn't make you much of an artist does it? I want to go and see what happens."
Despite this, Angell says she feels lucky. As someone who taps into her anxieties in the name of art, she is curiously upbeat about social media. "Twitter has been great.I feel like I've made friends through that. When I was selling postcards to make money for the exhibition I had so much support. I was stunned. I recently joined Instagram and have had so many lovely messages."
While I was putting this article together, Angell got in touch out of the blue: 'Schadenfreude,' she wrote. 'I've only just discovered this word, but it reminds me of our conversation and will probably be the name of my next show.' I tell her I will try to crowbar this titbit into my piece about her. 'Make me sound clever and thin,' she replies. 'You are,' I write back.
Laura Angell – Awkward Position, until 23rd December at Some Great Reward, The Brunswick, 82 North Street , Leeds LS2 7PN. Details here.
Laura Angell is on Twitter and Instagram.
More ART on the CV