Stephanie Corley and Quirijn de Lang in Opera North's Kiss Me, Kate (Photo: Tom Arber)
Rehearsals for Opera North's revival of its award-winning production of Cole Porter's Kiss Me, Kate are well underway. Lead players QUIRIJN DE LANG and STEPHANIE CORLEY talk to NEIL MUDD about how mad they are for Padua… 
Cole Porter was not Broadway producer Arnold Saintsubber's first choice to pen the music and lyrics for his new show updating Shakespeare's Taming of the Shrew for American theatregoers.
In 1947 Porter, the unsettled genius behind such songs as Anything Goes and Love For Sale, who had been portrayed by Cary Grant in a biopic, despite resembling 'a solemn bullfrog,' was deemed 'all washed up.'
However, playwright Bella Spewak and her husband Samuel insisted no-one else but Porter could do justice to the Bard.
Vindicating their instincts, Kiss Me, Kate was a huge hit and became the composer's most successful musical, his trademark risqué wordplay finding a natural foil in Shakespeare.
'King Cole has made a monkey out of the mourners,' wrote one critic, as the show racked up over one thousand performances on Broadway.
"It's incredibly witty," agrees Quirijn de Lang who returns to the dual role of Fred / Petruchio in Opera North's revival of its award-winning production of Kiss Me, Kate which opens next week at Leeds Grand Theatre.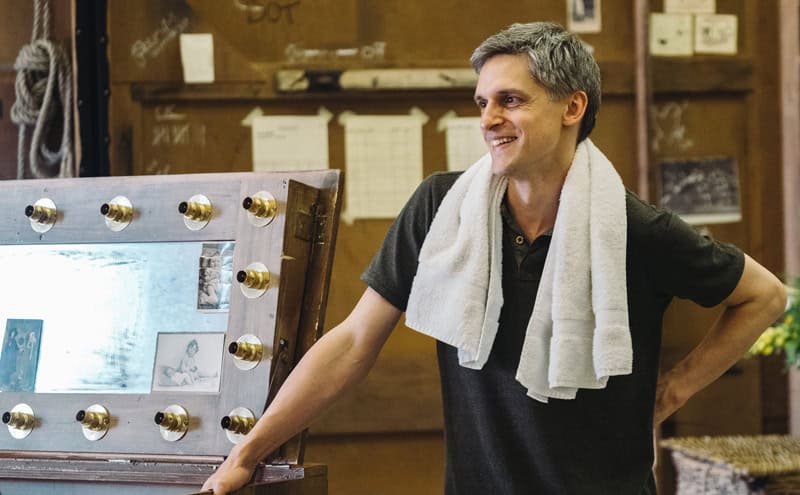 "The music really picks you up and takes you with it. There are phenomenal dance numbers and show-stopping moments, but also real intimacy in the music and text. It keeps you on your toes."
"It's a kind of love story," agrees Stephanie Corley, who joins the cast as Fred's ex-wife Lilli Vanessi and onstage Shakespearean antagonist Kate. Familiar to Opera North audiences from The Merry Widow, Stephanie accompanies Quirijn and me for a chat before a run through of Act 1.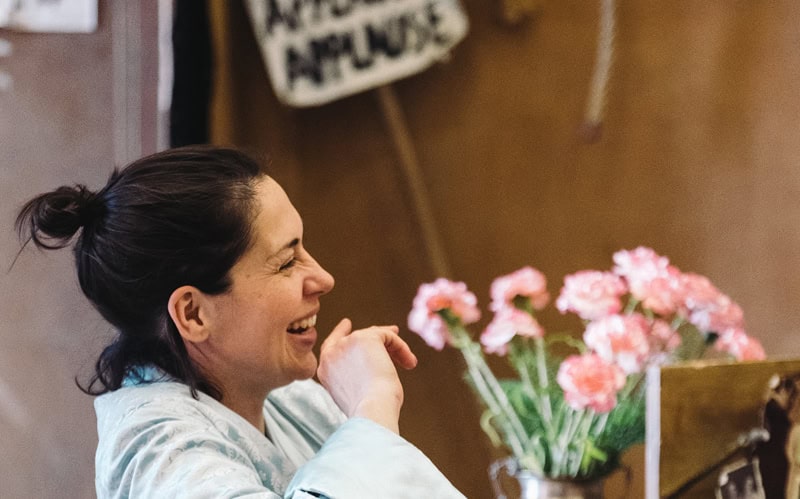 "So many stories are based on the tension of people getting together. That's a very strong thing to base any kind of theatre on, (but) all of the relationships are really interesting. They are well-formed characters which have stood the test of time."
While reasons for the show's longevity are evident – What's not to love about a show which features a song that rhymes 'Padua' with 'What a cad, you are?' – the show's source material grows more problematic with the passage of time.
Taming of the Shrew takes comedic delight in systematically humiliating, torturing and breaking the fiercely independent Kate. Her would-be suitor Petruchio uses every trick in the CIA Handbook, short of waterboarding.
"Part of the joke is that it's a ridiculous idea that it should be turned into a musical, but of course Cole Porter and the writers make it work," says Quirijn.
"There are some problematic moments we've tried to navigate by showing that Lilli and Fred are equals; they are absolute equals who have a tempestuous relationship in the style of Burton and Taylor."
The play's final soliloquy, in which a cowed Katherine admonishes any woman who refuses to subjugate herself to the authoritative good sense of her man, however, is particularly thorny.
Where Porter has Kate say 'I am ashamed that women are so simple,' Opera North's production restores the pivotal paired opposite – '… To offer war where they should kneel for peace' – which follows it in Shakespeare's original text.
"It gives it context," says Stephanie. "The music dilutes the potential strength of the speech and the richness of the metaphors (Kate) uses. It's been a way of giving that bit more bite and to make the audience listen rather than do another number where we just listen to the couplets, but we're not really following the sense through."
"We've looked at some ideas of how Kate can be portrayed," she says. "Although we keep the complicated knotty nature of it, hopefully Fred and Lilli's story shines through the Shakespeare."
"They are matched to each other and in their very unusual, unique relationship they actually work together," says Quirijn, "even though from an outside point of view you would never want to be in that kind of relationship."
"Fred and Lilli have been married and divorced, whereas Petruchio and Kate have only just met," says Stephanie, "and that's a very different place to be at …"
"But they are two people who are absolutely meant for each other, and that's what we focus on," adds Quirijn.
The Dutch-Indonesian baritone returns to the part he first performed in Opera North's co-production with Welsh National Opera in 2015.
"It's an amazing opportunity to dive even deeper," he says. "I have a sense of him and I have a sense of the text, but there are always tweaks and changes, and Steph brings a whole new Kate to react to…"
With major roles at each of the UK's key opera companies, as well as appearances in Holland and Italy, Stephanie is enjoying the fresh challenge of playing Lilli / Kate.
"I've had to widen my horizon of influences vocally, trying to look at different ways of expressing the text," the soprano says. "I've sung a lot in English, but not in an American accent. That really helps to make it less operatic sounding."
Opera North's production is a massive undertaking involving a large ensemble cast. The rehearsal space, deep within the bowels of Opera North's New Briggate operations' headquarters, is crammed with actors, singers, dancers and technical crew when we get there.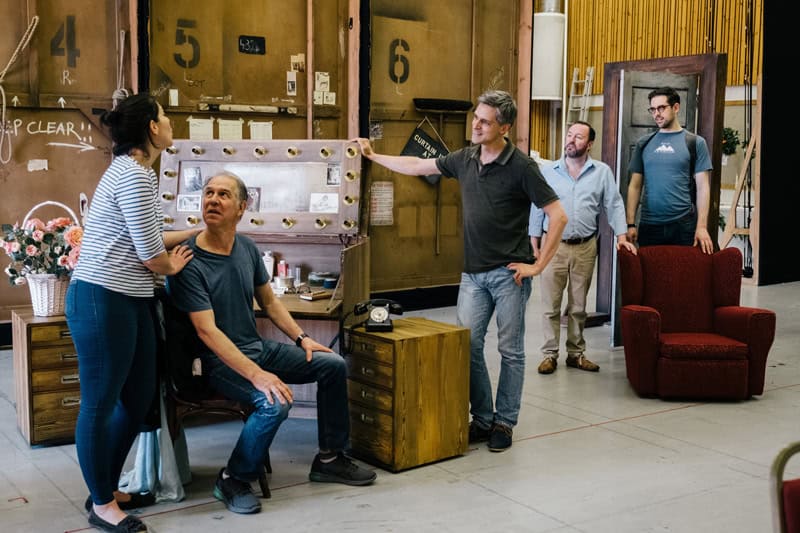 It is a rare privilege to see the company at work.
After four weeks of solid rehearsals, the cast quickly slips into gear and the space, with its sheet metal ducting and wooden baffling, is transformed from school gymnasium into a theatre backstage someplace like Peru, Indiana [Porter's birthplace – Ed.].
There is much to establish at the outset. The show's play within a play structure makes it difficult to immediately distinguish action from rehearsal. A definite shape begins to emerge from the seeming anarchy of opening number Another Op'nin', Another Show, as actors, singers, dancers, alternate roles and Kiss Me, Kate's rowdy narrative elements are introduced.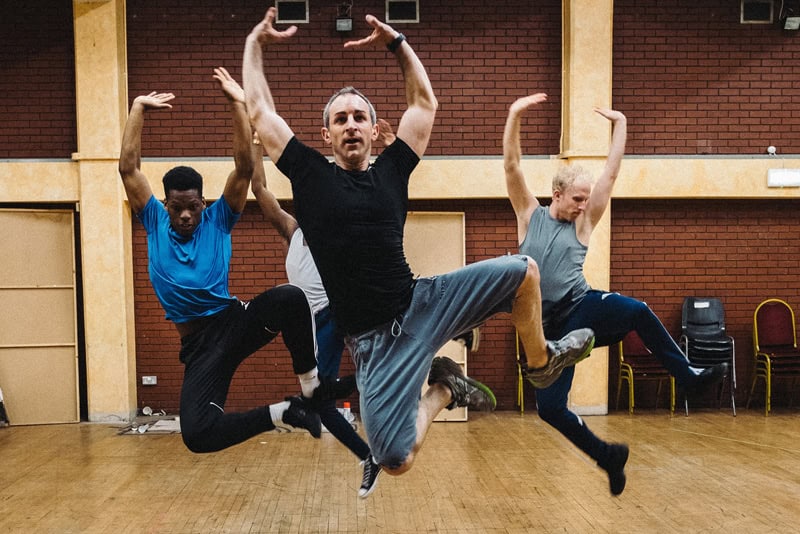 Everyone may well be in mufti, but the impact remains electrifying. It is a testament not just to the cast's professionalism, but to Porter and the Spewaks' gifts as storytellers. (I was going to use the word 'mastery', but it seemed inappropriate somehow.)
Stephanie had told me earlier: "Even if the 1940s' references make you stop and wonder who Louella Parsons was [notoriously spiteful gossip columnist; Katie Hopkins is probably a fan – Ed.], there's a lot of truth behind the richness and humility of the sentiments."
"It has a lovely layer about show-business and theatre life, the whole company as a family," agrees Quirijn. "People are always intrigued about that."
Kiss Me, Kate is at Leeds Grand Theatre, 23rd – 26th May 2018, then tours to the Ravenna Festival (8th & 9th June), the London Coliseum (20th – 30th June) and moving to Edinburgh's Festival Theatre (4th – 7th July).