Alessandra Volpe as Amneris in Opera North's Aida [Photo credit: Clive Barda]
Verdi's earnest monumental tale of love among the Egyptian pyramids, is brought to startling life in Opera North's concert staging at Leeds Town Hall. Review: CATH ANNABEL
Think of Aida, and you think of lavish spectacle, huge sets and hordes of extras. But Opera North has boldly stripped it back to fit the constraints of a concert staging – and with music this powerful and performances this strong, who needs pyramids, chariots and the rest?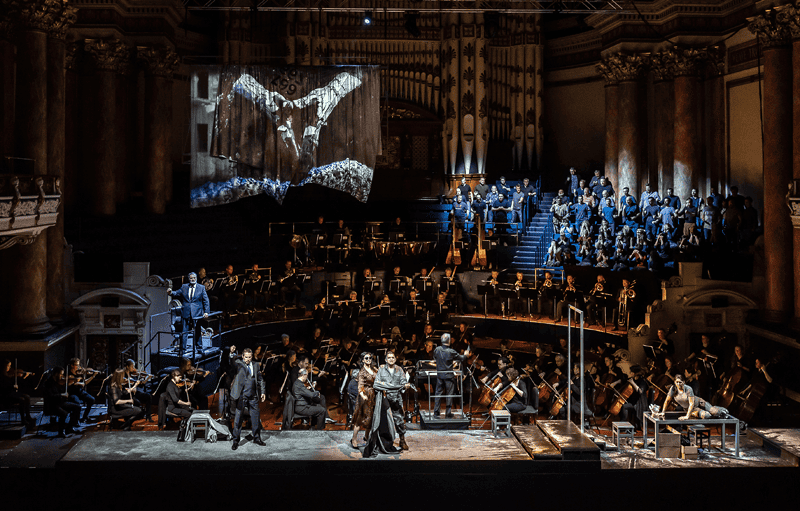 Michael Druiett as The King of Egypt, Petri Lindroos as Ramfis, Alessandra Volpe as Amneris, Rafael Rojas as Radamès and Alexandra Zabala as Aida with the Chorus and Orchestra of Opera North in Opera North's Aida [Photo credit: Clive Barda]
Our protagonists occupy front of the stage, with Opera North's orchestra behind them and chorus to the side. Props are minimal: a few stools, a table – and some very modern accoutrements (mobile phones, a laptop) that tell us we're not in Ancient Egypt.
Projected images suggest a Middle Eastern war zone – the bombed out buildings of recent news footage from Syria – but can evoke so many other wars. Untethering Verdi's plot from its traditional historical setting does strengthen the sense that war is not only brutal, but potentially endless.
There are projections of hands and feet caked in dried white clay, which cracks and falls away as they move. We're not told how to interpret these images. Whether it is the body as a site for conflict or breaking out of a constraining, deadening carapace, it is all added atmosphere.
But our attention is held, absolutely, by what is happening onstage. We see Aida (Alexandra Zabala), left behind in exile and enslavement as her parents escape, forced to survive by controlling her emotions and fading into the background. She wears plain neutral colours in contrast to her rival Amneris (Alessandra Volpe) who seems to radiate sexual self-confidence.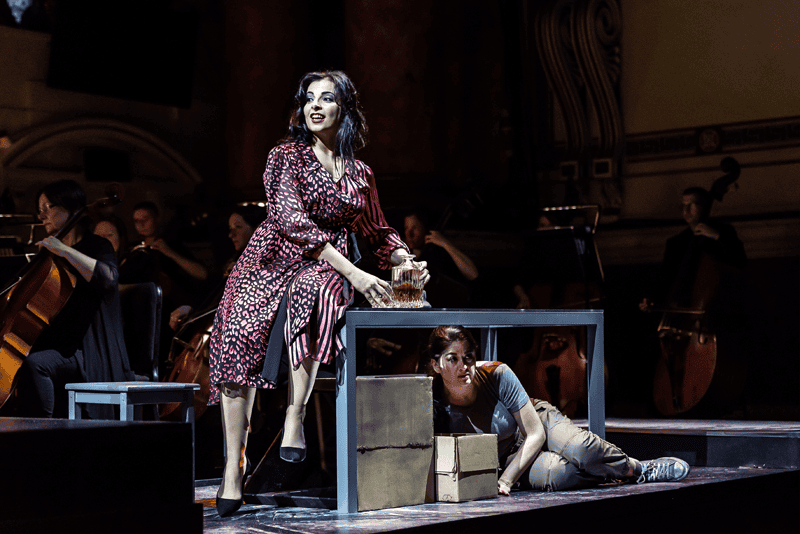 Alessandra Volpe as Amneris and Alexandra Zabala as Aida in Opera North's Aida [Photo credit: Clive Barda]
From the start, Radamès (Rafael Rojas) belongs with Aida. He's a man of power and influence, his army fatigues in contrast to the sharp suits of the King and the Chief Priest. As the libretto unfolds, we glimpse the insecurity beneath Amneris' glamorous surface; her jealous fury, her attempts to goad
Radamès by sowing seeds of doubt.
Radamès returns from victory in battle, not as a conquering hero (the stage directions call for him to enter 'borne in a litter covered with a baldachin carried by twelve captains') but weary and blood-stained; behind him he drags the standard he took to war as if it is weighted down, and can barely stand to receive the praise of the King.
Ultimately there is redemption of a kind. Even as Amneris cannot save
Radamès, she rejects the inhumanity of the regime and prays for peace.
Radamès and Aida can be together only in death, but for them too there is a kind of peace, even joy, in their acceptance of this fate and their trust that it is not in fact the end.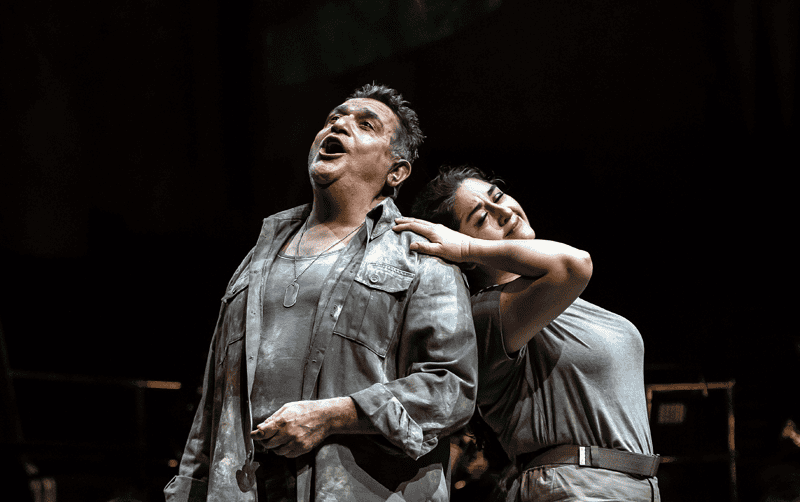 Rafael Rojas as Radamès with Alexandra Zabala as Aida in Opera North's Aida [Photo credit: Clive Barda]
The music is immense and powerful, matching the violence of the action. As with his Requiem, with which Verdi followed up Aida, death is ever present. But the final moments have a simplicity that is profoundly moving.
Verdi uses the full potential of the orchestra – pizzicato strings feature prominently, a softly ominous roll on the kettle drums each time that
Radamès refuses to defend himself, and the trumpets which herald the triumphal march are among the best-known moments in the opera.
This new concert staging reunites the 2017 Turandot creative team with conductor Sir Richard Armstrong, director Annabel Arden and set and costume designer Joanna Parker.
The splendid Chorus of Opera North takes on the roles of populace, priests and priestesses, slave girls and so on. They are used dramatically – hands raised in prayer or protest or covering faces in fear or despair – their gestures often mirroring Aida's own.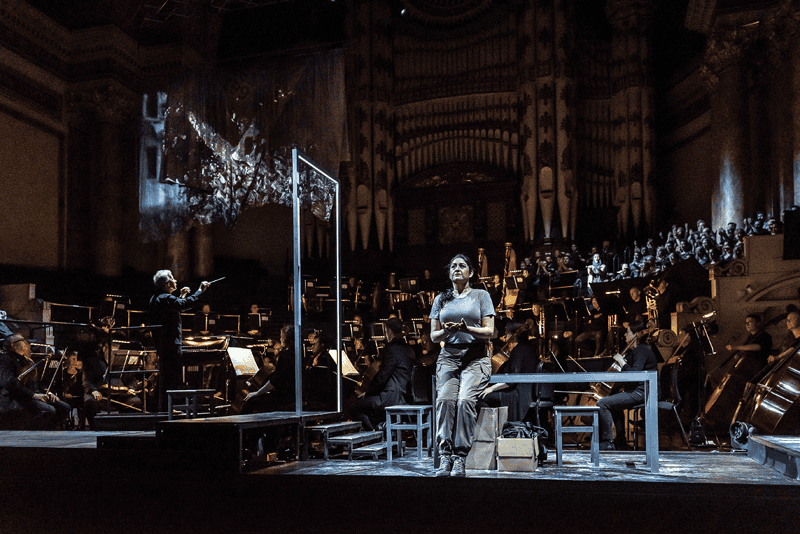 Alexandra Zabala as Aida with the Chorus and Orchestra of Opera North in Opera North's concert staging of Verdi's Aida [Photo credit: Clive Barda]
Petri Lindoos brings power and menace to his portrayal of Ramfis the Chief Priest. Eric Greene's Amonastro, King of Ethiopia, is a rich baritone, his air of authority reined in when disguised as an officer, but unleashed when he orders his daughter to trick Radamès into betraying his country. Rojas is magnificent as a soldier, eager for battle and glory, but able to convey a man broken by war and tormented by inner conflicts. It's a deeply moving performance.
The two female leads both make their Opera North debut and are both outstanding. Volpe's Amneris is sensual and mercurial, her rich mezzo voice by turns seductive and fierce. As Aida, Zabala brings tremendous emotional range to a part that demands both subtlety and passion; she movingly conveys her longing for home and the inner conflict that tears her apart.
It's a drama about war and the way it blows individual lives apart. Stripping away spectacle, pomp and circumstance brings out the power of the story and allows the performers to speak to us. Story, music and voices are all we need. The ending breaks our hearts, but leaves us with a plea: 'Peace, I implore of you! Peace! Peace! Peace!'
Aida is currently on tour, with performances in Nottingham, Gateshead and Liverpool, Manchester, Hull and Birmingham. Details of performances, plus two further Leeds performances can be found here.
Interview with Amanda Arden on Culture Vulture