Red dress or black dress? That's the choice front of mind for OLIVIA RACE in her one-woman show HURRY UP, JESS from FRONT ROOM PRODUCTIONS touring now to a teenage bedroom near you. RICHARD HORSMAN was at the foot of the bed.
Front Room Productions are a Leeds based company who specialise in performing theatre in unusual spaces. Shakespeare on a farm, Dickens in the market – and now a monologue staged in a teenager's bedroom.
Hurry Up, Jess is a one-woman show conceived, written and performed by Front Room's artistic director Olivia Race. Olivia plays a character called Liv.  It wouldn't be unreasonable to assume that she's invested a lot in this personally. But although the character has a lot in common with her younger self, it's not autobiographical – "you'll have to decide for yourself what's me at 17 and what isn't", she told me.
This is a show staged around the region in bedrooms begged and borrowed from friends, relatives and acquaintances of the company. It redefines the idea of small scale theatre; the maximum audience in at least one venue is nine people.
Last night's premiere in West Leeds felt tightly packed, not so much because of the physical space (there was plenty) but for the emotional intensity of being up close and personal with the performer.
We were welcomed to a secret address with a coffee, and invited to change into the slippers we'd brought. Then it was time to sit in the front room with our fellow audience members. We were given the usual pre-show instructions .. phone off, get out if there's a fire .. with a twist:
"One more thing, just don't tell Liv – Jess will never arrive."
First impressions on stepping into Liv's bedroom were of Tracey Emin's "My Bed" – although this is the PG version.
Rumpled, untidy bedclothes, discarded clothing and makeup yes. Then in place of cigarettes and vodka, empty crisp bags and big cuddly cushions. Liv is 17, and this is her childhood bedroom as she's on the cusp of becoming an adult.
The laptop at the foot of the bed comes to life, with images of Liv and Jess growing up together, friends since their mums met at toddler group. Cindi Lauper sings "Girls Just Wanna Have Fun". Liv joins in, loudly, from somewhere on the landing, and enters in a dressing gown. She's getting ready for a night out, her and Jess, natch, going to Danni's party.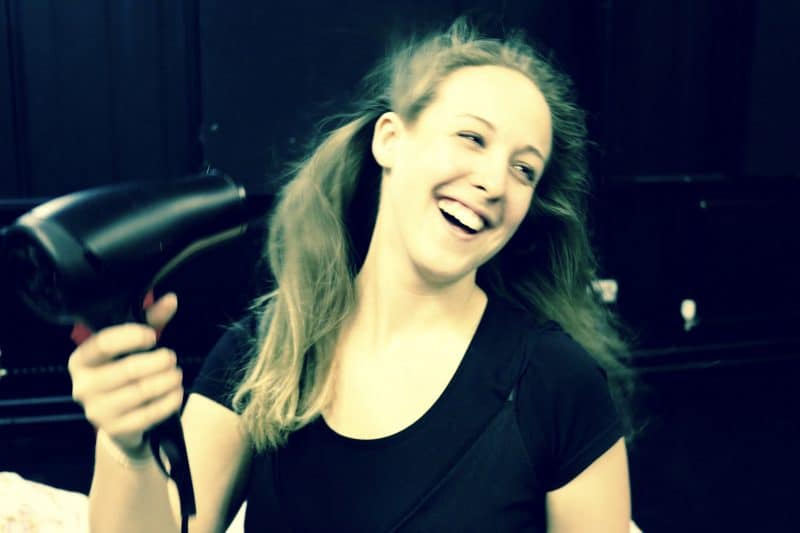 Olivia Race sustains the next hour or so with a monologue reminiscent of Alan Bennett's Talking Heads, but with the difference that Alan's characters are middle aged and elderly (as you'll be able to enjoy at West Yorkshire Playhouse in June), and they don't move around so much.
Olivia's sparkling performance captures the shimmering confusion of youth;  one minute she's a little girl playing space explorer, the next a worldly adolescent gaming the mating scene, fixing Jess a blind date with a fit guy in the audience .. and then back to innocence again, fantasising her own fairytale wedding with a pillowcase veil and a nightshirt bouquet.
It's a heartfelt and energetic performance with light and shade covering the full range from comedy to pathos. New tech is part of the mix; Vodafone's "leave your message after the tone" voicemail droid almost becomes a character in her own right.
As we see messages from friends and family flash up on Liv's notifications (shown also on the laptop screen) we begin to realise why Jess may not be going to the party with her lifelong bessie tonight.
As the show ends, the audience are escorted back to the living room and the intimacy is still there as the audience is encouraged to give feedback on what they've seen. I've never before shared a coffee with a director (Claire-Marie Seddon) and producer (Alice Barber) moments after a first-night show ends.
Leeds is a thriving centre for alternative theatre at the moment. Not only the extensive programme of work at The HUB in Holbeck, or Live Art Bistro in the city centre, but also immersive productions from Riptide (subject of a recent The CV podcast) and site-specific work from Red Ladder – we reviewed The Shed Crew last year.
Front Room Productions are a welcome addition to this scene, and after their success adapting both Oliver Twist and A Christmas Carol for the Dickensian surroundings of Kirkgate Market their next production in the city centre will be one devised and written specifically for its location. Where that will be is for now a secret, but I for one am looking forward to finding out.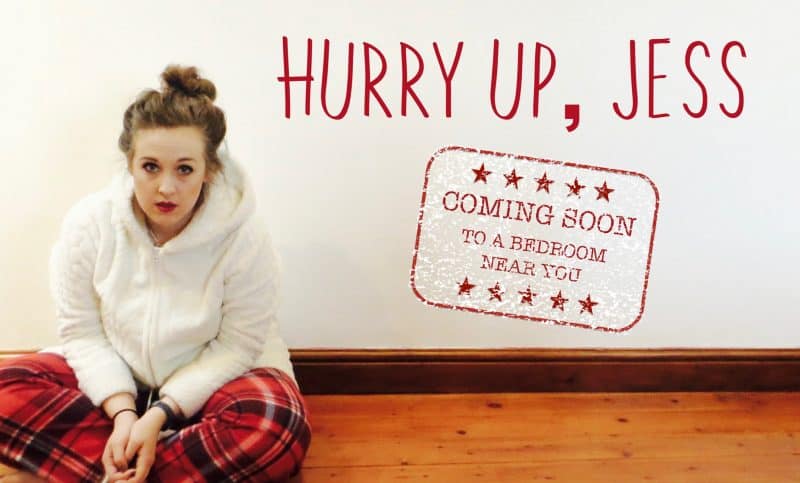 Hurry Up, Jess is touring to fifteen bedroom venues throughout West Yorkshire, Greater Manchester and Harrogate on a busy schedule until the end of March – full list of tour dates here.
Production Photography: Front Room Productions